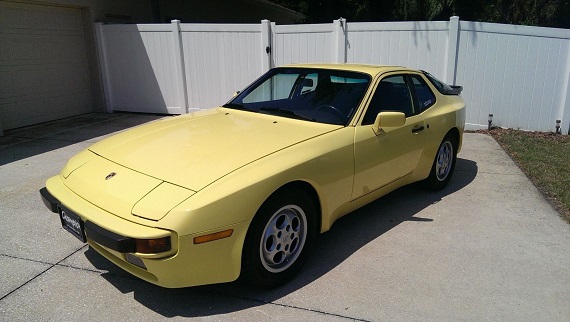 With a winter storm heading into the Northeast this evening, I thought it would be nice to end the day with a bit of sunshine and thoughts of warmer temperatures. Enter this 1987 Porsche 944. In the rest of the world, the color of this car was "Lemon Yellow". But, of course, launching a car in the United States with any hint of the word "Lemon" would result in sales about as good as the urban legend of the Chevrolet Nova ("Doesn't Go") in Mexico. So, Porsche called the color "Summer Yellow" here. It was reportedly available only in 1987, which is verified by at least one site. And, at least in my eyes, it looks lovely and is a nice departure from the usual black, red, and silver these sporty coupes appeared in:
Year: 1987
Model: 944
Engine: 2.5 liter inline-4
Transmission: 5-speed manual
Mileage: 183,088 mi
Price: No Reserve Auction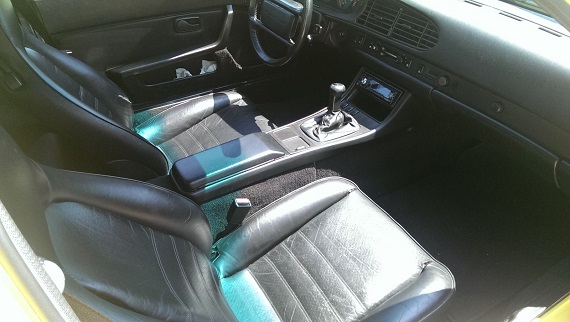 NO RESERVE AUCTION! Porsche 1987 944 coupe in one year only Summer Yellow with Black interior. Body, paint and mechanicals every thing works, PW, fogs, power mirrors, factory alarm,ice cold AC, 5 speed, clutch is great, just had total timing belts and water pump done by professional independent Porsche repair shop less than a thousand miles ago, have invoices, car is registered, insured and used here in Florida. When not in use always garaged, fly in to Tampa and drive home or will help with your shipping arrangements. No reserve auction, seller can end auction at any time for any reason including if sold locally. Sold as is where is. 30 plus year PCA member selling one of my private cars. 100% positive Ebayer since 1999.
This car as most 30 year old used cars of that vintage there will be wear and tear items. I have done my best to take pictures and describe this Porsche to the best of my ability. By placing a bid you acknowledge that you are satisfied with the car's condition and enter into a legally binding agreement to purchase the car. I have done my best to sell with a 100% positive feedback and can hope that you as a buyer will take your bidding responsibility seriously. If you cannot come pick up the car and want to arrange shipping, I am not responsible for the car once it leaves my possession, it will be your responsibility from the time it leaves my home. All payments must clear my bank before this beautiful Porsche leaves my possession.I reserve the right to end this listing at anytime should the vehicle no longer be available for sale. The following terms of sale apply to this auction. You the bidder are entering into a legal and binding contract to purchase the automobile listed on this page. Please do not bid if you do not intend to purchase.Buyers are responsible to pay a non-refundable $500 deposit via PayPal within one business day. Full payment must be received within seven business days from end of auction. Seller reserves the right to notify bidders and end the auction early without any liability to the seller. This vehicle is sold as "As Is" "Where Is"condition.
Thanks

Q: I'm interested in this car. A video of a start-up (cold) and short drive would be great in me figuring if I should bid. (I like the color… not into red, or black cars). -vincent
A: Sorry I will not have time to create a video of car, starts right away and idles smoothly runs great,tracks and brakes straight, shifts without effort up or down, good oil pressure, all blinkers, lights, and power options… Continue reading
Jan 21, 2016
Q: Any cracks on dash ?. Condition of tires ?.
A: A few slight cracks in dash but not bad, tires are good to go Thanks
Jan 20, 2016
Q: Porsche – Does the air work ?? and other options as per windows etc ??Any rust issues also ? thanks, Tom 'retired ' in Fl
A: AC does work and has been converted to R134, no rust, all standard 944 options plus a few extras such as cruise control, rear wiper, factory alarm Thanks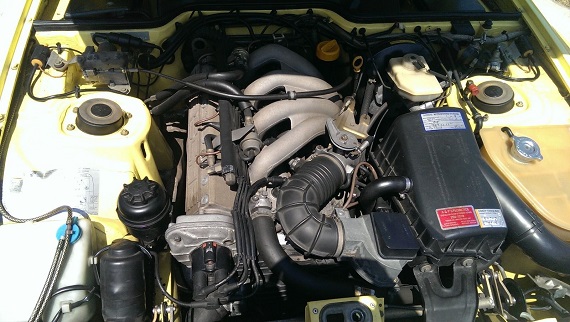 Overall this looks to be a pretty well cared for example of the 944. This was right around the time that Porsche went a bit bonkers with the number of watercooled variants; from 2 in 1986 to 5 in 1988, the 944 stickered above the quicker 924S but below the also quicker 944S. The 1987s also debuted ABS in the 944 range and as such the wheels and offset changed, too – a shame, because the Phone Dials don't suit the design quite as well as the Fuchs did. With about a day left to go on the auction, bidding has been pretty active and is up to $4,500, but that's probably a little short of where the value of this car lies. I'd expect it's worth around $5,000 – $5,500; despite the above average mileage, it's also in above average condition and the rarity of the color and originality adds appeal for a potential budget collector.
-Carter