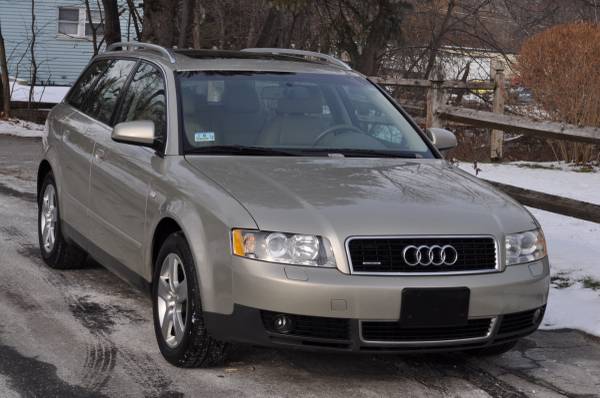 A few weeks ago in my "Avant-off" article, I asked if the premium for the Titanium Package S-Line cars was justified. But comparing a B6 to a B7 can be tough, since there are a fair amount of differences in styling and performance. To equal the playing field more, today I have two nearly identical cars. In this case, it's a normal A4 3.0 quattro Avant 6-speed against a very similar Ultrasport model. Just like the Titanium package, the Ultrasport package was mostly for looks; you got the Sport Package 1BE suspension, 18″ "Celebration" RS4-style wheels with summer high performance tires, perforated leather 3-spoke steering wheel and shift knob, aluminum interior trim and a quattro GmbH body kit. It was a $3,000 option on top of your already pricey A4 in 2004 and 2005, and came in 1.8T or 3.0 V6 configurations in either sedan or Avant. They're relatively hard to find, so let's look at the theoretical premium the package commands today: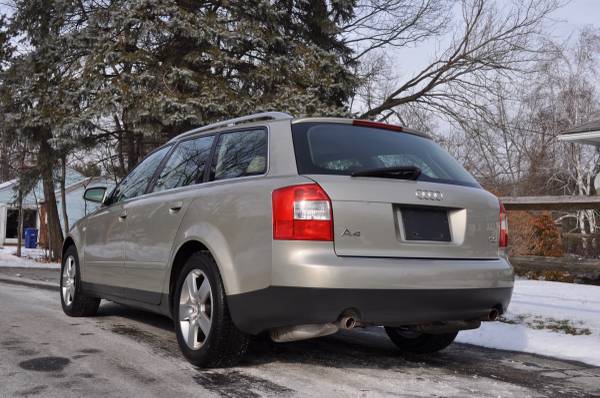 Year: 2002
Model: A4 3.0 quattro Avant
Engine: 3.0 liter V6
Transmission: 6-speed manual
Mileage: 133,000 mi
Price: $4,199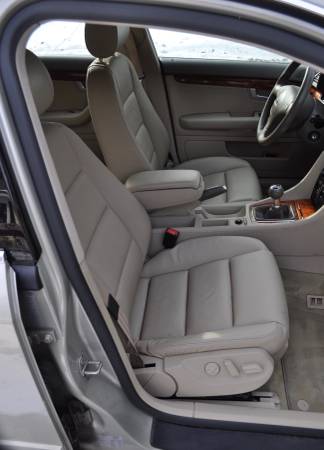 2002 Audi A4 Avant Wagon 4 Door, 6 Speed Manual Transmission, V6 3.0 Liter. Beige Exterior over Tan Leather Interior. Sunroof, Power Windows and Door Locks, CD Player, Heated Comfortable Seats, AC for the Summer and Heat for the Winter. Plenty of Room, All Wheel Drive, Great in the Snow!! Perfect Daily Driver, Great Gas Mileage, No Problems, 133K Miles, Clean Title in Hand. Feel free to call or text
show contact info
or email me through Craigslist.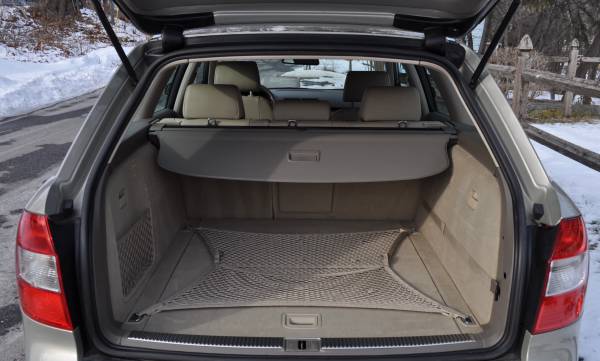 A non-sport model, in Canvas Beige Metallic the A4 is subtle and not very aggressive looking. While it may be a bit too-Camry with all that beige inside and out, it still looks pretty classy and the condition appears to be very good. 133,000 miles is about par for the course, but no mechanical information is disclosed. The 3.0 V6 is a nice sounding motor, though in recent years they've gained a reputation for having oil starvation problems and round-out the camshaft, necessitating a full top-end rebuild or engine replacement. If you go into this one with eyes wide open, it seems like a pretty good deal overall.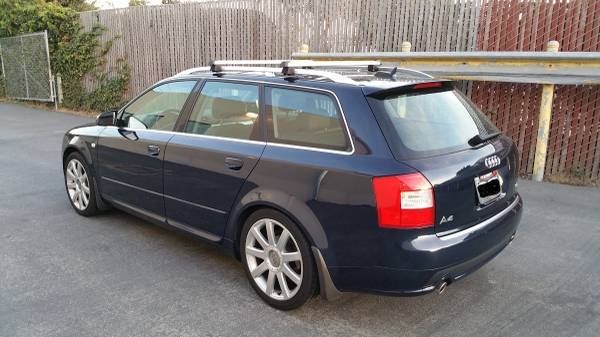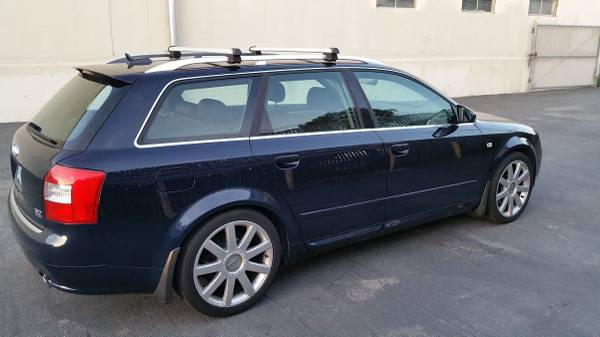 Year: 2005
Model: A4 3.0 quattro Avant Ultrasport
Engine: 3.0 liter V6
Transmission: 5-speed automatic
Mileage: 149,150 mi
Price: $10,000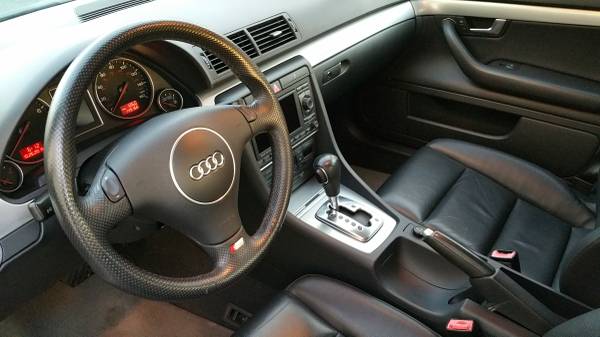 This super rare Audi A4 3.0 Avant Ultrasport was custom ordered back in the summer of 2004 as a 2005 model. I am the original owner and have taken very great care of this car for the past 11 years. You will not find another one like this in such a great condition. Audi only released the Ultrasport for the 2004-2005 years. What adds to rarity is the wagon variant and the color. I have not seen another like it whether online or on the streets in the eleven years I've had it.

Car has always been garage kept and was serviced at Audi dealerships for the first 4 years. From then on a good friend of mine has always serviced it routinely at his shops. All maintenance is up to date and I have a 3″ thick binder that contains all service records and receipts for every part I've added or replaced in the car. I will include the binder with the sale.

Below are the specs of the vehicle:

Year: 2005 Audi A4 3.0 Avant
Transmission: Auto/Tiptronic
Mileage: 149,250
Ultrasport package includes: 18″ premium wheels, special front and rear bumpers, door flares and deck lid spoiler. Also part of the package includes sports suspension, S-Line steering wheel and aluminum door and console trims.

Timing belt, water pump, camshaft seals, all belts replaced at 100K miles so there's another solid 50K miles to go before any major maintenance is due. Recently oil changed and a new battery was replaced a month ago. New coils replaced about a year ago along with new axle boots, shocks and control arms. All parts are factory Audi parts and oil has always been Mobil 1 full synthetic. The list goes on.

Additional parts and accessories:

I replaced the stock 6-disc CD player with the German Audi factory Navigation plus unit (updated Nav disc up to year 2010). I will include the 6-disc CD head unit with the sale. It's brand new and was only used for a few weeks before the replacement.

– Mud guards installed by myself
– Genuine base Audi roof rails
– I have an extra set of rear Audi factory brake pads and a transmission filter that are new
– Rear trunk all-season cargo tray
– Wheel Locks
– Engine compartment plastic trim shields purchased separately to give the car a cleaner look

There really isn't anything bad to say about the car. There are are no mechanical problems with the car and the exterior has no dents. Not a single dimple. There are a few very tiny hairline scratches on the rear bumper. Hardly noticeable. The interior is super clean and looks brand new. It was a daily driver so not many people have sat in this car. I've always had an extra set of floor mats on top of the stock floor mats so even those look new.

The only issues I can point out are the curb rash wheels and the small crack in the leather of the driver's seat as pictured. Aside from that the car is near perfect.

Please ask questions as needed and I will try my best to get back to you as soon as I can. I am asking $10,000 for this car and it's worth every bit of that given the condition and history. I've only used one of the two keys that came with the car so you can see how anal I've been about it. Car has never been to the snow but handles confidently in heavy rain.

Please don't contact me with low ball offers. I will only respond to serious buyers and want to see this car go to a great home and to an owner that will continue caring for it like I have. I do have a custom vanity license plate on this car and will be taking it with me upon sale. You will need to request new plates from the DMV but registration has been paid through July 2016. Thanks for looking and for reading this lengthy post.

Keywords: Audi A4, Avant, Ultrasport, Ultra Sport, B6, S4, Wagon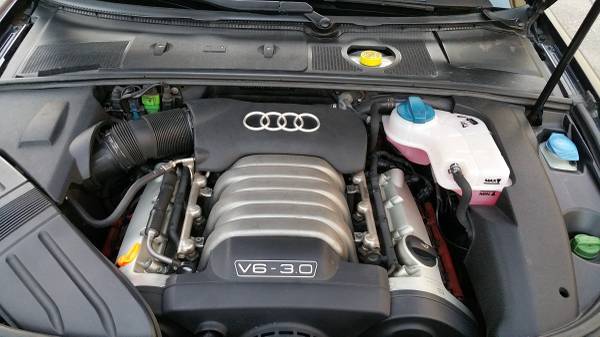 Though it's not disclosed, I think the color of this A4 is Night Blue Pearl Effect. It's lovely and looks much more purposeful with the lower stance, 18″ wheels and body kit, and mud flaps. Indeed, looking at these two cars together it's hard to believe the variety offered by the A4 lineup. Audi really did nail the package on this one. Condition of this car is also above average, but so is the mileage with nearly 20,000 more accrued. However, the promise of all service records and lengthy description is more inspiring than the 2002. Kudos to the seller for a thorough description and ownership that focused on attention to detail. But, then there's the price…$10,000, 250% more than the 2002. Originally a $3,000 package, the Ultrasport details in this case are demanding some $6,000 extra versus a normal model. On top of that, it's a Tiptronic car rather than the 6-speed manual that the 2002 sports.
Is it justified? Well, it's certainly a hard to find package. But in my mind, no; for that money we've seen some much nicer and higher performing S4 Avants come to market. Yes, you're looking at more expensive maintenance in the S4, but since the 3.0 isn't the most reliable mill out there in my mind it would be crazy to pay that kind of premium just for the Ultrasport package. It's a neat to see package, but I'd opt for the much more reasonably priced non-sport model once again. Plus, manual – game over.
-Carter