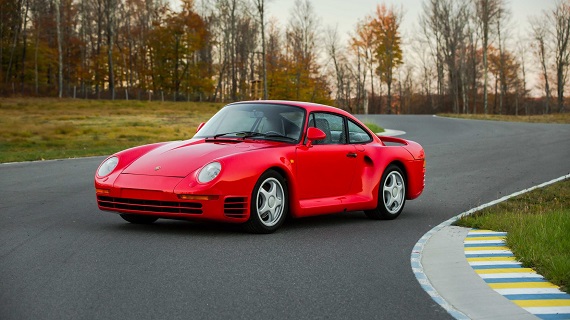 I'm going to stick with interesting '80s Porsches today for another car to be auctioned off this weekend, this time from Monterey. Unlike yesterday's 3.2 Carrera Club Sport, which took the basic Carrera and set about removing a few features so as to save weight, with the 959 Porsche sought to combine luxury and performance to produce the best possible supercar. A supercar whose performance would rival the fantastic machines built by Ferrari, but without the sacrifices to comfort and refinement that came with those cars. Not surprisingly given their rarity, we very rarely see a 959 come up for auction. This one appears to have originally been sold in Germany before finding its way to England. There's no word here on when this 959 arrived in the States, but it's for sale now and presents a nice opportunity for American buyers who may have long been looking for one.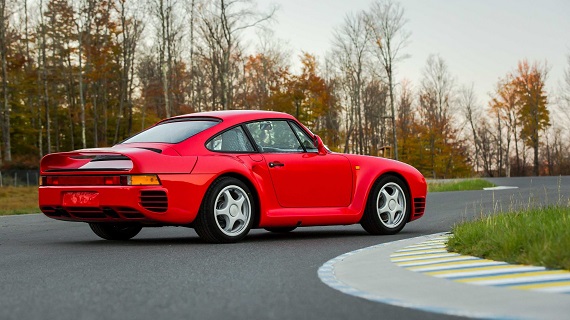 Year: 1987
Model: 959 Komfort
Engine: 2.85 liter twin-turbocharged flat-6
Transmission: 5-speed manual
Mileage: unlisted
Price: Reserve Auction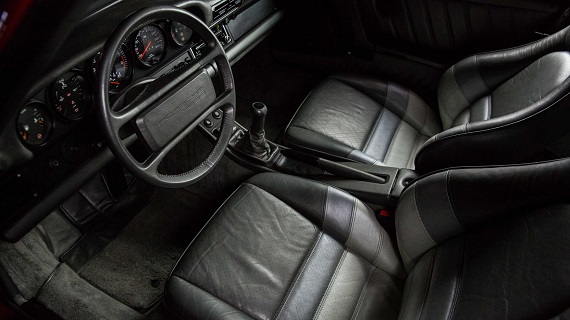 With age of the modern supercar upon us, the now legendary Porsche 959 in many ways is truly the genesis for a wide variety of supercar technology that we see today. The 959 was born of a requirement from the FIA for Porsche to build 200 road going units of their 959 Prototype to homologate their efforts in Group B Rally. The 959 represented a first for implementing systems like ABS, adjustable ride height, adjustable suspension dampening, variable turbine geometry turbos, the use of Carbon Kevlar and other composites during construction and even lightweight hollow wheels. All while preserving a fine level of modern comfort.

Soon after the introduction of the 959, it was announced that no cars would allocated to U.S. Customers due to the cars non-conformity with DOT and EPA regulations. This represented a bump in the road for what at the time was the ultimate Porsche. A handful of 959s did make it to the states via Holbert Porsche but remained in the back of the dealerships lot until it was affirmed that the cars would remain illegal and the whole lot were sent back to Porsche in Germany. It wasn't until the Show and Display Law was passed in 1999 that a few adamant collectors/enthusiasts like Bill Gates and Paul Allen were able to successfully import examples of the 959. That's no longer an issue today. With the 25-year exemption now in effect, 959s can be legally imported into the U.S.

This Guards Red 1987 Porsche 959 Komfort on offer is the 36th of 292 production cars, and was delivered new by Porsche Cars AG to its first German owner on October 12th 1987. The 959 continues the tradition like that of other Porsches—a car to be used and enjoyed, reliably so, and without fault. Its interior is heavy on 1980s appeal and feel throughout, consistent with the use of new and modern materials in the rest of the car. This German specification model features a triple grey interior, heated and electrically adjustable sport seats, alarm system and Bridgestone Tires. The only deviation from original specification is the installation of a period correct McIntosh sound system with CD player is the one after-factory addition to this car.

Included with the 959 are the following items: owner's manual, workshop manual, multiplier wrench, jack, hazard triangle, tire compressor, tire pressure gauge, tools, white leather gloves, belts, towel, the appropriate leather pouches to match, a well-documented ownership history as well as U.S. and U.K. Porsche Certificates of Authenticity.

One of the 959s previous caretakers was Tom Hartley Jr., a well-known purveyor of special interest automobiles located in Derbyshire, England. Under Mr. Hartley's care the car received considerable servicing to bring it up-to-date as a turnkey example. A documented comprehensive work order was carried out at Porsche Cars Reading, UK. These services are part of comprehensive records that include nearly $30,000 worth of invoices to put this 959 in superb order as a ready-to-enjoy, investment grade example.

This is no doubt the time to consider acquiring one of the original 1980s supercar icons before value trends increase to a point that deem this acquisition impossible. The 959 represents the beginning of imaginative innovation, and this rare Porsche will continue to represent a gateway to the start of the supercar era. This is a unique opportunity to acquire an original Porsche supercar, one that is worthy of much consideration.
Aesthetically, the 959 always has been a tough car to love as its proportions are somewhat odd. These are supercars though and as such we expect a bit of drama in their appearance. In Guards Red the 959 really imposes its presence more dramatically than when shown in white or silver. I don't know what the production numbers are for each color, but it does seem like there is some added rarity to this color. With its triple-grey interior, this one has a more subdued interior to complement the electric exterior. Everything here looks in good shape, but it is the little details of history and documentation that will likely play the largest role in where bidding heads with this 959. I assume we can expect to exceed seven figures and just how far into those figures we go may tell us a bit about where the Porsche market currently stands.
-Rob