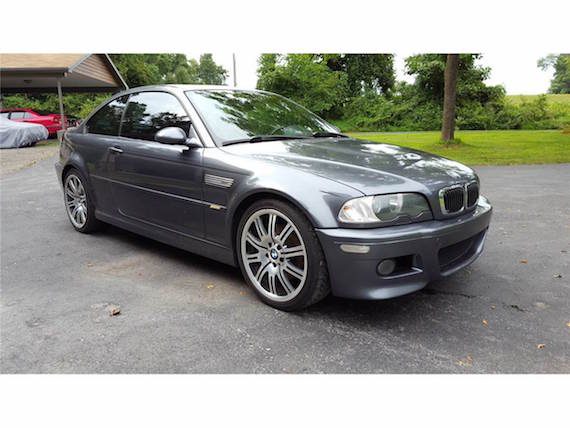 When I went away to university, my dad finally got his hands on the best BMW he ever owned: a six-speed E46 M3 convertible in carbon black. He would put the roof down whenever he could, just to hear the raspy S54 motor sing from those quad tail pipes, even if the weather was crap (which, being England, it frequently was). With 333 hp squeezed from that naturally aspirated, race-tuned straight six it was fast, comfortable and relatively practical; a performance car you could daily drive. I'd like to own one myself one day, though I'm not willing to put up with the compromises made for the convertible, so I'd go with a coupe instead. I even have my ideal spec picked out: a six speed manual in stahlgrau (steel gray), a gun metal color discontinued after the facelift of '03 and replaced by the more mercurial silver gray. While steel gray was not unique to the M-cars, I've always thought it suits the bulging lines and wider track of the M3 very well.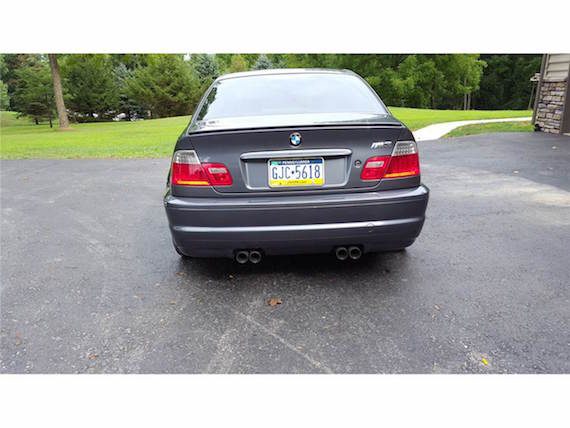 Year: 2002
Model: M3
Engine: 3.2 liter inline-6
Transmission: 6-speed manual
Mileage: 126,900 mi
Price: $11,000 OBO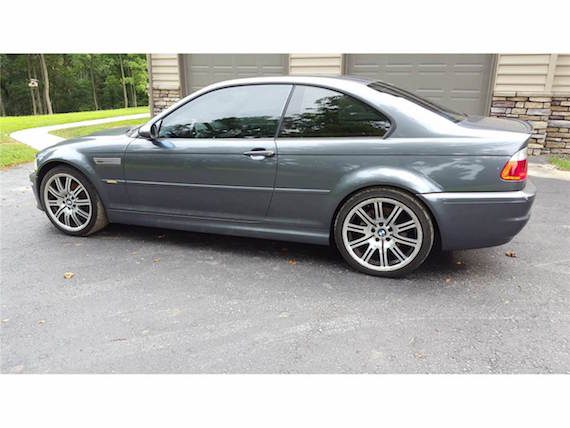 FS: 2002 E46 M3 Steel Gray, 6sp Man, Possible trade for E36 M3 2DR track car?

126,900 miles, 0 accidents. I've owned this M3 for 6 years and put 30k miles on it. It's completely stock. Never raced or tracked. It was my daily for about 1-1/2 years. Last 2-3 years it just sits. I'm not going to lie and tell you I've worked on it very much…other than Liqui-Moly GT1 10-60w every 5k miles, It hasn't needed anything….really. Rod bearings and rear subframe were fixed long before I bought it. Vanos is quiet. Clutch, tranny and rear work perfectly. I've replaced coil packs and both pre-cat O2 sensors over the last 2 years due to respective CELs. Actually the pre-cat O2 was a sporadic CEL on bank 2 but I just replaced both. Everything works. Nav, radio, power/heated seats, etc etc. Although the manual sunroof cover sticks occasionally. So mechanically, it's a gem.

The paint is very good considering it NEEDS a claying and proper wax job. I had it detailed 2x's since I owned it…so it's over-due for someone that enjoys that sort of stuff. It's never seen snow or salted roads during my ownership. Nice tint job.

Of course it's got the typical M3 issues;
Both door armrests are spidered and need repainted.
Some of the fabric over the air bags on the pillars needs re-glued.
From sitting, the front tires have a permanent flat spot, have hardened and make a terrible noise at speed. They are about worn-out too so I have new Yoks S-Drives that go along with the car. There are matching Yoks S-Drives on the rear that are only 6-7kmiles old. I just never mounted the fronts.
Left rear bumper has a rub mark. No damage, just needs paint.
Left rear quarter has a scratch about 2 inches long that I touched up…but got lazy and never sanded/cleared.
Passenger seat has some scratching from previous owner's brief case. No damage. A simple black dye treatment would fix it.
Typical issues with rubber coating on the console compartment. But not too bad.
The wheels are peeling but have MINIMAL curbage. They look hacked but they are not…it's just the missing clearcoat.

That's about it. Rides great. Runs great. I'd have no reservation driving it anywhere.

Price is 11,000 OBO or a possible trade and cash for a E36 M3 2DR. I'm looking to build another E36M3 track car so anything from a nice shell and a high mileage car with a shot engine and ugly interior would be considered. I'm in no hurry to sell so feel free to consider swapping that E36M3 track project you'll never finish!!

Email is best for initial contact. dcveem3removethis@gmail.com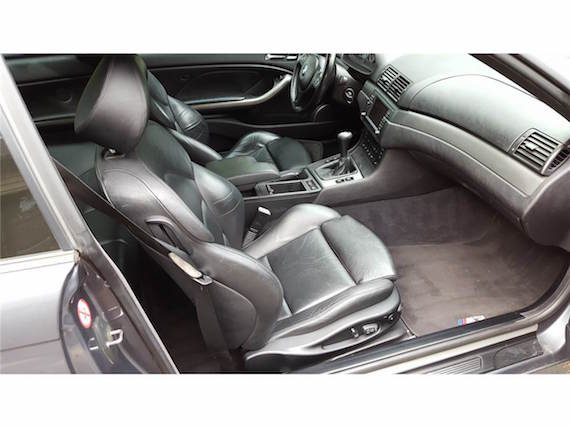 This car pairs my favorite exterior color with a black leather interior. While that makes it a little sombre inside – in an ideal world, I'd prefer imola red leather to liven things up a bit – I think the black at least accentuates the supreme ergonomics of the E46 cabin. Everything is laid out exactly where it should be, within easy sight and reach; no flashy business, no distractions. (As an aside: I also think that the M-sport multifunction steering wheel that comes in these, and the E39 M5, is the best steering wheel BMW has ever made).
According to the ad, the mechanicals on this car are sound. Appearance wise, it's a little scruffy around the edges. The scuff on the back will probably necessitate a respray of the bumper, it sounds as though the clearcoat on the wheels needs refinishing, and there are some other odds and ends (mostly relatively minor points of wear and tear on the interior). With 126k miles already on the odometer, this is a driver's car, not a collector's car, and it's priced accordingly. Assuming it passes a PPI, $11k does not seem a bad price given the mileage and condition on display here.
– Craig