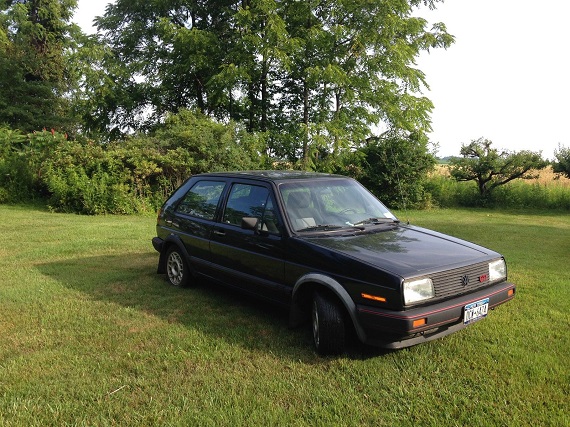 Do you remember the first of the second run of the GTi? Not many do. It seems almost as though there was a jump straight from the original A1 chassis in 1984 up to the GTi 16V. Even then, finding the first of the 16V cars has become extremely tough. But the 1985-1987 8Vs? They're just about gone. I remember wanting one with a passion; I had a 1986 Westmoreland Golf, and the GTi seemed like a pretty big step up. It was, in 1985 – selecting the GTi kicked your price up 30% from $7,000 to $9,000 automatically. For that additional amount, you got the HT high compression motor churning out a nice round 100 horsepower. But from a street credential standpoint, it wasn't the 15 horsepower jump that was important; it was the 14″ alloy wheels, the rear spoiler, the red stripes, and that magical "GTi" badge surrounding the trim on the car. You also got a close-ratio 5-speed transmission, sport seats and a multi-function computer. This was high-tech stuff back in the day! GTis also sported 4-wheel disc brakes, an upgrade over the A1 chassis, along with dual sway bars and a leather wrapped steering wheel – a huge improvement over the stock (and very plastic) wheel in my Golf. But the 8V GTi was completely overshadowed in 1987 by the launch of the dual-cam 16V model. Now with 40 horsepower more than the standard Golf, it was a serious upgrade befitting its new $12,500 pricetag. Once in a while, though, a standard GTi pops up and reminds me of a simpler time: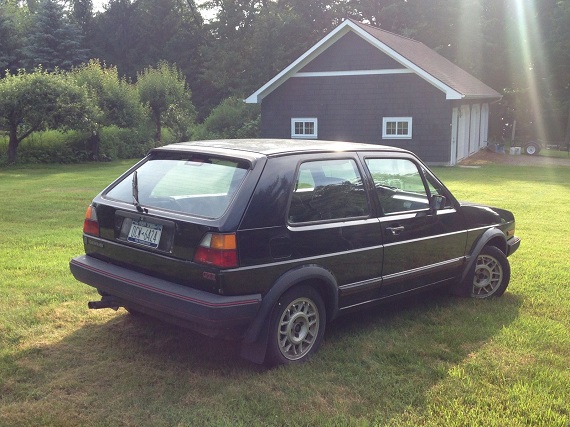 Year: 1987
Model: GTi
Engine: 1.8 liter inline-4
Transmission: 5-speed manual
Mileage: 66,023 mi
Price: Reserve Auction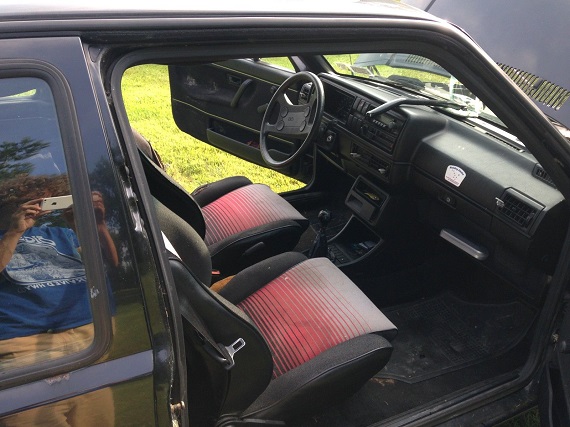 I am the second owner of this vehicle, my uncle owned previous to me. Was my get around town car till recently. Has some rust and has seen better days. Needs some work on the power steering, emergency brake cables, and CV boot. All original car and the pictures tell the story. Runs just great. Any question just send a message. Thank you
She is a great car. Fun to drive. This is a perfect fixer upper for someone looking to work on a classic Volkswagen Rally style car. A little bit of love into this car and it will be a car that will just keep going.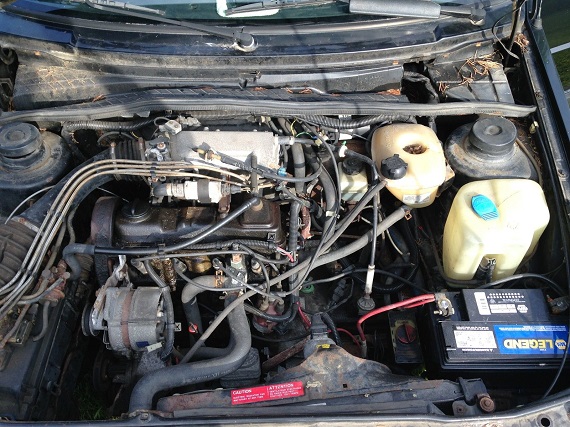 The seller is pretty upfront, and indeed from the pictures this car has seen better days. No options are spelled out, but it appears that the car had the sunroof option but no A/C. Unbelievably, items like power steering were still an option in 1987 (they wouldn't be on the 16V) and I don't see the provision for additional cost cruise control, but the L041 black was a no-cost option. It doesn't seem like this was a particularly loaded GTi, and as with many it seems like it wasn't the best cared for example. But it does look like a better starting point than many do for an affordable classic Volkswagen. They got great mileage, were fun to drive in any situation including snow, and very very capable cars. Parts are cheap, and if you can stay ahead of the rust you could have a fun classic commuter with some pizazz. It's tired and like many probably has some not particularly flattering stories of ownership behind it, but it's a bit of forgotten Volkswagen history that would be neat to save.
-Carter