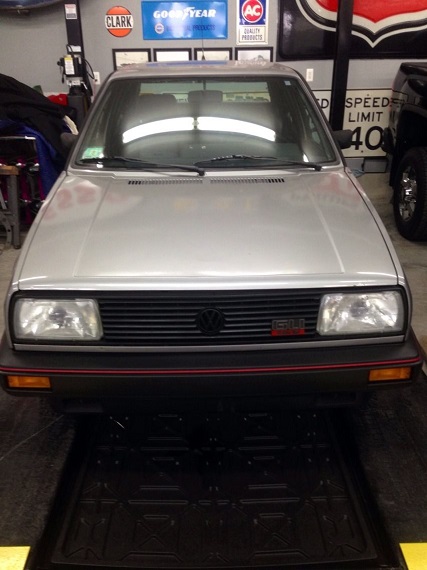 If you were not a Volkswagen fan, it would have been relatively easy to miss the numerous small changes to the Jetta lineup in 1987. Chief among these changes was the introduction of a new model, the GLi 16V. Outside there were subtle changes to what was already established in the sporty 4-door to help it be distinguished from the 8 valve model it was sold alongside (only in the 1987 model year). A new, deeper front chin spoiler had two integral brake ducts. The antenna had been relocated to the roof, and the rear spoiler was color-matched on the top surface. Inside, new body-hugging Recaro seats were offered, alongside the host of subtle luxury options that the Jetta had including power windows, mirrors and locks, sunroof, air conditioning, cruise control and an onboard computer. The GLi 16V also received new wheels, popularly known as the "Teardrop" alloys but properly named Silverstone. Of course, appearance was one thing, but performance was what the GLi 16V was about and the dual overhead cams of the new motor churned out 123 horsepower. That doesn't sound like a lot today, but it was plenty to make this light sedan entertaining. Expensive new and popular to be modified secondhand, these early GLi 16Vs are somewhat rare to happen across these days:
Year: 1987
Model: Jetta GLi 16V
Engine: 1.8 liter inline-4
Transmission: 5-speed manual
Mileage: 138,000 mi
Price: $6,500 Buy It Now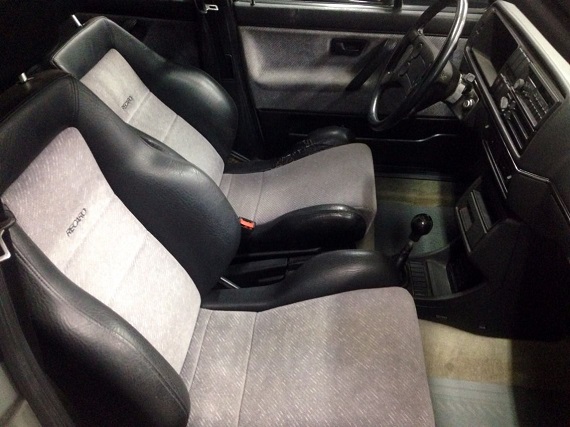 Totally rust free and unmolested GLI. Three owner and in great original condition. Not driven in the winter. Everything is there.Runs and drives nice. The undercarriage is in pristine shape. Just had a VW guru who's been working on VWs for over 40 years go through the entire car. He said it's the nicest GLI of this era that he has seen. I have his invoice of the work. Nothing major. 138000 miles. If you are serious you can call me @ 518-755-2774.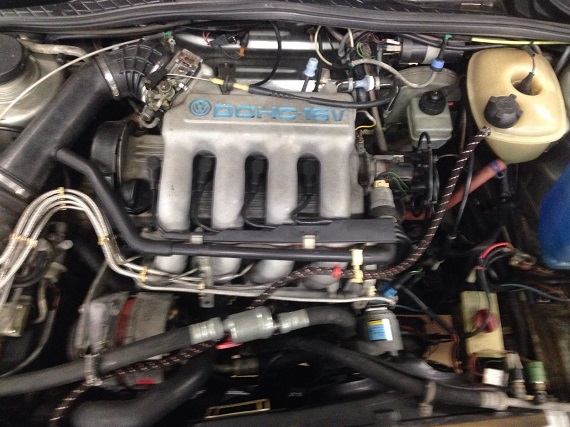 The presentation on this car – from what is shown – certainly looks to be very good, but I wish the seller had taken more time to detail the work that had been done and take better photos. Outside the Diamond Silver Metallic should really shine and it matched well by the machined and clearcoated alloys. Inside the Recaros look in better condition than nearly any set I've seen in a long time minus what appears to be one excusable crease on the driver's bolster. Compared to the styling of the '90-'92 cars with their 15″ BBS alloys and smooth bumpers, the early cars look a bit clunkier with the large matte black bumper covers and the '87s retained the early trim. 1988 saw a minor refresh and change to 3-slat grills and wider rub strips, so the '87 is a bit unique and this one looks correct overall. Pricing feels aggressive at $6,500 for what is shown, but finding another in this condition for less money might be impossible. Still, prior to plunking down that not-inconsiderable sum I'd want to see the records and more in depth photos. If it's the right car, which it looks overall to be, there just aren't many out there like this anymore, especially true of the early 16V models.
-Carter