Warning!
This post is in our archives. Links in this post may have been updated to point to similar cars available to bid on eBay.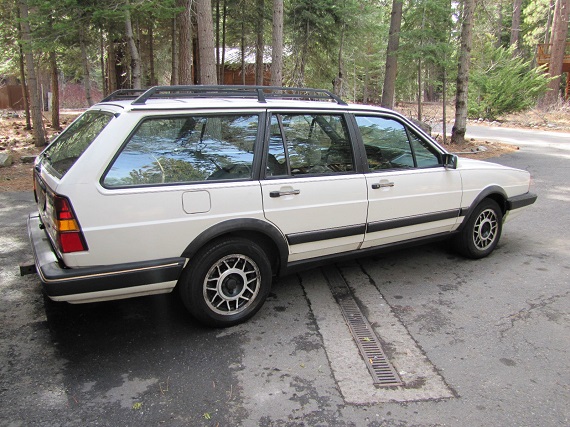 The B2 Quantum has always been an interesting car to me. As my first car was an Audi 4000CS quattro, there were aspects of its Volkswagen sibling that I really liked. First, while I wouldn't say that the Quantum was more handsome than the 4000, it was certainly more distinctive looking. There are some downright odd angles on the Quantum, but somehow the design pulls it off. It's also more rare to see them, or at least it felt so when I was driving around in the 4000. Then there were more practical things; for example, unlike Audi who ran the odd 4×108 pattern for slightly larger brakes, the Quantum stuck to smaller stock and retained 4×100 mm wheels. That made upgrades a bit easier and gave the Quantum a signature look with the GTi-sourced snowflake wheels. You could also get the 5-cylinder in front drive sedan configuration with the GL5; it was something Audi offered early on but had dropped, instead having only the Coupe GT be the front drive 5-cylinder. But the real trump card for the Quantum was undoubtedly the Syncro Wagon, as there was no Audi B2 wagon available in any configuration: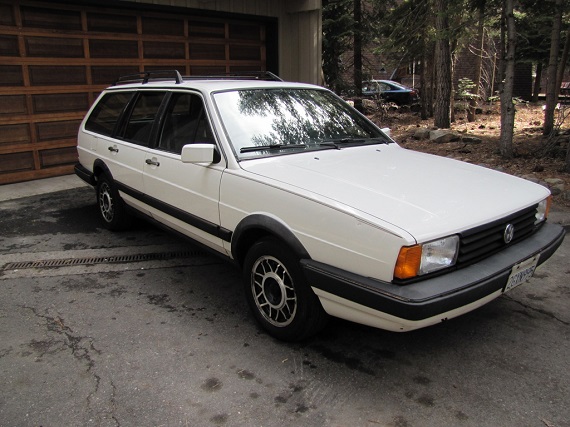 Year: 1987
Model: Quantum Syncro Wagon
Engine: 2.2 liter inline-5
Transmission: 5-speed manual
Mileage: 128,000 mi
Price: $3,100 Buy It Now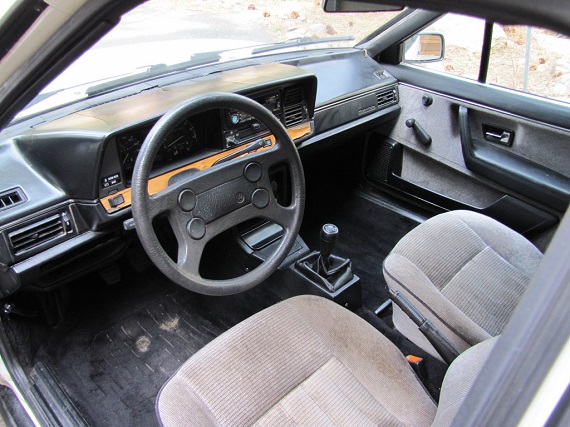 1987 Volkswagen Quantum Syncro AWD wagon
-Center & Rear locking differentials-

I'm a VW lover and this was on my had to have list for many years. I've always looked for QSW's but never found one that could be considered at all clean. Most have extremely high mileage and were used and abused. This car is not perfect but pretty darn nice for a QSW. My plan was to fix the minor issues it has and make it a totally stock vehicle and blow peoples minds at VW events. You simply don't see nice QSW's…..ever. Well. I have 3 other projects going, I'm paying storage fee's on stuff I don't even drive and well, you know the story….I just can't keep this one right now.

I purchased this car from the second owner. It has 128,800 original miles and runs amazingly well. The guy I acquired it from owned it for 12 years and he purchased it from a friend who bought it brand new. It has always been well maintained and I have maintenance/ repair receipts from when it was new to today. I drive the car a few times a week and wouldn't hesitate to drive it long distance. I've cleaned it up and done some maintenance.

Exterior. Car has been in California its whole life. Paint is shiny, not chalky. No rust or corrosion underneath. Some small dings and rock chips throughout. Drivers side front quarter has a dent and the rear hatch has rust below the window seal in one spot. I've never looked at one that didn't have some type of rust on the bottom edge of the window. All lights work. Has a manual sunroof but it is sticky and needs to be lubed and I have not addressed this yet. I have kept it closed. Has A/C that works but it not super cold. I'm guessing a quick shot of Red Tek (R12 replacement) and it's good to go; but keep that in mind. All wipers are brand new aero style.

Interior – Interior is overall clean and everything works. This car has manual locks and windows which is a huge plus in these 80's cars as that stuff always becomes a problem at some point. Drivers side floor has wear (heel marks) Dash has cracks from the CA sun. The seats and door panels have no rips or tears and look very nice. Rear hatch has brand new struts.

mechanical- This car passed CA smog without issue in November. It starts and runs extremely well. This month I drained the transmission and rear diff and put in the correct Kendall 80w-90 hypoid gear lube. It shifts like butter and the center and rear diff locks turn on and off immediately with the vacuum switch located on the console. Engine has a fresh 15w-40 Rotella oil change and proper wix gold filter. I changed the valve cover with the updated rubber one piece design and it has no leaks. The only issues that need fairly immediate attention are the front lower control arm bushings & a cv boot. The Lower control arm bushings are very worn out and you hear it when pulling into a parking lot etc. Meyle HD bushings are $7ea and it needs all 4 of them. I have a new CV boot from the dealer (not installed) Tires are Yokohama AVS with about 30% tread remaining.

Car is located near Tahoe City, CA and is registered and insured so it can be taken for test drives. I really hate to sell such a reliable utilitarian vehicle but I simply don't have the space. It's quite common for these cars to reach 300,000+ miles. The audi 5 cylinder is is smooth, reliable and has such a unique sound. This car is downright amazing in the snow. Oops I'm stuck….just pull the switch 2 clicks on the dash to lock both diffs and watch it effortlessly crawl out of almost any situation.

Remember you are looking at pictures. They always look better than real life. I urge anyone that is interested to see the car in person. Please contact me through Ebay with any questions. NO TRADES OF ANY KIND. Sorry! I will answer all questions within 12 hours.

Thank You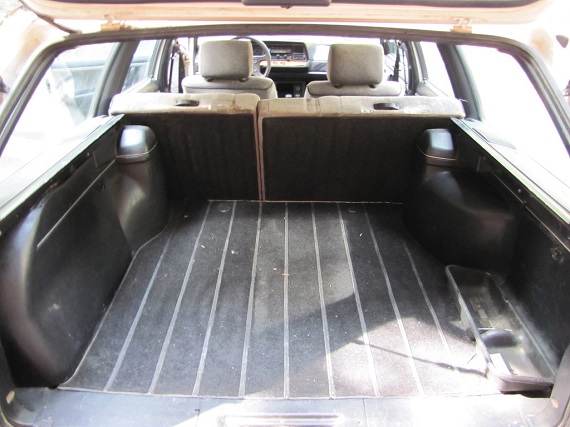 This is a pretty honestly presented car with a fair amount of needs, but honestly you're not likely to find an Quantum anywhere at this point that doesn't need something. They were prone to rust and neglect, just as their more expensive and equally sought after 4000 siblings. One interesting aspect of the car is that it has manual windows; atypical for the usually loaded Syncros. I'm also drawn to the 'syncro' script rear defroster, which reminds me of the similar 'quattro' script defroster on my old 4000. What do you do with this car? Well, you could try to restore it to perfect, but that'll take a lot of time and money. Instead, I'd probably address the immediate rust spots with a healthy dose of POR and make it a winter warrior. There's something very special about this drivetrain; it's not the fastest or most refined platform, but it'll make you smile – especially when the weather turns sour.
-Carter