Warning!
This post is in our archives. Links in this post may have been updated to point to similar cars available to bid on eBay.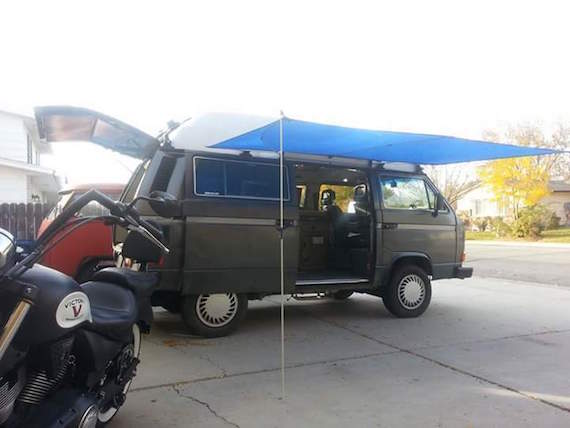 Following in yesterday's rough-but-affordable Vanagon Syncro footsteps, we have an interesting DIY-Syncro Camper with a no-reserve auction. It started as a tinop Vanagon GL Syncro but has experienced many surgeries – cosmetic, mechanical, electrical – to make it a much more versatile and reliable van. The Subaru 2.2 is good for speed, the hightop is nice for headroom (there's no bed in this one) and the Westy kitchen is a huge camping bonus, but what really catches my eye is all of the little aftermarket touches the seller has installed to make this van much less of a headache down the road. GoWesty relays, circuit boards, stainless lines and coolant pipes… these are details that increase confidence that this is a solid Vanagon bet. There are also plenty of less-consequential but still cool pieces coming with it, like insulated curtains, van shower, bike racks, awning, and good-looking Audi 5000 wheels. It shows some exterior blemishes, but nothing bad; they're like an old climber's sunspots on his nose and cheeks. This thing was built for adventure and reconstructed for even bigger ones.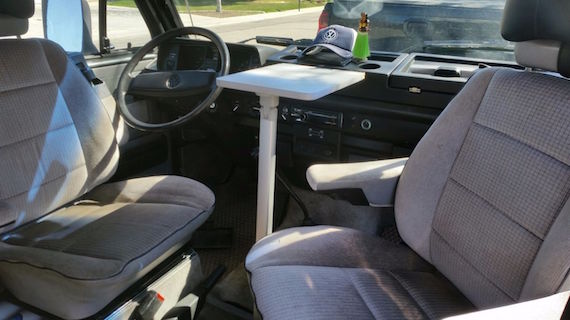 Year: 1987
Model: T3 Vanagon Syncro
Engine: 2.2 liter Subaru flat-4
Transmission: 5-speed manual
Mileage: N/A
Price: No-Reserve Auction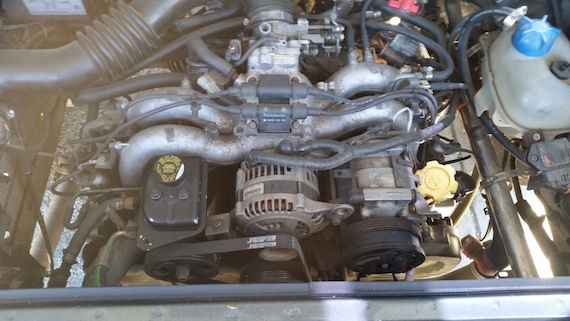 Originally a Vanagon GL Syncro, it is now a hi-top with an adventure wagon top on it. It has had a westy stove and sink added, with a 16 gallon fresh water tank and 6 gallon grey water tank. It has a 2 burner stove and a propane (propex) Heater that is thermostatically controlled. It has dual batteries with an isolator for the accessories. it has a full queen Z-bed and three table options, (center, dash mount and a behind the seat table as well. both front seats swivel and there is combination lock safes mounted under each front seat. The dash has a unique desk addition that folds out for the passenger while traveling. There is a Van shower with an enclosure as well as screens for the rear and side openings. For really cold nights it has insulated curtains for the windows and again the propex heater.(best thing ever in a Vanagon. There is an external Westy style propane tank with accommodations for external stoves and accessories. The stereo is a Sony with usb, and blue tooth for media streaming and hands free calling. There is an external shade canopy and 3 bike racks on the outside. (And ski racks in the tubs). Both front bumpers are upgraded with Rocky Mountain Westy modular bumpers as well as a 2 inch receiver hitch, and there is a rear hatch Palchen rack that is really universal.
The engine has been upgraded to a Subaru 2.2 with a small car conversion kit. It has Old Man Emu shocks all the way around with 5 south African steel wheels and 4 way chains. I also am including a set of Audi 5000 15″ aluminum wheels for a future upgrade. The brake lines have been upgraded to stainless steel. The for/aft coolant pipes have been upgraded to Go Westy stainless pipes. The headlamps also have go westy relays kits and there are L.E.Ds through out. The instrument cluster has also been upgraded with the go westy circuit board kit. Most of the suspension bushings have already been replaced and the rear differential lock is in working order.
There are four big tubs filled with extra parts and pieces from a Vanagon camper that was parted out.
This Vanagon isn't perfect or the price would be much higher as anyone who knows syncros would know. It has very minimal rust in the forward seams as is usual but barely even visible-see pictures, there is a rust spot in the right rear quarter as you can see in the pictures. There is a slight exhaust leak in the pipe where it connects to the new catalytic converter because the flanges were two different styles and this should be addressed. The air conditioning isn't connected (compressor is seized) but there is a new compressor in the box in one of the tubs provided. Ac lines will need to re-configured to install it.
With the Subaru 2.2 in it from small car it will run freeway speeds all day long with little effort and without the common engine conditions that plague Vanagons. It still needs some little tweaks and refinements to make it perfect but this thing has an incredible list of options and improvements already done. If you want to build the ultimate adventure wagon this is a fantastic start to get you going.
*mileage says 85,691. I doubt this is actual I have no way of knowing the actual mileage+
**seeing the vehicle report after posting this ad, I can see in the history that the mileage is in fact higher as I expected. Mileage on the title is listed as exempt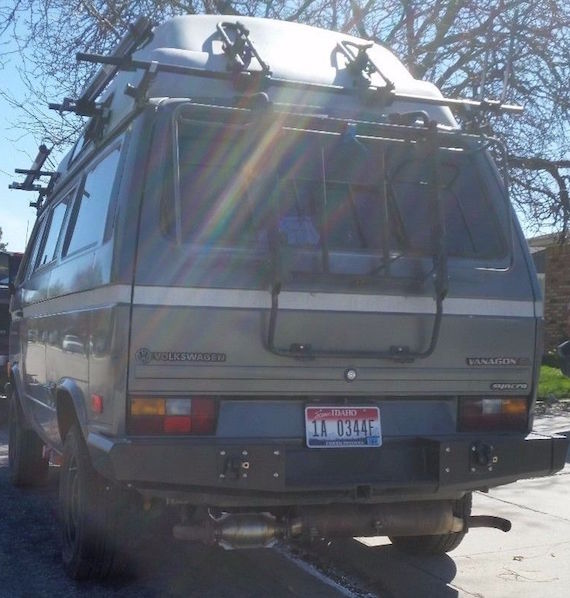 Even with crazy low-mileage Vanagons you should expect that you're going to be tending to little project bits along the way, so more and more I think the way to go is with patience and due diligence to find an affordable example that has had owners who were willing to attend to those little bits. This one looks like just that and is currently sitting with just one bid at $14k. That discount comes from being a pretty serious Frankenstein, but this monster has a heart of gold. Eschewing provenance for functionality, this SyncroWestyHightop mash is a great opportunity to have a monster Vanagon without breaking the bank.
-NR