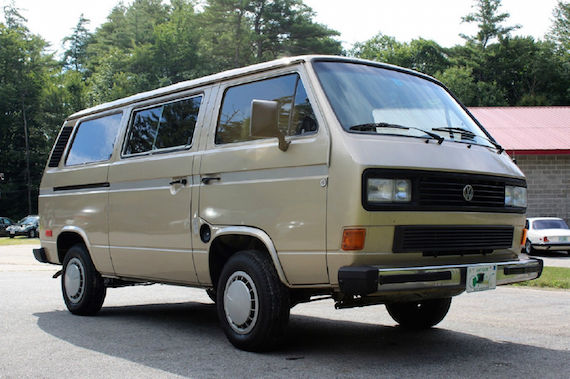 I've been getting pretty into these non-pop-top Vanagons recently, and today's is an interesting case. It comes with tons of miles and a rebuilt title, but has clearly been cared for and gone through a thorough mechanical rebuild. While normally title issues raise huge red flags for me, most older Vanagons are inherently going to be projects, and it's nice to know that someone has done a lot of the important stuff here. Most of all, if you didn't know about the title this would just present as a clean, excellently 80s gold-on-tan van. The few issues will keep it affordable, turning this versatile vehicle into a good deal.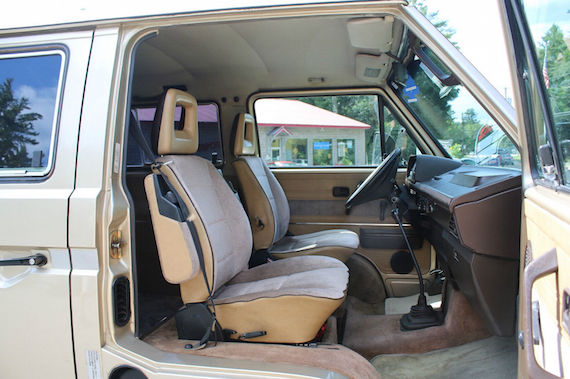 Year: 1987
Model: Vanagon Wolfsburg Edition
Engine: 2.1 liter flat-4
Transmission: 4-speed manual
Mileage: 226,912 mi, 6k mi on engine
Price: Reserve auction, $9,500 Buy It Now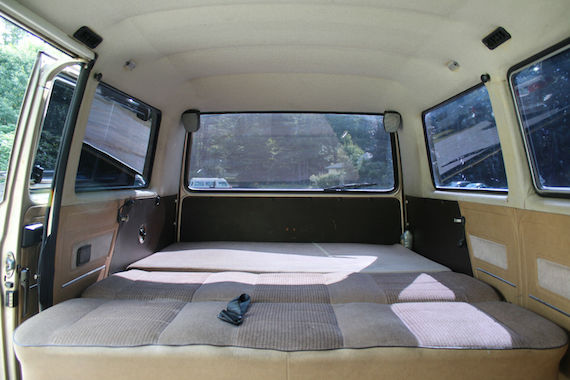 This is a Vanagon that I had shipped back East from Vegas. It spent it's life as a CA and NV vehicle. So, I doubt that it really ever saw road salt, and maybe not even snow. It has now seen snow, but not driven in it, or the salt. The bus, from the photos, you will be able to see how rust free and clean it is. It is a smoke free vehicle since I had it, and it arrived smoke free. However, there are some small burn holes in drivers seat, and we will leave those to the imagination. The Vanagon has been pretty much mechanically rebuilt. The 2.1 L waterboxer engine has about 5-6,000 on the rebuild, and my mechanic says it is one of the strongest running Vanagons he has ever seen. The transmission was replaced, and I have had all the shift linkage replaced. Also, most of the front end has been rebuilt, including tie rods and ball joints. I have all receipts for work done by myself and the prior owner. The tires have all been replaced with the proper load bearing tires for a Vanagon and a 4 wheel alignment was done. The tires are LT195/75r14 and are Yokohama Super Van 356 with 2 polyester sidewall, and tread is 2 polyester and 2 steel belt layers. These tires are meant for the Vanagon weight, have the extreme traction, and quiet design. If you were going to drive in snow, doubtful that you would need studs.

These buses drove through anything for most part. There is a good spare in the holder up front underneath. There was a new master cylinder installed and master clutch slave. Axles have been rebuilt, new transmission mounts, as well as new boots. The thermostat and housing were replaced. The gas tank has all new grommets and piping, so no more embarrassing leaks at fill up. Electric radiator fan works great for the coolant. Rear wiper motor replaced and washer replaced in front also. New turn signal, wiper operation lever installed with intermittent wiper operation added to the rear wiper. New front signal lights were added and two side markers on the rear. The Vanagon was originally done without air conditioning. So, it doesn't exist. The van has also had a new catalytic converter put on and some other exhaust items, and O2 sensors. There are other items that have been repaired or replaced. All lights work for inspections. Battery is a newer addition.

***The title states that this is a rebuild/salvage. The following information was gathered from the CarFax Report. At some point, on or about 02/11/2008 a fire was reported to insurance and state of CA due to mechanical failure. A damage report was done and on 03/12/2008 the van was declared a total loss and a title was issued to the insurance co in California, and a salvage title/certificate was issued. On 04/21/2008 a dealer took title of this van and registered in Nevada with Motor Vehicle Dept in Las Vegas. A Rebuilt Title was issued, exempt from odometer reporting. On 05/0402010 a new owner was reported in Las Vegas, NV, and a new Rebuilt Title was issued, exempt from odometer reporting. On 11/08/2011 a new owner was added in Vegas, and a new Rebuilt Title issued, and exempt from odometer reporting. Then on 04/19/2014 the new title, Rebuilt/Salvage was issued in the state of New Hampshire, when I bought it. I know there were a couple of different speedometers installed, as I have one that the former owner had replaced with the current one, a used unit. I will gladly email a copy of the Carfax Report to anyone interested. The vehicle had to have been inspected in Nevada before a permanent rebuilt title was issued. The number of owners increased with the transfer of title due to the fire to the insurance company, and then to dealer, before being resold. Therefore, the number of actual owners is no more than 4.

I purchased the vehicle from a man in Vegas, who had it for several years and did some of the mechanical rebuild on it. All other info I learned from receipts and vehicle reports. He also reported at least one speedometer replacement, and I believe I have a receipt for at least one other rebuilt speedometer.

It is a 7 passenger van, with the middle seat missing. Rear seat folds down for comfortable queen sized bed for camping, with no closets to get in the way. The radio may need replacing or a least new speakers installed. There is a spare radio under the rear seat. Spare tire, jack, etc are included. Battery is of new condition. Front and rear heaters work very well, as does the defroster, and rear defroster. The fresh air vents work well, in lieu of a/c. Just recently the light behind the heat controls has gone out, will try to get to look at that. All interior lights work individually and with the doors. (even the vanity light and the map light) The electric locks work, as do the side mirrors. Windows are manual Door panels are in excellent condition as are all the side panels. Glass throughout is in very good condition. All the rear windows have the privacy/sun shield film on them. The color is the tan/gold that was popular at the time. Has all four original hubcaps and a spare one. This van could use some paint if you would like (it isn't too bad as is), the roof is where most of the paint is thin, pretty normal. Maybe some interior work, but definitely is ready to go cross country. It is very road worthy. It drives like a new Vanagon, and has incredible power and handling. I have had as high as 27 mpg on the highway, and runs around town at about 20 mpg. It is a head turner and ready to go another 100,000 plus miles. There is no cruise control. There are no workings for it in the engine compartment and the only thing showing is the switch on the headlight dimmer lever. A new copy of the Bentley Official Factory Repair Manual is included.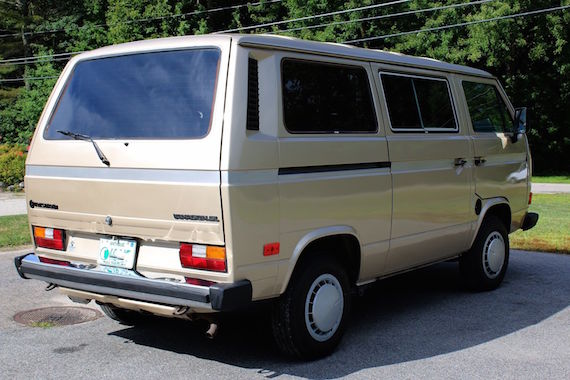 Sometimes long descriptions make you feel like the owner is trying to explain away his sunken project's ills, while others help you realize that someone put some darn good work into a car and is passing it on in good faith to the future owner. That's how I felt after speaking with my car's seller, and it's how I feel about this van. I may be solo in that though, as slow bidding indicates it's not going to get anywhere near the Buy-It-Now. That's good for the interested parties out there, and bad for the diligent and (apparently) honest seller. Given the mileage and title, this could end up somewhere between $5-7k, which seems like a great deal on a fun and approachable adventure approachable project.
-NR