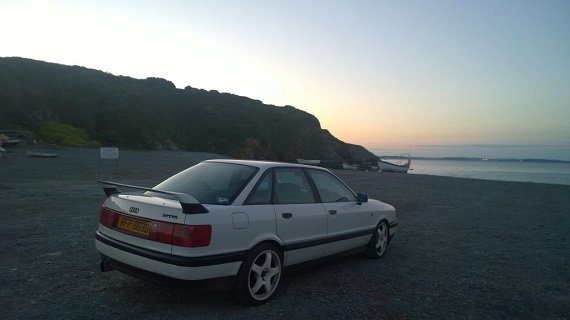 In the realm of German cars, Audi seems to be the unappreciated marque when you go back a few generations. But even then, amongst the leper colony of Audi products that no one wants, the Audi 80 quattro is close to King. I say close to King, because truth be told I think there are even less appreciated products from this time – the front drive Audi 100, for example. But go to 1991, and within Audi all enthusiasts are generally interested in is the 200 20V quattro, the Coupe quattro, and occasionally someone will mention the V8 quattro 5-speed. The 80 quattro, though, was one of the smartest options if you wanted a robust, small all-wheel drive sedan. True, the switch from B2 to B3 gained a fair amount of weight and not much more power from the NG 2.3 liter inline-5. It felt, if anything, a bit slower off the line than the 4000 quattro had been – a car not noted for it's straight line dominance. But its unpopularity ironically made it quite popular as a tuning platform; after all, it does share some DNA with the much loved RS2. In this case, the builder of this car has thoroughly upgraded this B3 to new levels of power and performance: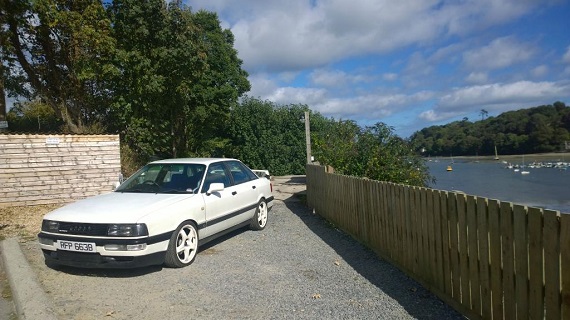 Year: 1991
Model: 80 quattro
Engine: 2.2 liter turbocharged inline-5
Transmission: 5-speed manual
Mileage: 136,000 mi
Price: GBP 5,000 ($7,854 Today)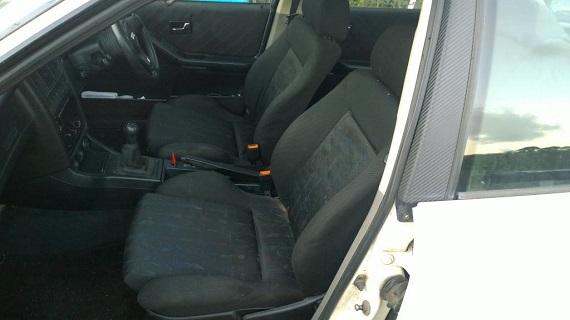 It's taken me months to come to terms with it, but I'm moving to the other side of the world so it's time to sell my 80
This has been used as my fun weekend car, and occasionally at drag events, my best run was a 13.5 quarter.

Shell:
1991 (H) Audi 80 quattro (B3) 136,000miles
Alpine White
B3 Coupe front bumper modified to house FMIC
S2 Avant rear bumper
B4 Competition rear spoiler
90 headlights (drivers side included)
Clear front and side indicators
All red rear lights + 90 panel
Colour coded mirrors

Brakes/Suspension/Chassis:
Team Dynamics Pro Race 3 17×7 alloys
205/40 Avon zz2's (practically new)
Spax -40mm springs
Fancy top mounts?
S2 front strut brace
Powerflex poly front wishbone bushes
Stitch welded wishbones
Solid ali front subframe mounts
S2 G60 calipers
Braided brake lines
Vacuum servo
Black Diamond grooved and vented discs
Mintex pads
Brand new rear calipers and pads
Super Blue racing brake fluid
Uprated gas rear dampers included but not fitted

Engine:
AAN URS6 engine 120,000miles approx (fitted by previous, previous owner)
Approx 350bhp (map for 350-380bhp, untested)
RS2 K24-7200 Turbo fully reconditioned
RS2 (unbranded) exhaust manifold
Forge dump valve
Bosch 440 injectors
Dahlback Racing reverse inlet manifold
Unbranded FMIC
Bosch 044 fuel pump
TFSI coilpacks
Ramair filter
Custom exhaust
Custom screamer pipe
Stock wastegate
PRJ remapped ECU with Launch Control
Shell oil
VW coolant

Transmission:
Full 20v 7a gearbox, diff, prop, shafts, hubs etc
Spec stage 3+ clutch
Lightened and balanced 7a flywheel

Interior:
S2 electric Recaros + matching jacquard cards
Dark blue matching carpets
URS4 3 spoke steering wheel
All 4 electric windows
Boost gauge in place of stock volts gauge
Hidden turbo timer/Volts gauge
Battery kill switch

Other:
Meta Remote central locking, alarm and imobiliser
Tons of receipts and history
MOT June/July (will confirm)
Programmable intermittant wipers
Will throw in any spares I have lying around

Ideally I would re-make the exhaust, as it is largely made of bits and bobs, does the job but it could be much improved and gain some horses in the process!
Could use tracking.
Dash lights don't work (suspect clocks, spare clocks included)
Rear electric windows don't work disturbed something swapping the doorcards so will just be a loose connection.
The windscreen on the passenger side has trapped water and as such has caused a little rust.
The front passenger wing has had a little scrape in the past but you wouldn't notice it at a glance, some minor rust on both front arches too, was going to go B4 front anyway but never got round to it.
Rear discs need replacing, quite bad condition from the old siezed calipers, passed the MOT with them so not desperate.

£6000 ono as it stands serious offers welcome, price very flexible if you don't want seats/wheels….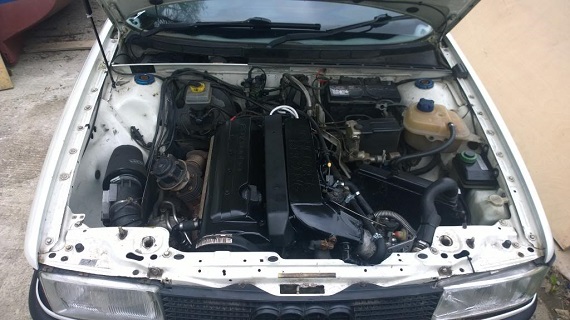 I have to say that my favorite aspect of this build isn't that the car has a AAN RS2-spec motor; it's that the builder didn't make it look like a RS2. The European model B3 and B4s are quite handsome in their own right, and with the right sprinkling of S2 bits and some purposeful looking Team Dynamics wheels, this car looks pretty neat. Especially cool is the Competition-spec rear spoiler. The 80 was, after all, raced in several Touring Car series, and though we didn't receive the sporty models there were a few editions built. That piece alone really helps to set the car apart. Inside, unfortunately the great Recaros from the original build aren't included and are sold separately – if you have the budget, grab them because they're awesome. But most will want this car for what's under the hood – and upgraded turbocharged inline-5 pushing plenty of power and capable of even more. There are needs here, as there are with most project cars, but overall this car looks like a pretty reasonable deal for the roughly $7,500 asking price. The only downside is that we're quite close to being able to import real S2s – something I've mentioned before, and I think that hurts the appeal of this car for people that want a cleaner example. But in you're looking for performance, it's hard to find a package that offers more twist in the German world for less, and certainly while there will be some hiccups down the road I'm guessing the next owner will have plenty of smiles when the taps are opened.
Thanks to our reader John for this neat spot!
-Carter