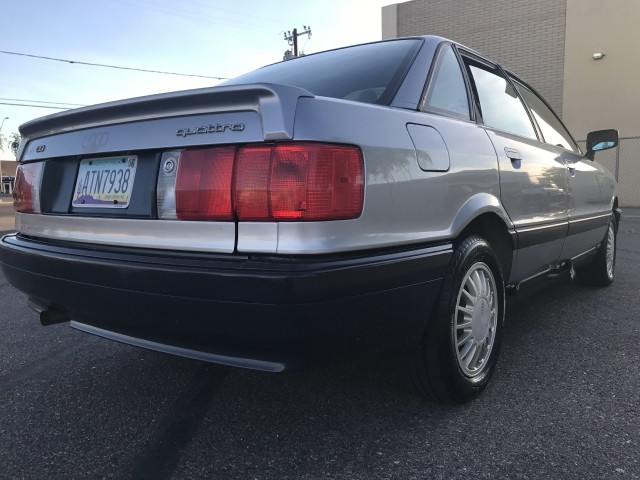 The Audi 80 quattro was a great replacement for the 4000 quattro in many ways. And, in many ways, it was a complete let down. It was more quiet with better interior materials and better technology. It also had more power with the 2.3 liter inline-5, but additional sound deadening and more technology all meant more weight, so the new 80 quattro felt slower than the 4000 had. That technology meant it wasn't quite as "cool" as the 4000 had been, either – you could only lock one differential thanks to a new center Torsen unit, and then at 15 m.p.h. the rear diff would unlock electronically. BOOOO, Audi, BOOOO! How am I supposed to channel Hannu Mikkola if your electronic nannies are undoing my sick slide?
Did it matter that the second generation of quattro was probably better in most conditions for the majority of drivers? Not really. It didn't matter that fundamentally the 80 was a better car, either. The 80 had three strikes against it before it even went on sale here. First was the price; at around $24,000 out the door with a few options, it was considerably more expensive than even the expensive 4000 quattro had been. Second was that it was no longer top fiddle; the 90 quattro was the upscale model, meaning that if you wanted body-color bumpers, for example, you needed to pony up even more for the "nicer" model. Heck the 4000 had body-color bumpers in 1985 for less money. What was Audi thinking? And to top it off, there was the whole 60 minutes fiasco.
Those factors combined to doom the B3 here, no matter how good it was. In 1988, with the release of a fresh model, Audi barely managed to outsell the antiquated 4000 quattro. The 80 and 90 quattro combined to sell just 94 more examples than the 1987 4000CS quattro had (3,023 v. 2,929). And, that was their best year here, to boot; each successive year, sales fell – 1,947 in 1989, 1,680 in 1990, 655 in 1991 and only 640 in the last year of the B3, 1992. It's made finding clean B3s very difficult. Despite that, they often don't hold much value in the marketplace: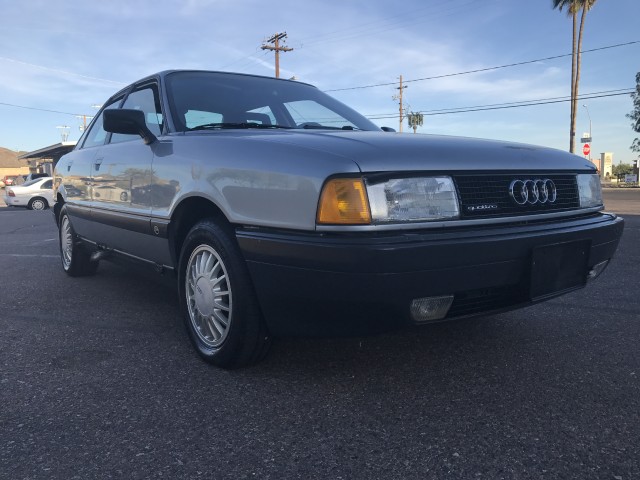 Year: 1988
Model: 80 quattro
Engine: 2.3 liter inline-5
Transmission: 5-speed manual
Mileage: 118,000 mi
Price: No Reserve Auction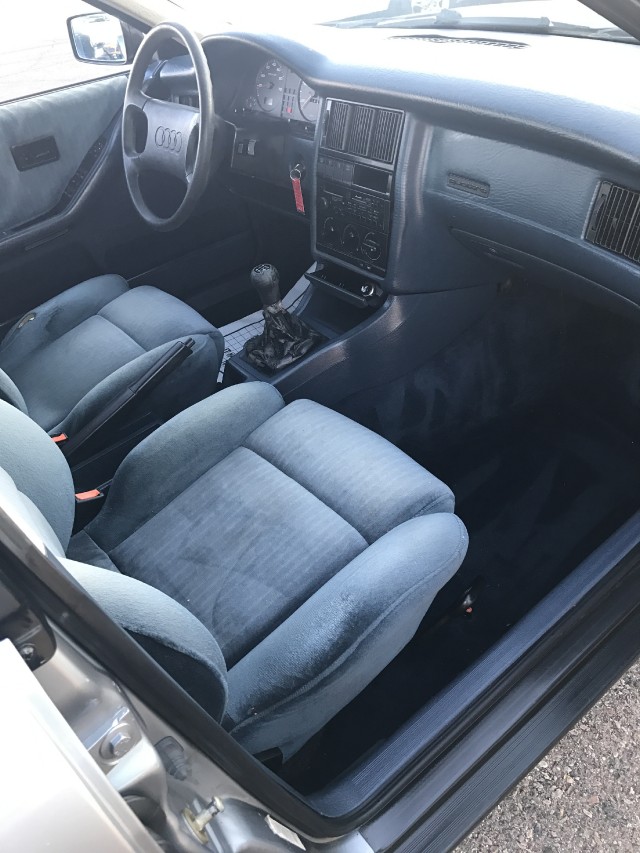 Phoenix Auto Sales LLC
509 E. Eva St
Phoenix, AZ 85020

1988 Audi 80 Quattro

– 118k Original Miles
– 2.0L 5 Cylinder
– 5 SPEED MANUAL!!!
– Blue on blue cloth
– Lockable rear diff
– Sunroof
– R134 Converted A/C
– Am/Fm Cassette
– Power Windows, Locks
– Fog Lights
– Service Receipts

This is in the only Audi 80 for sale on Ebay. Runs and drives good. Shifts smooth. Tires have good tread. Body is straight. Side moldings are worn. The hood, top and spoiler have small faded spots. Interior is in good condition. Has minor wear. Driver seat has a rip. Headliner under the sunroof needs to be replaced. The back seats have sun wear right where the windshield is (see picture). Overall rare find. Needs a little TLC but overall great condition. For being a 29 year old car it has low miles. NO RESERVE!!

At Close Of Auction:

The successful winning bidder must telephone us within 24 hours after the auction has ended to verify the purchase. $500 non refundable deposit will be made within the first 48 hours. Full payment must be received within 7 business days of the auction. Payment must be either Cash or Cashiers Check.

AS IS – NO WARRANTY

This vehicle is being sold AS IS, No Warranty expressed written or implied. Vehicles come with books and manuals only if pictured in the photo or if stated in the ad. The seller shall not be responsible for the correct description, authenticity or defects. We will not and cannoth be held liable or responsible for these issues.

Taxes and Fees:

Out of state buyers are not charged tax, title or license. Customer is responsible for registering the car in their home state and will be provided with a 45 day non resident temporary permit. All buyers are charged $199 Doc Fee that is non negotiable.

Arizona Residents will be charged 8.6% Tax and a $199 Doc Fee. All sales transactions must be completed within 7 days of auction close.

Title:

Most vehicle titles are not held on the premises and it may take up to 30 days to receive. For the most part the title is always present.

Shipping:

We do not have any affiliations with shipping companies. We use uship.com to get competitive quotes. Buyer pays all shipping costs.

Do not bid if you do not intend to purchase this vehicle!! Bidders are entering into a legal and binding contract to purchase the vehicle.

Terms:
The parties agree that this contract shall be construed under the substantive laws of the state of Arizona, that the state courts of Arizona shall have exclusive jurisdiction over any action brought to enforce the terms of this contract or over any action arising out of the underlying transaction(s) with seller and venue will be held in the Maricopa county superior court of the state of Arizona.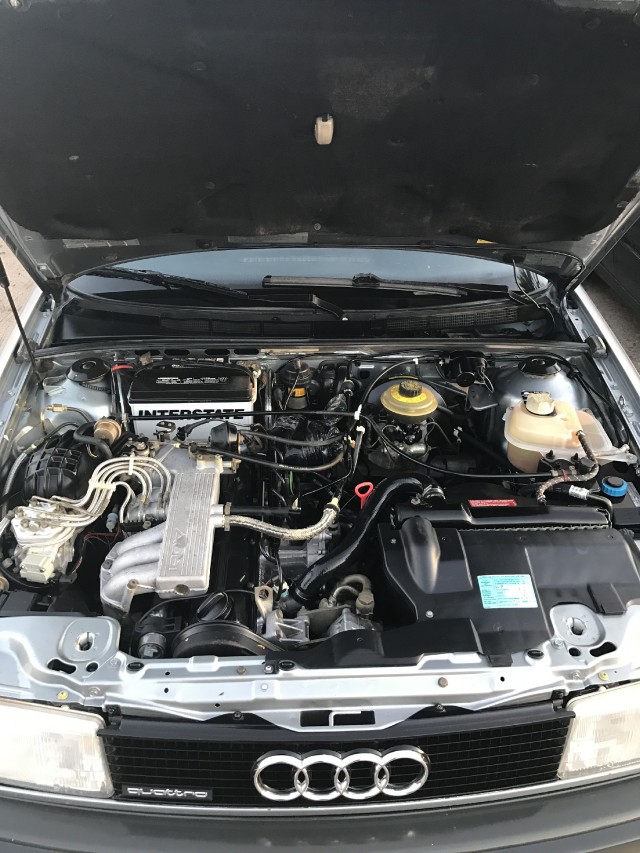 This 80 appears to be Sapphire Metallic with Marine Serret Velour; however, the low-light photos make the actual colors hard to tell. They also mask a large amount of imperfections, which at least are somewhat disclosed when you see the clearcoat failure on the trunk lid. The interior has seen its fair share of wear, too, with the sport seats showing heavy bolster problems and the door panels delaminating. The Ronal R8s never really looked quite right on the Type 89 to me; too small and a hold-over from the 4000 quattro, they were later replaced with the more upscale looking BBS wheels seen on the 90. General condition is decent but probably slightly short of good; despite this, it's better overall than you'd see most 80 quattros come to market today. As a bonus, the seller has some of the previous owner's service records. But the big draw is the no reserve auction; with a few days to go, so far this 80 is only a $1,000 car. If you can deal with the growing list of NLA parts and certainty of typical old Audi idiosyncrasies, it looks like a great deal.
-Carter