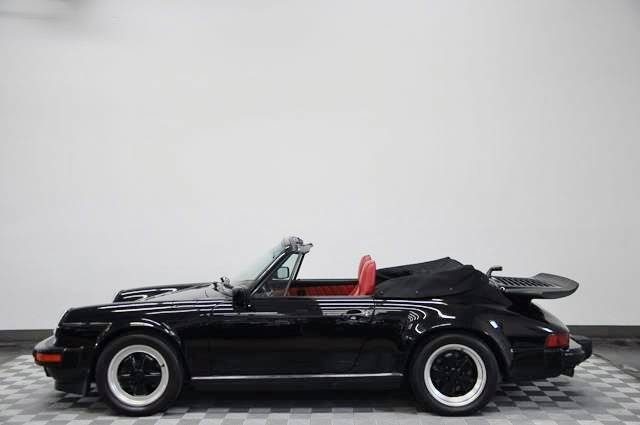 I think this 911 has been for sale for a while. I could be wrong, but I know this dealer has had a decent number of very-low mileage 3.2 Carreras and I'm assuming this one is part of that group. So why feature it now? Because it's 4:30 am and I can't sleep. I'm looking at cars and this one piqued my curiosity, to a degree clearly more than usual, and now I'm writing about it. The asking price, the mileage, and of course the interior. I love a red leather interior, a point that perhaps comes into focus during insomnia-fueled car trawling. It is in such moments of clarity that greatness can be achieved. Ok, so that's probably a stretch, but I am realizing that I do like this 911. The interior isn't for the fainthearted – the CoA is hard to read, but the color actually is Lipstick Red – and on a Cabriolet it stands out even more. There's nowhere to hide, but that's the idea.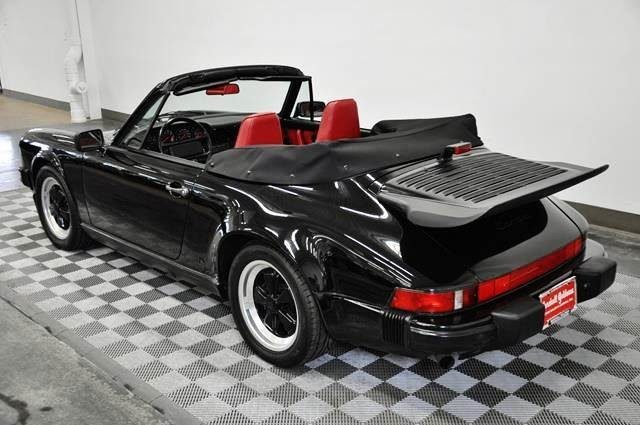 Year: 1988
Model: 911 Carrera Cabriolet
Engine: 3.2 liter flat-6
Transmission: 5-speed manual
Mileage: 19,330 mi
Price: $77,800 Buy It Now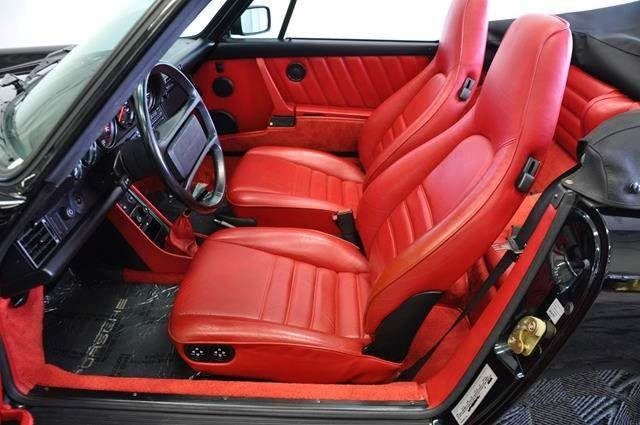 1988 Porsche 911 Cabriolet
We have just added to our extensive exotic car inventory a beautiful 1988 Porsche 911 Cabriolet in Black with Lipstick Red special leather interior and only 19,300 miles. This 911 is equipped with: 5 speed manual transmission, full power left seat and four way power passenger seat, limited slip differential, steering wheel with raised hub, Blaupunkt Reno radio, 16″ forged light alloy wheels, automatic heating control, power operated top, cruise control, spoilers front and rear, alarm system, luggage compartment in black velour, complete books, extra keys, certificate of authenticity, tool kit and jack.

Family owned and operated, Marshall Goldman Sales and Leasing has been pairing the best in luxury automobiles with discerning customers across the globe since 1978. Every car we offer is owned by us and is on site in our massive 40,000 square foot indoor showplace. Call us today and find out what legions of satisfied customers already know: Our staff's professionalism and our unparalleled inventory offer a buying experience unlike any other. Buy the best, from the best!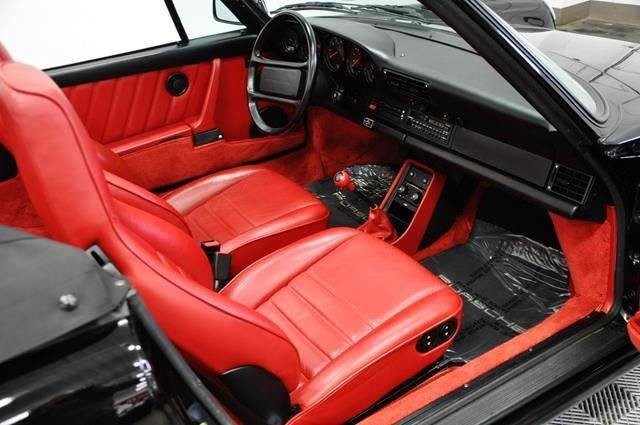 Black over red, on a car, definitely represents a study in contrasts and that red interior certainly provides a healthy dose of vitality for those that claim a black car is just a bit too boring, too commonplace. I like the combination, not as much as I like Slate Grey over Red, but the divergence of its colors is attractive. The color combination is why we are here. There isn't a whole lot else to say about this 911 other than it presents as we'd hope a car of this age with fewer than 20K miles would present. It's likely been a part of someone's collection and its apparent condition speaks to that.
I am curious about the price though. I've had an eye on the 3.2 Carrera market a bit as prices creep back into more reasonable territory so I'm curious if this high price will be attainable. The mileage and colors probably make for the sort of car that could achieve such a price. Will it? We'll have to see.
-Rob