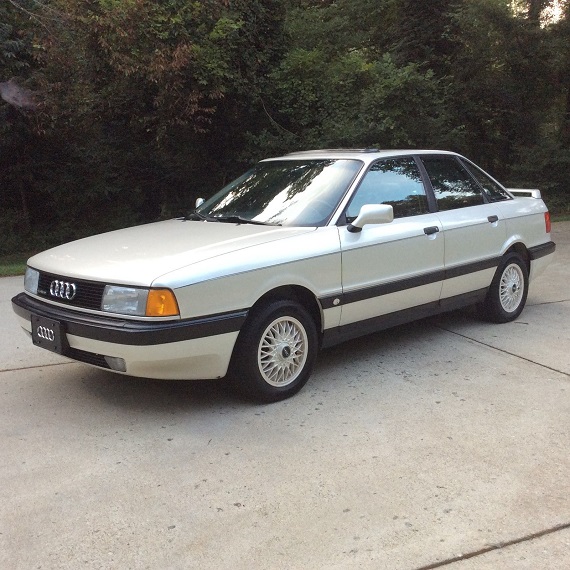 Looking at the outrageous B5 and B6 S4s from yesterday is a stark reminder of how far the company has come from the rather humble roots of Audi's small chassis. Sure, the B2 was the basis that launched the new direction for the company in the Quattro, but most B2 cars were modest, relatively underpowered near luxury cars. Park one next to a new A4 and you'll be amazed at just how large they've become; from a 100 inch wheel base, 66 inch width and 176″ overall length, the B2 tipped the scales at a little under 2,400 lbs in 1980. The new A4s have a foot more in between the wheels (and the ends of the bumper, no surprise there), are half a foot wider and are half again as heavy at nearly 3,800 lbs for the sedan. Brakes are now the size wheels once were on even the standard A4s, and horsepower? Well, the lowly 2.0T carries more punch than the original Quattro did in all but 20 valve and Sport form, even in European trim. While cars have gotten better at being cars than they once were, they've also become smart phones, offices, relaxation oases and sports arenas. Cars start, drive, and park themselves, tell you how to get places and when you'll get there, and even will tell Big Brother what you did wrong when you get into a accident. It's somehow a loss of innocence which makes contemplation of simpler times so appealing, and looking at this 1988 Audi 90 quattro is just that. So let's pop your copy of "Die Hard" in to your VCR, adjust the tracking and take a glimpse into Audi's past: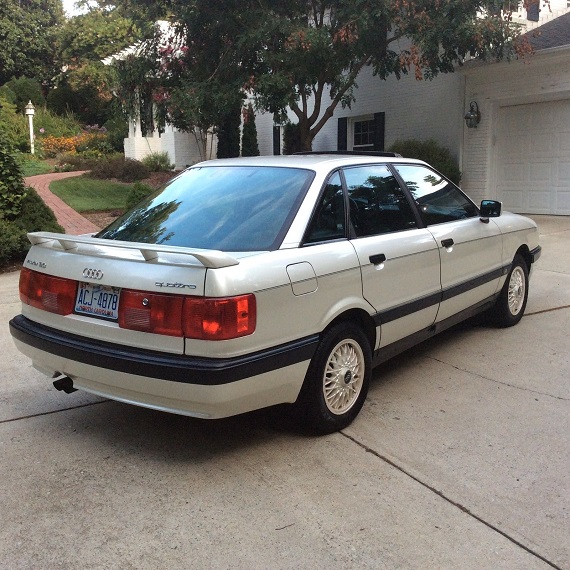 Year: 1988
Model: 90 quattro
Engine: 2.3 liter inline-5
Transmission: 5-speed manual
Mileage: 110,510 mi
Price: Reserve Auction
Rare find! One family owned vehicle with no accidents, rust, drips or leaks. Always garaged. Interior is fantastic – no cracks or rips. Carpet in good condition as car mats have always been in place. Interior is OEM (including radio/cassette) except headliner which was replaced a couple of years ago with as close a match to original as available. Exterior is showing age with clear coat checking/cracking. Car looks great from 10 ft plus (thanks to Griot's Garage products). New tires at 106,000. Recent work to replace vacuum pump for brakes and fuel pressure regulator. Lower door exterior trim showing signs of needing replaced due to rust on internal metal.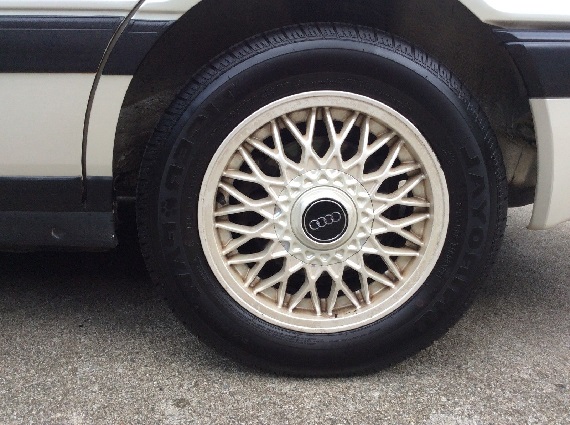 Pearlescent White Metallic is notoriously a difficult color to maintain. I was once told it took seven layers of paint to produce the look, but I'm not sure that is accurate. What I am sure of is that few painted that color originally are in good shape today, but this 90 looks pretty fresh overall and has the signature color-match BBS wheels. The 90 had 14×6″ versions of the same looking wheel that appeared on the 100 and 200 models; the 100 sported 15×6″ 4×108, while the 200 quattro had 15×6″ 5×112 until 1991. These wheels even carried over on to the base 90 quattro 20V. While they aren't the most aggressive look, they signaled a more upscale feel Audi pursued with the B3. A modern design in and outside were matched by wood trim and then cutting-edge technical features like the pre-tensioning PROCON-10 system. The quattro system was revised from the B2 to feature an electroncially-locking rear differential coupled to a Torsen center differential. As before, the front differential was open, and while the driver maintained some control with the locking button in the center console, the car would automatically disengage the rear over 15 m.p.h.. The design and electronics features were definitely market driven, but also diminished control of the driver – a signal of things to come. They also made the 90 pretty heavy. While the 4000 quattro had been chunky for its power at 2,800 lbs, the new 90 quattro weighed nearly 200 lbs more, barely squeaking under 3,000 lbs., but the revised 2.3 NG motor only had 15 horsepower more than the outgoing JT 2.2. Performance was about as soft as the suspensions Audi carried at the time, which is to say 'quite'.
This example is a pretty well loaded car; in 1988, options were sport seats (with power option, which I'd bet this car has), a trip computer, ski sack, heated seats (which this car doesn't appear to have) and Pearlescent White Metallic paint, its first appearance on the small chassis outside of the Quattro. The new downscale, more pedestrian 80 quattro and upscale, leather and painted-bumper (plus a raised spoiler and those BBS wheels!) 90 quattro combined for about 3,000 sales in 1988, so they didn't really flood the market but were expensive, prized possessions for those who did purchase. Not many survive in this condition today; despite that, value on them is quite low. Were this a 4000 quattro in equal condition, we could see bidding as high at $10,000 or more, but the 90 doesn't have quite the fan base and as of writing has failed to get any bids at a lowered $3,500 opening (albeit with reserve still on). I'd guess that the seller is hoping for $5,000 – $6,000; numbers a later clean Coupe Quattro might bring. But honestly this seller would probably be lucky if someone would be willing to pay even the opening bid. They're a tremendous amount of die-hard Audi for that money, but just have very little overall appeal in the marketplace today.
-Carter