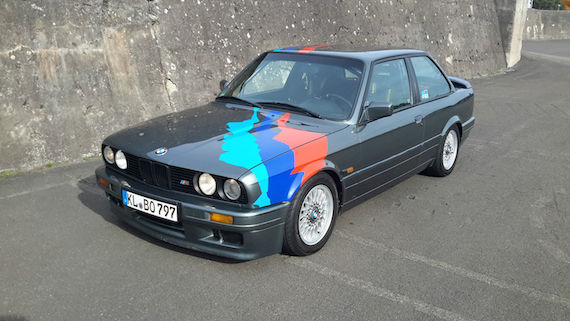 I've focused heavily on the now-importable forbidden fruit of Volkswagen recently, but the models VW kept from us tend more towards the funky instead of the fast. One of the tastiest BMW offerings that never came across the Atlantic is the "Italian M3," or E30 320is. As a reminder, these were standard E30 chassis heavily upgraded with M parts, including the M3's S14 but with a shorter stroke to circumvent Italy and Portugal's heavy taxes on engines over 2000cc. It produced almost as much power as the M3 with a little less torque, and the same Getrag dog-leg gearbox ensured a powertrain experience as close to the all-conquering M3 as any. The suspension setup was similar as well, but an M-Tech II bodykit provided a much more subtle, gentleman-racer look compared to the E30's legendary box flares. Carter featured one of the few in the US (and one of 2,542 in the world) a while back. It was for sale by the oft-derided Enthusiast Auto Group, well known for snagging low-mileage examples of rare BMWs and proceeding to ask exorbitant amount of money for them. That car with 50k miles was left on the auction block despite a high bid of $29k. It was also pretty much all-original, which is not the case here.
This 320is has had quite a few owners, starting with 3 in Italy, two in Germany (including the current seller), and 8 years with one in the UK. The British owner spent heavily to elevate his 320is to a true track weapon with an FIA M3 roll cage, race seats and 4-point harnesses, and a fully upgraded suspension. Other OEM+ items like E30 M3 rear brakes, E36 M3 chain tensioner, and M Coupe differential cover complete a package that is well thought-out and is surely an exceptional performer on road and track. In an effort to make it more streetable, the Recaros and roll cage are supplemented by by a custom rear seat-delete parcel shelf. It's racy for sure, but none of it looks so extreme that it couldn't be enjoyed regularly on the road. The exterior follows a similar path with jagged M-stripes crossing the beautiful Delphin grey. They're vinyl, so you can take them off if you want to return to its original sleeper status. With the performance parts it's packing and the rollcage peaking out of the back windows, I'd leave them on to proclaim BMW Motorsport for all to see. It will be in Germany until early next year which complicates the sale a little, but if the rare and unique 320is is your style, I'd say it's worth getting in touch with Norbert to see what you can work out.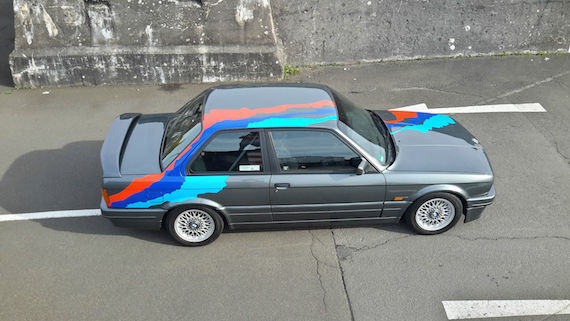 Year: 1988
Model: 320is
Engine: S14B20 2.0 liter inline-4
Transmission: Dogleg 5-speed manual
Mileage: 86,287 mi
Price: $39,500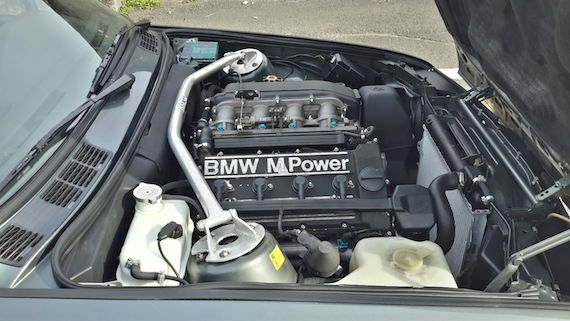 Currently being imported from Germany, this 1988 Italian/Portuguese BMW M3 will quite possibly be the third to have ever reached the United States of America (Source BMW M Registry). Please take a moment and educate yourself on the rarity of this vehicle.

"I don't know of any other 320is in the United States. I think it is a car for a very specific person; someone who understands that this is a special and unique car and the car doesn't have to shout about it. It's a car for someone who wants a total sleeper." – 2014 Alex Palevsky, Curator of BMW M Registry

BMW World Magazine tested the 320is against an EVO2 M3 and came away saying, "It's the 320is I'd take home."

Full description
An iconic BMW E30 M3 320is with true motorsport pedigree and history
European VIN# maybe verified at BMW M Registry

MODEL HISTORY
Exclusively produced for the Italian and Portuguese markets the 320is was manufactured by BMW Motorsport to take advantage of the reduced taxes in those countries for cars that displace two litres or less. It is powered by the same four cylinder S14 engine but produces 192bhp at 6900rpm opposed to 200bhp at 6750rpm for the regular M3. With a shorter stroke down to 2 liters (from 2.3) although lower powered and with less torque compared to the 2.3 M3 engine, performance is not hugely different due to lower weight, lower final drive gear ratio and lower capacity, infact its faster! The M3 dogleg gear box was also used in these models. Only 2542 units were produced compared to 18204 units of all M3 variants. (Source BMW M Registry).

EQUIPMENT
Complete M-Technic II aero package, shadowline window trim, front airdam, tachometer with integrated oil temperature gauge, power mirrors, central locking, power front windows, map lights in the rear view mirror, leather shift knob, air conditioning, interior headlight adjustment, electric clock. Racing Extras Summary: FIA-approved M3 OMP roll bar, Velocita OMP steering wheel and boss adjustable Eibach anti roll bar kit, Bilstein front and rear dampers, Supersprint stainless race exhaust, M Coupe diff cover, Turner Motor Sport E30 M3 oil pan baffle.

EXTERIOR
This stunning example is finished in factory Delphin metallic, (Paint Code 308), with a non-permanent classic Pantone M Power stripes. All factory trim remains intact and undamaged with the standard M-Technic aero package offering distinctive sporting looks with beneficial aerodynamic gains. Despite proven track potential this 320is offers real on road enjoyment with all running gear from E30 M3 items including adjustable suspension. Thousands have been spent on this structurally perfect shell to offer the ultimate M3 experience at a fraction of the cost, guaranteed.

INTERIOR
Simply sitting in the cockpit of this BMW raises the drivers pulse. Recaro Speed Seats at a cost £700 and Schroth Racing four-point FIA-approved harness at £245 offer unrivalled safety, support and comfort. The expensive but mandatory FIA-approved OMP roll cage continues the sporting theme. The rear interior trim has been removed but all carpeting, headlining, door cards, interior equipment and gauges are retained and function correctly. This example has been professionally modified with receipts to prove so fun, safety and style can be enjoyed fully.

ENGINE & TRANSMISSION
A must drive for all car enthusiasts. This high revving S14 engine produces 192bhp, just 8bhp down on a regular M3. It has a four-valve head, individual throttle plates for each cylinder, machined intake and exhaust ports and a crankshaft with eight counterweights for smooth power delivery. Lift up the bonnet and the clean engine bay has an identical appearance to the unit found in the E30 M3 with the 'BMW M Power' inscription on its cam cover. The essential E36 M3 chain tensioner has been fitted along with a Turner Motor Sport oil pan baffle for high speed cornering. A five speed manual close-ratio Getrag transmission with a dogleg shift pattern is a delight to use and again identical to a regular E30 M3 with the added benefit of short shift action courtesy Z3M Coupe gear lever.

WHEELS, TYRES & BRAKES
Two sets of BMW E30 M3 15″ BBS Cross Spoke alloy wheels with five stud wheel fixings are supplied. Quality Yokohama 'S-Drive' for road use and soft compound Toyo R888 track tyres. E30 M3 discs with the rears also being cross-drilled and EBC Yellow Stuff brake pads combined with braided brake lines and ATE Super Blue fluid offer immense stopping power once warm.

HISTORY FILE
Manufactured in November 1988 this fully documented car had three Italian owners before being imported in 2001 by German Cars Ltd. Remaining in the proprietor's collection until 2006 it was then UK registered and sold to motoring fanatic David Marshall who embarked on creating the beautiful track orientated example presented today with no expense spared. An active member of the BMW Car Club (GB) and attending various classic shows with his local club this car has enjoyed many outings. On his unexpected passing his wife continued the fastidious care and love devoted to the car with annual servicing, professional upkeep and careful storage.

Masses of paperwork in six separate files, two sets of keys with BMW M Sport keys fobs and having covered just 86,287 miles from new. Recently serviced with 5 green lights on the service interval indicator. MOT Feb 2015, Tax June 2014 and HPI Clear. After the passing of David Marshall the car was sold to KGF Classic Cars in the UK where I went ahead and purchased the vehicle in 2014. I brought it back to Germany where it belonged in the heart of the BMW world. As much as David lived for the track my goal was to bring the metal can back to the streets to where most car enthusiasts drive them. The car was fully stripped again as well as a custom rear seat delete kit was built to give it that factory car look and feel without taking away from the aggressive track theme. As much time and love that was put into the vehicle by previous owners, I wanted to make my mark on a piece of history. Proudly being the owner of this magnificent machine for the past two years and only putting less then 3,000 miles on it, I enjoyed every minute I spent with this car. As I am currently residing in Germany till the end of this year, I will be shipping this vehicle back to the states along with me. A motor vehicle that is at least 25 years old can be lawfully imported into the U.S. without regard to whether it complies with all applicable FMVSS.

The vehicle will not arrive to the USA till January or beginning of March 2016. Please contact me if you have any questions or concerns and would like to talk business.

Sincerly,
Norbert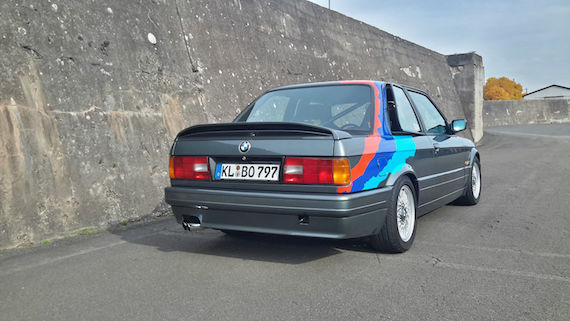 Modifying such rare, coveted cars can be contentious territory, but like the E30 M3 this is a car born to perform, so it's hard to fault the British owner for making the car his own and improving it in the direction he most enjoyed. The more I learn about these cars, the less they seem like baby M3s and more just a unique approach to E30 performance. The modifications bring plenty of value to offset the lack of originality, and Norbert's Buy It Now-only eBay listing of $39,500 indicates he is confident in his price. With the only other one we've seen going unsold at $29k, the E30 market going crazy, and 4-5 months until it reaches these shores, he can probably be patient enough to find the enthusiast ready to pay as much as a similar E30 M3 would cost. If you're ready to make the leap now, however, maybe you can arrange some kind of pre-March delivery plan to enjoy its home country before bringing it back to the US. Nurburgring, anyone?
-NR