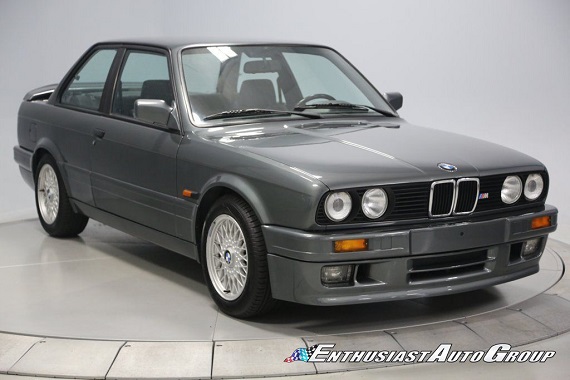 There's something I can appreciate about the 320is versus the M3. On the surface, the M3 with its iconic boxflares and big wing is the DTM star you want, right? But if you're a connoisseur and you're looking for the driving experience, the narrow body 320is offered nearly the same experience. Sure, it was down a bit on power thanks to the destroked 2.0 S14 compared to its more illustrious brother. But it was lighter too, being a base model. The same thing happened in the Audi Coupe world in the 1980s; on paper, the Quattro was the model you wanted. However, if you were an enthusiast, the last of the 1987 Coupe GTs offered the same performance as the Quattro did thanks to their lighter weight and upgraded engine over earlier models. The result is that these narrow-body cars offer discrete performance in a less showy package for those in the know. aSo that means that the 320is is a lot cheaper than a normal M3, right? Not so fast….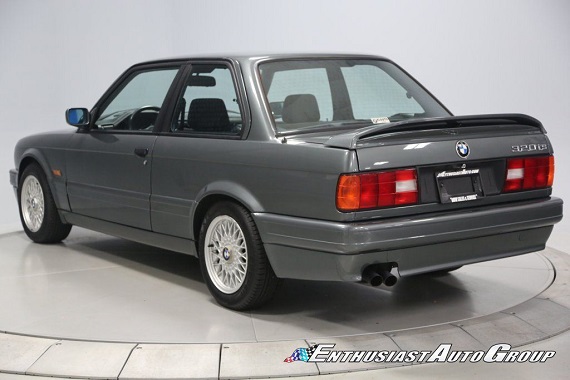 Year: 1988
Model: 320is
Engine: 2.0 liter inline-4
Transmission: 5-speed manual
Mileage: 51,411 mi
Price: Reserve Auction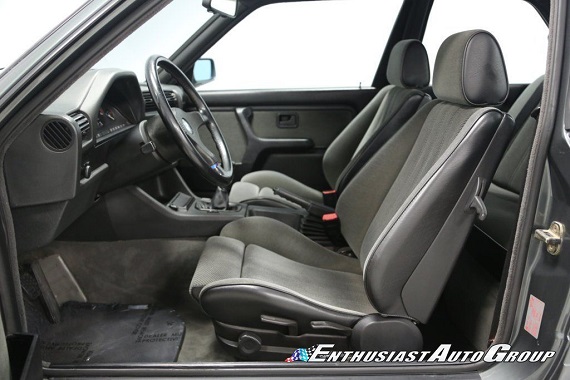 1988 BMW 320is – "Italian M3"

Delphin Grey over Grey Cloth Sport Interior

Extremely Rare S14 320is- Nicknamed the 'Italian M3'

This special 3-Series model was sold exclusively in Italy and Portugal!

1 of only 2,542 320is coupes produced!

Vehicle Specs Include:

2.0L S14 Engine (192 hp + 155 lb. ft. torque)

5 Speed Close-Ratio Getrag "Dogleg" Gearbox

3.46:1 Ratio Limited Slip Differential

BMW Factory Installed M-Technic II Aero Package which includes a more aggressive front valence, side skirts, rear bumper valence and a two-piece rear spoiler. Side-Marker Turn Signal Indicators, Fog Lights with Rear Fog Light Control, Sport Seats, M Sports 3-Spoke Leather Steering Wheel, On-Board Computer with Remote Control (located on turn signal stalk), Power Front Windows + Power Mirrors.

These rare cars were not offered with a sunroof. This homologation from BMW M engineers weighs in at less than 200 pounds lighter than a standard E30 M3. This weight reduction offers a crisp turn-in and a more toss-able driving experience. Mated with the 5-speed dogleg gearbox and shorter drive ratio, this engine strives to stay higher in the RPM band!

This is truly a special car! This vehicle has been owned by 1 owner in Italy up until last year.

Enthusiast Auto has completed our Comprehensive Pre-Purchase Inspection and Work Order ensuring this E30 is a turn-key, needs-nothing car!

Service Order Highlights Include a Complete 10-year Service:

Engine Oil + Filter Change

Transmission Fluid Change

Differential Fluid Change

Coolant Flush

Brake Fluid Flush

Power Steering Fluid Flush

Engine Air Filter Replacement

Fuel Filter Replacement

Front Control Arm Bushings

Rear Sway Bar Links

Alternator and AC Compressor Bushings

Comprehensive Exterior Paint Correction Process with 22PLE VX1 Pro Signature Glass Coat.

View additional detailed photos here:

http://s50.photobucket.com/user/EAGBMW/slideshow/1988%20BMW%20320is

This 320is sedan's odometer shows 82,787 kilometers which equates to 51,441 miles.

This car is in stock condition with no modifications, changes or additions.

This Italian M3 is street legal with all necessary EPA paperwork.

This vehicle was produced without catalytic converters, therefore, will not pass some state's emission checks or smog testing.

Serious Inquiries from US Residents Only – Exportation of EAG cars breaks our consistent buy-back policy.

Please call or email to obtain a Pre-Purchase Inspection Report, Build Sheet, Condition Related Details, Vehicle History and 100+ Detailed Photos; 513.554.1BMW (1269)

The condition of this car is very clean inside and out!

The exterior shows nicely with a great finish and very few imperfections or flaws!

The interior is well-kept with no significant issues or wear areas.

Responsibly owned + maintained + Non-Smoker

This 320is has resided in warm and dry climates

Body + Undercarriage are free from any type of rust or corrosion.

View additional detailed photos here:

http://s50.photobucket.com/user/EAGBMW/slideshow/1988%20BMW%20320is

No Accident History – Clean Vehicle History Report with No Issues.

For more information about this Rare E30 or any of 110+ Specialty BMWs, please call 513.554.1BMW (1269) or visit our website.

Sell Us Your BMW:

Looking to sell a rare or unique BMW? Contact us today.

We will gladly review and evaluate your vehicle without cost or obligation. Over 80% of our purchases and sales accommodate out of area customers. We offer an efficient, prompt transaction that handles the logistics for transporting the vehicle from your garage to EAG. Ready to deal with fair, knowledgeable BMW enthusiasts? Give us a call or shoot us an email today. Let's talk!

We reserve the right to end this listing at any time should the vehicle no longer be available for sale. The following terms of sale apply to all of our listings.

Payment Terms:

The successful high bidder will submit a $500 non-refundable deposit within 2 business days of the close of the auction to secure the vehicle. Buyer agrees to pay remaining balance due (plus applicable fees and taxes) within 7 days of the close of the auction. All financial transactions must be completed before delivery of the vehicle.

Payment Methods:

Cash (In Person), certified check, bank wire transfer, or 3rd-party financing.

Fees and Taxes:

Out of state buyers are responsible for all state, county, city taxes and fees, as well as title/registration fees in the state that the vehicle will be registered. A $210 title transfer, document and 30-day temp tag applies to winning bid.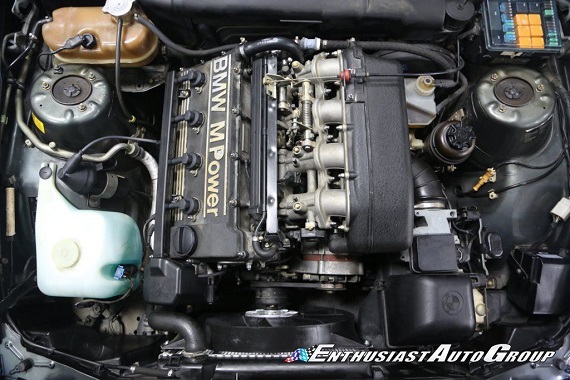 It's no surprise that this EAG car is commanding premium money. Many enthusiasts are upset about the EAG model, but personally it doesn't bother me. If you want the best examples reliably, you go there. Yes, you'll pay a premium – but how many sellers offer a buy-back program on a 30 year old car? They're selling a service, not just a car, and I wish I could do something similar in the Audi world. For E30 fans, it doesn't get much better than this – an E30 coupe mated to the S14 motor with the M-Tech II body kit. Miles are low, the grey sport interior is near perfect as is the Delphin Grey exterior. For me, though, it's just too busy – I'd personally prefer the even more sleeper 4-door version we looked only two weeks ago. That car, with about 30,000 miles more, was on offer at $28,500 – this car has already eclipsed that – with about 2 days left, it's hit $29,100 with the reserve still on. That's M3 money, but then this car might be even a bit more special than a M3.
-Carter