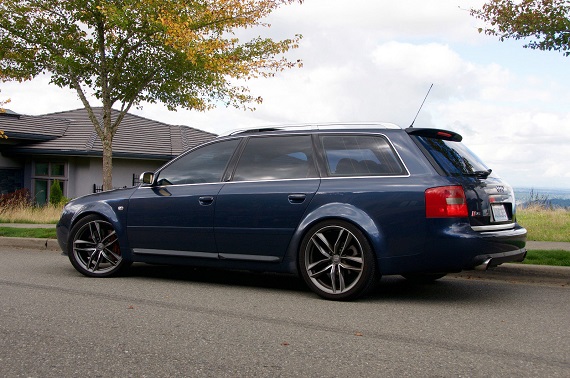 It's with some confusion that I write this post. There are several reasons for that, but it boils down to really two things; I keep seeing this car, and I don't understand why it's for sale. In general, S6 Avants aren't really often seen. I don't think that anyone who knows C5 Audis would consider Aqua Blue Pearl Effect to be a particularly common color. Find one with the Alcantara Recaro seats and it's likely down to single digits. And to narrow that down even further, 6-speed converted S6 Avants pop up from time to time, yet generally aren't often seen. But combine all of those things and there only has to be one, right? Well, wrong – as there appear to have been no less than two identical 6-speed converted Aqua Blue Pearl Effect 2003 S6 Avants for sale on the West Coast over the past two years. And what is even more confusing is that they keep coming up for sale. The first one appeared in January 2014 and was stock with 95,000 miles and on offer for just below $16,000. It was back in March 2015, now with 105,000 miles and on offer for $500 less. So in September when a nearly identical one popped up for $16,500, you'd presume it was the same, right? Well, wrong – this one has more miles and is highly modified. But at its base is the same Aqua Blue Pearl Effect with Alcantara and a 6-speed swap. As strange as that is, what perplexes me even more every time one of these or their S8 cousins come up for sale, though, is why anyone would go through all the trouble of the manual conversion only to sell the car shortly after: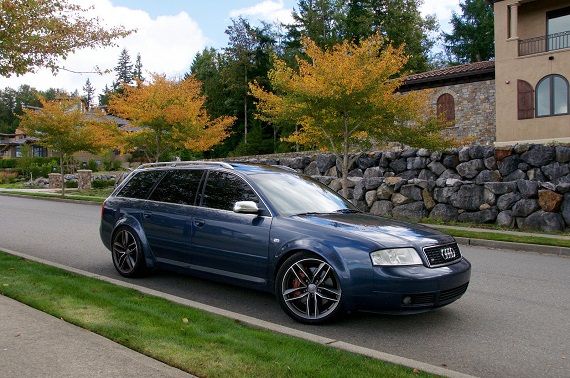 Year: 2003
Model: S6 Avant
Engine: 4.2 liter V8
Transmission: 6-speed manual
Mileage: 147,000 mi
Price: Reserve Auction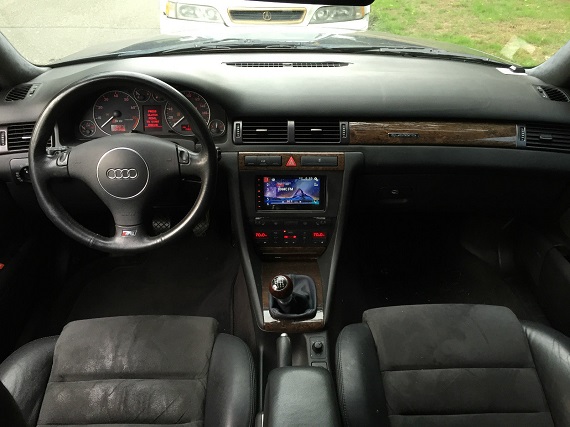 I'm selling my Audi S6 Avant wagon. This is unlike most S6 and other Avant models out there. This car has received the very rare (and expensive) 6-speed manual transmission swap to the 4.2l V8 that puts out 344hp in stock form. The car is incredibly fun to drive, and is very comfortable. It drives and sounds just like a newer RS4! Here is a short list of some of the added features:

Performance upgrades:
6-speed transmission
JHM Stage 4 Clutch
LW flywheel
JHM 4:1 center diff
Porsche 911 brake calipers (BBK)
Coilover suspension (adjustable)
19″ C7 RS6 Avant OEM wheels
Yokohama Advan all-season tires
Walbro 255 pump
Milltek catback exhaust system

Interior/Aesthetics:
Fully loaded
Full alcantara/leather interior
Heated seats
Dual climate control
Solar power sunroof
Video screens in rear of head rests
Front Cupra lip
RS6 rear wing
RS6 tail lights
RS6 rear fog lights/plate mount
Clear indicator conversion
Tinted windows
Apple CarPlay by Pioneer
Upgraded audio system
JL subwoofer and amp

There are several scratches on the front and rear bumpers, from general use over 147k miles. The amp should be replaced, as it tends to cut out from time to time. ECU was recently replaced. Other than that, I've had no issues.

These cars don't come up for sale very often, and it's highly unlikely that you will come across one sporting a 6 speed manual transmission. Please text me for the quickest response. Open to trades depending on what you have, but would prefer cash. Call or text at any time 425-508-6376

Thanks
Highly unlikely I'll find another, eh? I beg to differ! But the seller is right that this is a seriously rare package. Do the modifications add to value? Well, if you like the go-fast stuff, this car has it all. I'd say the only thing I'm really excited to see in that list is the expensive and beautifully crafted – as well as sounding – Milltek exhaust. The RS6 stuff isn't bad, either, and the Porsche brakes are pretty neat. But the rest of the modifications I could probably do without – even the 19″ wheels look a bit much to me. I really prefer the sleeper look of the lower mile example we saw earlier in the year, personally. Ultimately this car will likely head towards the low teens and it seems like a lot of car for the money at that point. For my liking it's a bit over-modded, but it would be hard to recreate the package for less.
Thanks to John for sending this one in!
-Carter