Last week, Nate featured an impossibly mint 1988 BMW 535i with Euro market fascias, updated BBS Style 5 wheels and a stunning color combo of Alpinweiss over Cardinal Red leather. After 51 bids that car sold for $17,455. As a follow on to what could be considered a high water mark for non-M5 E28s, here is a nice example of a similar vintage 535is. The is designation added an M5 front and rear spoiler, sport seats and a stiffer suspension. While this car for sale in San Diego has over 100,000 more miles on the clock than the car Nate sourced, it has nevertheless had a high level of care lavished upon it.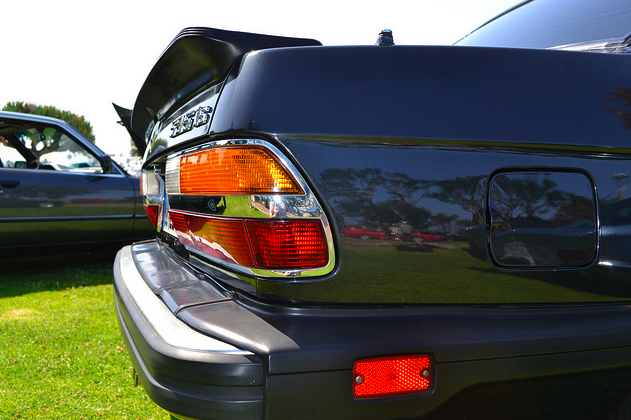 1988 BMW 535is. This is the third e28 I've owned and in my opinion represents the pinnacle of the e28 line. This car is a genuine "is", not an imitation, with full documentation from when new. The 535is was only produced in 1987 and 1988, a beautiful example of the classic shark-nosed BMWs from the '80s. The "is" sport package includes the m-technic front air dam and rear spoiler that came on the 1988 M5. It also includes 12 way power adjustable sport seats and sport tuned suspension. You can tell the '88s from the '87 model year by the body colored mirrors, similar to the M5. This car has the best interior/exterior color combo in my opinion: diamond-black-metallic exterior (diamantschwarz-metallic) over black leather interior.

Compared to the M5, it's a much less costly option, all parts are completely interchangeable, and you aren't compelled to keep the originality of the M5 intact. For instance, the motor can be swapped with a newer M30B35 motor easily and cheaply. That being said, this car is completely stock, except for reversible cosmetic upgrades like the wheels and lowering springs. All numbers match: doors, trunk, hood, even the engine. No accidents, and a clean title. All electronics and mechanicals work, including the power headrests, AC, odometer, rear defroster, cruise control, onboard computer, radio, ABS, power windows and door locks, retractable antennae, everything.

Much of the work has been performed by La Jolla Independent (a very reputable local BMW restoration shop). Only the best quality parts have been used. Receipts dating back to the original owner are included. Also included is the original owner's manual and documentation, including the window sticker. The original BMW model year brochure is also included; a beautiful publication that includes the entire e28 line for 1988.

The car has a lot of miles, but there is plenty of life left. These engines and cars can run for well over 300k mile. The M30 motor is considered one of the best 6-cylinder motors ever produced by BMW, or anybody for that matter. Plenty of power and torque. This car doesn't burn or leak a drop oil. And as you may know, German cars of the 80s are hugely over engineered, they just don't make them like they used to. Nearly everything is stamped W. Germany, even the wires are extra heavy gage compared to today's standards.

Exact numbers are unknown, but according to sources, total production for both years was only 2,714 cars for the American market, two-thirds of which were 5-speed manuals. If the numbers are equally divided between each year, only 1,018 5-speed cars were produced for 1988. These numbers are less than the official production numbers for the M5. Rare indeed. The e28 is becoming more and more collectible. Now is your chance to grab a great one, at a great price. LOW RESERVE!

Some of the upgrades include:

The car has been lowered by 1 ½ inches all around and Bilstein sport shocks are installed on all four corners. The rear springs are adjustable and have six positions to choose from. It's currently set on the middle setting. Genuine BBS "Style 5" basketweave 17 inch rims. 235/45/17 rubber all around with 90% wear left.

European front headlights with yellow "French-look" high beams (film can be removed easily). European rear headrests. M-technic steering wheel.
Front seats, front headrests, and rear headrests have all been professionally recovered in original BMW leather. Rear parcel tray has been recovered.
Limited slip differential w/ stock 3.25 ratio (came as an original equipment option on these models). Car was professionally repainted in the original color by a previous owner. Paint is in great shape. The Getrag 5 speed manual shifts well with Redline synthetic/conventional mix as recommended by La Jolla Independent.

The brank master cylinder has been upgraded to a larger one from an '88 735i. I also have front and rear brakes from an e34 535i, but these are not installed. Included in price! Easy upgrade. Overall the car is in fantastic shape, exceptionally clean inside and out. The motor starts and runs great. It has a new Bosch air-flow meter. Recent catalytic converter, passed CA smog. I have a lot of spare parts if interested. Over 20+ mpg on the freeway. Factory original Blaupunkt stereo. Tinted windows.

I also have a Yakima rack that holds two bikes or one bike and one surfboard. I have never installed it on this car, but it fits perfectly and can be purchased for addition $$$. Rust: the only rust I have found on the car is a small area on the rear outside wheel lip (passenger side), and on the lower left corner of the trunk's rain channel. This car is always garaged or covered.
Around $5,000 to $7,000 should buy a very good example of a non-M5 E28 these days. But, as we saw with the last E28 we featured, the right around of modifications and provenance has the ability to shoot these sedans into the price stratosphere. Even though this car has been well kept up, mileage will of course be a concern going forward. Still, this car presents extremely well and hasn't been obscenely over modified. For the right price, I'd still give it a go. My problem is, I'm not sure which one I like better: the white 535i which just sold, or this one. Both are equally attractive in my book.
-Paul