If you're the type of driver that needs to pick the kids up at soccer in a hurry, or like to pull out of the Starbucks drive through in a cloud of tire smoke, then this is your car.
As the successor to the E55 AMG Estate that Paul posed a few weeks ago, this car takes ridiculous to the next level. With 40bhp more, and a 4.0 second run to 60 (compared to 4.5 from the E55) the E63 Estate is just what every car guy trapped in a family man's body lusts after. This granite grey over cashmere tan leather E63 for sale in Golden Valley, MN is a clean example of how you don't have to give up awesome factor for roominess.
2007 Mercedes-Benz E63 AMG on eBay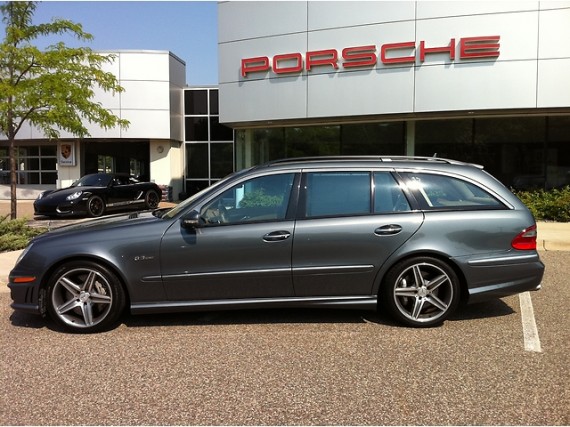 Mercedes-Benz freshened its E-Class for 2007. The front end gets a more aggressive bumper and lower fascia, and the grille is mildly restyled. Careful study will also note subtle changes to the taillights, rear bumper, and side view mirrors. Inside there is a revised steering wheel and shifter. While all these improvements are fine, it's what under the hood that has undergone the more dramatic changes.In 2006, the E320 was replaced by the 268-horespower E350 V6 model, which continues on in 2007. The E500 gets shouldered aside this year, though for the 382-horsepower V8 E550. Sitting at the top of the range is the E63 AMG. This muscle car carries a normally aspirated V8, built by AMG, and makes an eye-popping 507-horsepower and 465 ft-lbs of torque. The E320 diesel model has been revised to feature Bluetec in order to meet stricter regulations. The E350 and AMG variant are offered as sedans and wagons (with the E350 featuring all-wheel drive and the E63 retaining the rear-wheel drive setup), while the rest of the models are sedans only.Helping out with both acceleration and improved fuel economy is the seven-speed automatic transmission that appeared in the 2006 model. It's hard to tell which added more to the feeling of power-to-pass-at-will; the additional grunt of the new four-valve-per-cylinder engines, or the seven-speed's ability to place the engine in the fat part or the torque curve with just a nudge of the accelerator. Cars with 4MATIC are paired with a five-speed automatic transmission.The AMG V8 propels the E63 at an alarming pace when asked to work at maximum efficiency. As impressive as its power numbers sound, they don't prepare you for the ferocity of the acceleration, which can move the E63 from 0 to 60 mph in only 4.3 seconds. The engine note that emanates from the four, chrome tipped exhaust pipes is one of the most inspiring sounds on the road.As one would expect, standard equipment is superb. A sunroof, fog lamps, heated power mirrors, rain-sensing wipers, power seats, dual-zone climate control, a harmon/kardon LOGIC7 audio system with a six-disc CD changer, and an auto-dimming rearview mirror are included in the base vehicle, as well as the usual luxury car features.Mercedes-Benz has a reputation for building safe cars, and the E-Class comes with a full complement of the expected safety items. Dual-stage front air bags are supplemented by side air bags in both the front and rear seats, plus head curtain bags protect in rollovers. Anti-lock brakes and stability control are also standard. New for 2007 is the PRE-SAFE assist system, which will cinch your belts, return your seat to optimal position and even close the windows and sunroofs when it senses an imminent collision.The E550 adds semi-active suspension, leather upholstery, and quad-zone climate control. The E63 features AMG enhancements throughout, including a reprogrammed seven-speed transmission, stiffer suspension, larger wheels, performance tires, bigger brakes, heated seats, and various go-fast cues inside and out. It also has satellite radio standard.Adaptive cruise control, parking assist, xenon headlights, Bluetooth, and Keyless Go, among a host of other items, are all optional.
 
This is one car that I would love to own, it feeds both my need for speed, and my need for space. The only issue I can see is that with 509bhp, it may not be the best car for the snow…or even rain, but really, that's what sick days are for at work anyway, right? Clean retail on one of these beasts is $46,000 making this a decent buy at $44,900 considering that original MSRP for these rare birds was a tick north of $90,000.