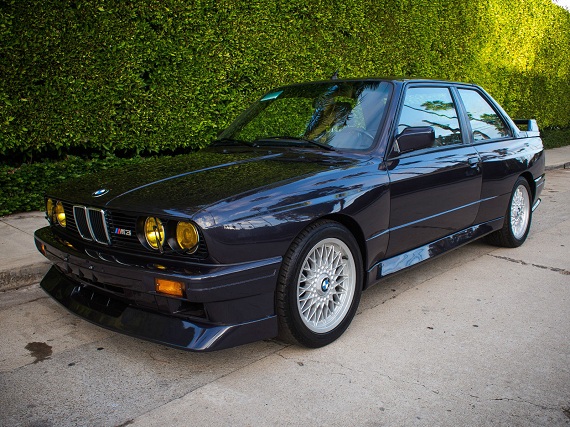 Ah, the E30 M3. Already the stuff of legends before the recent price surge, the original small M that was a revolution on the race track has similarly revolutionized values of mid-1980s German cars. Not only has the E30 M3 increased monumentally in value, but in fact it has pulled up nearly the entire BMW lineup along with it. It's not alone, though – other rare performance German cars have been ascending alongside it. From the Quattro to the 500E, once cheaply attainable and fun cars are suddenly the stuff of speculation. Is the trend sustainable? The early 911 would seem to indicate it is; after all, there are only so many E30 M3s left today and there are many more people that want them than good examples. Just the other day, I finally stopped with my wife at an example I had eyed for many years – 7, to be exact. In that entire time, it had never moved – it's just sitting under some pine trees off the beaten path in the woods of Rhode Island. Why did I finally stop? Well, there's a part of me that would love to have an E30 M3 – but there's more of me that hoped I could flip it and get enough money to buy some cars that I could drive and enjoy off the proceeds. Needless to say, I didn't walk away with it; as with many, the owner "knows what it's worth" and is hoping to restore it to former glory once again.
When he does, there's a fair chance it may hit the market just like this 1988 Europameister example. Originally a limited-production model of 148 examples built from October to December 1988 to celebrate the European Touring Car Championship of Roberto Ravaglia. Ironically, despite being named to commemorate a racing car, the Europameisters were mostly fully loaded luxury variants of the E30. Being one of the lowest production variants of the E30 M3 in great condition and with ridiculously low miles, you can bet it won't be cheap – and it's not.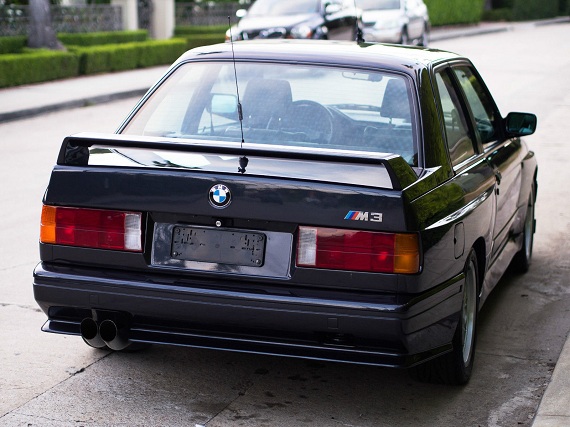 Year: 1988
Model: M3 Europameister
Engine: 2.3 liter inline-4
Transmission: 5-speed manual
Mileage: 17,274 mi
Price: No Reserve Auction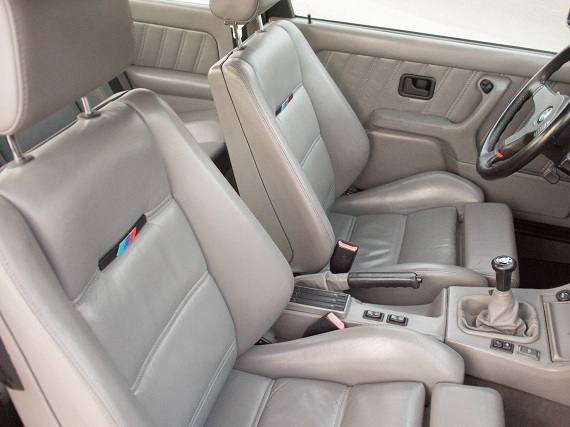 This is one of the lowest mileage M3s in the world with only 17, 274 miles!

The Europameister is one of only 148 cars ever made and is the rarest M3 variant.

From the M Registry: http://www.bmwmregistry.com/model_faq.php?id=8

"What distinguishes an E30 M3 Europameister edition?
BMW celebrated the dominance of its E30 M3 in the 1988 Touring Car season with a limited run of 148 "Europameister" edition road cars built from October through December of that year. Based on the regular production M3 with the 195-hp catalyst-equipped S14 engine, each was painted Macao Blue metallic (250) and most were equipped with a Silver extended Nappa leather interior with hide covering the center console and special diagonally-pleated door panels, plus M-stripe lapels on all four seats. A complete Silver Nappa leather interior (including the entire dashboard, glovebox door and steering wheel) was offered as a rare (and expensive) option. In addition, the Europameister interior included door sill plates with the "M3" insignia and an "M" foot rest for the driver. A special plaque on the center console read "Europameister 1988 auf BMW M3″ and was signed by driver Roberto Ravaglia. Most examples of the Europeameister were heavily optioned, though additional standard equipment over the normal M3 included only the 7.5×16-inch alloy wheels, green-tinted windshield stripe and power windows."

This Europameister was purchased from a private collector who has had it since 1999 and drove it just enough to keep it from drying out: There is an inspection certificate from 2001 that shows the car with 27,497 KM. It sat in a garage, under a car cover.

The Exterior has been repainted in it's original Macau Blue, and is nearly flawless. No dings, dents, scratches or rock chips. It was hit on the passenger rear quarter panel and expertly repaired using the original panel. I have included a photo of the inside of the quarter panel from the trunk.

The grey FULL leather interior is original and supple. The leather is almost flawless, feels soft to the touch and gives the car a much higher quality feel than a normal M3. It is like the interior of a US E28 M5, in grey. The headliner, carpeting, dash etc.. are fantastic.

The car features the french yellow headlights which look amazing against the Macau Blue paint.

The Europameister comes with Belgian title, and EPA and Customs paperwork from entry to the United States. It is hard to have it registered in California so I have kept it in storage. I recommend whoever purchases the car check their state's requirements for obtaining a title with a grey market car. Some are very lenient and don't require smog on cars over 25 years. In most states other than California all that is required is the foreign title, bill of sale, and the EPA and Customs clearance, which I have. But it is the buyer's responsibility.

The Europameister is for sale locally and I reserve the right to end the auction early if it sells before close of auction.

My market analysis goes like this:

There were 19,000 regular E30 M3s made. One just sold on BAT with 69,000 miles for $58,000. I haven't seen an M3 of any kind with 17k miles for sale recently.

http://www.roadandtrack.com/go/car-culture/sam-smiths-old-m3-just-sold-for-a-bonkers-58000

If there was a regular M3 with 17K miles, it would sell for around $95,000. The super low miles cars are worth considerably more.

Then add the Europameister value. It is the rarest M3 (1/148) and the only one in the US. So I'd add $40,000 to the value.

Then I'd subtract $10,000 for the accident and repaint. Although in looking around Europe I only found one M3 with original paint. The stones chip a lot more at twice the freeway speed.

So I'm thinking $125,000 is fair market value. But we shall see what the market says at the close of auction. The reserve is set considerably below the buy it now price, but I included a buy it now price for a buyer who agrees with my market assessment and wants to make sure they get the Europameister with 17, 274 miles.

There was a Europameister in Europe that just sold which was advertised for 69,000 Euros ($88,000) that had 60,000 miles and a repaint. Factor in this car's much lower miles and the time and cost of finding, inspecting and shipping to the United States.

I encourage serious buyers to inspect the car and have a pre-purchase inspection at the mechanic of your choice, since the sale is final.

On Oct-28-14 at 20:57:01 PDT, seller added the following information:

Hi. I tried to add photos of the engine but eBay won't let me because there have been bids. Makes no sense but if you would like to see photos of the engine please send me a message and I will send them to you. Thanks.

On Oct-28-14 at 21:33:48 PDT, seller added the following information:

California is the only state in which it is difficult to have grey market cars registered due to requirements that the car be fitted with catalyst, O2 sensor, evaporative controls and be tested in a California laboratory and receive a Certificate of Conformance. The test itself costs $2600 and can take two months. Therefore the car is not for sale in California. Please arrange for shipment outside of California.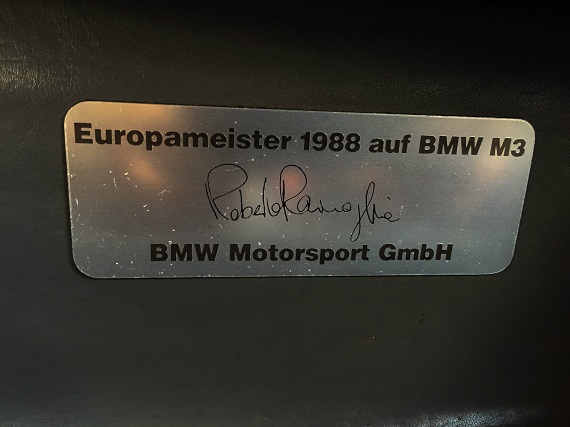 Due respect to the seller, the Europameister is not the rarest M3 variant; that would be the French-market "Tour de Course" model with only a reported 50 produced. Does that matter? Not likely. This is a rare car with low miles and one of the darlings of the market. Outside of some seriously exclusive iron (and aluminum), it doesn't get much hotter than this setup. The seller goes on to explain their pricing schematic which, it must be said, is probably a bit optimistic. His claim that the lower mile Europameister is somehow worth 50% more than another lower mile example that recently sold doesn't hold a tremendous amount of weight in reality; but the market doesn't always bend to reality, so it's no surprise that bidding on this example has already eclipsed $85,000. That's pretty crazy considering it's not one of the higher performance Evolution models, but just as the RS America isn't a Carrera RS, I'm not sure it matters. At the end of the day, it's a good looking car that very few of us can contemplate purchasing. It will be very interesting to see how long and high this bubble goes before it pops.
-Carter