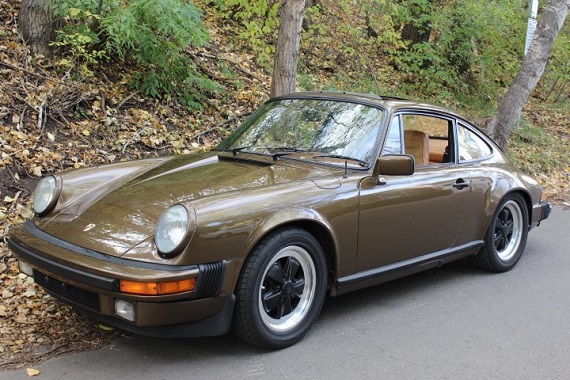 We don't see many brown cars these days. That's probably for good reason since they typically are not the prettiest things on the road, with most variants of brown made now usually coming in a shade akin to sand or desert or a variation thereof. But we almost certainly never see a car like this one: a Tobacco 1979 Porsche 911SC, located in Calgary, with Tan velour seats and 62,050 miles on it. My assumption is that the velour are seat covers rather than the originals because I'm not familiar with velour being a standard option for the 911, though I could certainly be mistaken on that. Regardless, almost everything about this 911 is period correct and looks in excellent shape. I wrote last week about the importance of the 3.2 Carrera and here, in this 911SC, we have the other candidate for the 911's savior. This car comes from the 2nd year of 911SC production with a 3.0 liter flat-six producing 180 hp and delivering its power to the rear wheels via a 5-speed manual transmission.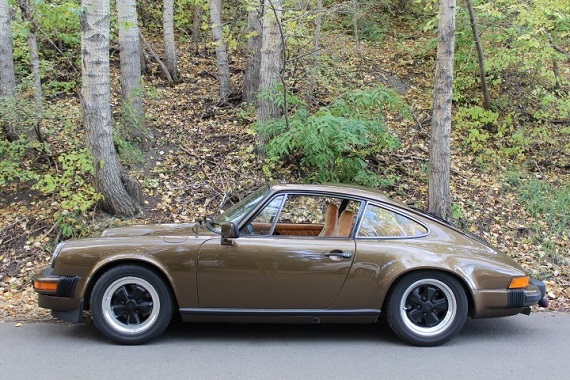 Year: 1979
Model: 911SC
Engine: 3.0 liter flat-6
Transmission: 5-speed manual
Mileage: 62,050 mi
Price: Buy It Now $35,000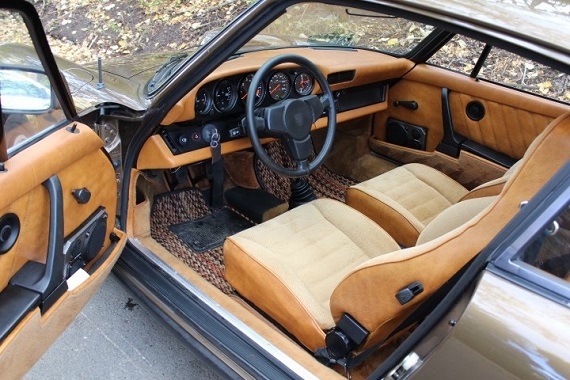 This is a spectacular example of a Porsche 911 SC – which in itself is one of the most highly rated 911's. The model combines a thoroughly developed and reliable mechanical package, a Zinc Galvanized body, flared rear bodywork with staggered front/rear wheel, and numerous other improvements to make the car faster, more tractable, and easier to drive. It is a perfect compromise between the original vintage 911 feel, and day-to-day modern drivability. Air Cooled 911's are red hot in the market right now, and investors are looking for the next 911 to follow the chrome bumper cars and the 911 Turbos… The SC will likely be that car.

This particular example is one of the very best extant – it looks like it is 3 or 4 years old. Paint, rubber trim, body and door seals, glass, chrome trim, lights and every other part of the body is spectacular. The Tobacco Metallic paint was offered for 2 years only; this car has had one quality repaint in its life, which apart from a few small stone chips shows as new. There is no orange peel, masking marks, or any paint preparation issues – it could pass as original paint.

The interior is equally nice. The cut velour seats are unique and add period charm, and are near perfect. The dash is perfect. The door cards, console, headliner and carpets are near perfect. Floor pans look new (but are original), as does front trunk compartment and spare wheel well.

The car drives wonderfully with a strong engine, good syncros, no suspension noise, good brakes etc.

I bought this car recently as a keeper, but an upcoming addition to our family has made keeping it impractical, so I am reluctantly selling it. I have had a chance to do a very thorough evaluation of it, and with an eye to long term ownership, here are all the known faults of the vehicle.

1. There is some idle fluctuation upon start up, perhaps up to +/- 200 rpm. This can be alleviated by revving the engine to 1,500 rpm for 30 sec upon start up, and then it settles down to an even idle.
2. It appears that the heater flaps or the cables in the heat exchangers are stuck, and the heater doesn't work as it should.
3. The manual window winders work, but are quite stiff.
4. At certain speeds and loads in 3rd gear, there is some whine from the gearbox; it is faint but it is there.
5. There are some minor oil leaks, but not enough to leave a spot on the floor.
6. It has not had the update to hydraulic timing chain adjusters, which most people think is a good idea.

In summary, the car is close to a 10/10 cosmetically, but it has sat for a while, and there are a few small mechanical issues which have developed from non-use. There is nothing that needs immediate attention, and the car can be driven and enjoyed. For the fastidious, you could pull the drivetrain and give the car a major service, perform the timing chain tensioner update, address the minor leaks and 3rd gear whine. I had budgeted $5k-$7k, and then figured that I would have a 10/10 car that you couldn't spend another nickel on…

I also bought some period Recaro Ortho C Seats (manual) in brown corduroy, and a RUF SCR muffler and rear valence to accommodate the dual exhausts. These can be purchased separately if desired.

The car is in Calgary Canada. It came up from Monterey, CA, where it passed the smog tests, and the car retains its emission control equipment. For US buyers I can have the car re-imported to the US with duty paid, FOB Seattle for an additional $3.500.

Lastly, please feel free to Google me, Lawrence Romanosky. I am the Sales Manager of the Porsche Centre in Calgary. This is my personal car, and I wouldn't have bought it if it wasn't one of the very, very best available. It is admittedly at the high end of of the SC price spectrum, but it deserves the high price – I had to pay a lot for it, and at this price I am not even getting all my money out of it.

Additional photos can be found at
www.vintageandsportscar.com/rvschomepage/forsale/1979_Porsche_911SC.html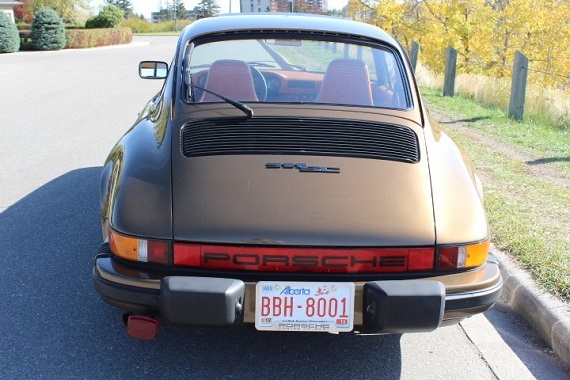 The 911SC still represents one of the better values on the 911 market, but I fear this one is being oversold slightly. While these are great cars, I'm not sure they are going to be THE short-hood 911 to own, as the seller seems to imply. Add to that the various maintenance issues needed here, though it's nice to have that information from the seller at the start, and I can't see this car selling for the $35K asking price. Were it a 3.2 Carrera with the G50 transmission then it might get there, but the 911SC does not seem to have reached those heights yet. All of that said, if the seller comes down on the price then the mileage and overall condition of the car do suggest that it should have a great future and with time could easily eclipse what is being asked for here. And, as I said at the start, you really don't see cars like this anymore, like it or not.
-Rob