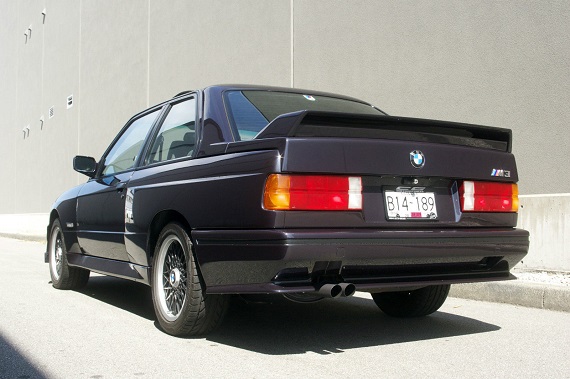 In an effort to capitalize on the market, we've seen increasing numbers of E30 M3s come to market – and the most highly sought models are the specials like this 1988 Evolution II model. We saw this car come to market in March with a $100,000 Buy It Now price. Some details were wrong and it failed to sell. It's back 6 months later, and at least one detail – the exhaust – has been reverted to a more stock looking system; a nod to the greater demand (and value) of originality. But fitting that exhaust, along with a few other minor changes, will cost you $5,000 apparently as the Buy It Now has been increased to $105,000 now. We've yet to see a really clean E30 M3 break into the 6-digit price range, but they've been close. Is this the one?
The below post originally appeared on our site March 22, 2015: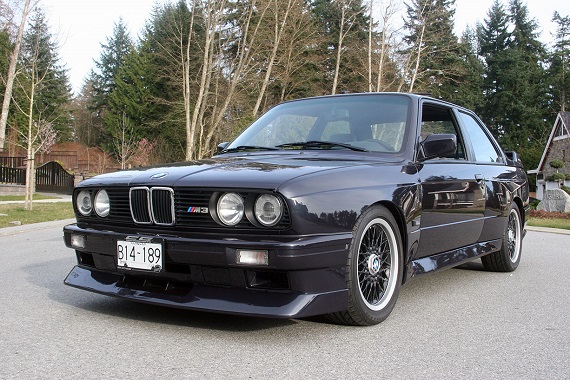 We're an odd group, enthusiasts. Normally you'd assume that we'd be excited to see each and every example of rare cars that pop up. Sometimes, even semi-rare cars excite us. Occasionally, it's just a plain-jane base model that's not often seen that will peak the interest of the masses. Yet the excitement usually isn't there; instead, what results is a form of cyber-bullying as every keyboard warrior attempts to find each and every wrong detail with a particular example. It could be something from small details – paint chips, a scratch, a rust bubble to things that are downright esoteric; my complaint, for example, that the RS2 color "RS Blue" appear correctly on B4s instead of the more commonly associated Nogaro Blue. It could be omission of mechanical details, incorrect listing information, a slip of the fingers in typing in a VIN. Seriously, does it matter? Well, it does when it comes to top-dollar collector cars. In the case of today's car, the second E30 M3 Evolution II in as many weeks here on the site, my microscope attention focuses on the wheels: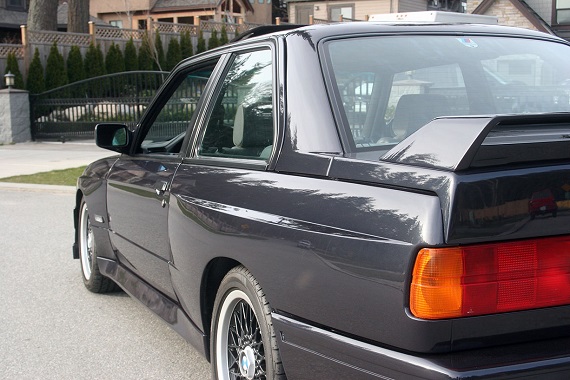 Year: 1988
Model: M3 Evolution II
Engine: 2.3 liter inline-4
Transmission: 5-speed manual
Mileage: 93,025 mi
Price: $105,000 Buy It Now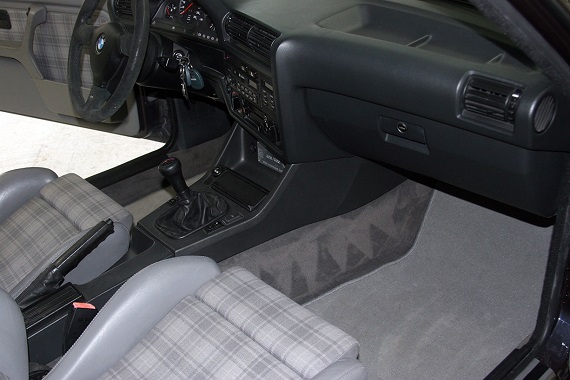 1988 Macau Blue BMW E30 M3 Evo II , #309 / 500 , Grey cloth interior , 149,000 km ( 93,000 miles ) . Imported from the UK 7 years ago , full respray 5 years ago . Imported by CG Motorsports and has been in stored in climate controlled environment, all fluids drained and flushed every 2 years , Inspection II major tune up just done including valve adjustment , Excellent condition , collector status. Some aftermarket additions include a upper strut tie bar , Scorpian stainless steel DTM exhaust and Koni/ Eibach suspension. All wheels have been refinished and powder coated instead of painted ( including spare )

Please call Chris Besemer of CG Motorsports at 604-275-6638 for more information

Minor flaws include ;
-Small holes in front door panels from tweeters being mounted at some time
-6 x 9 speakers mounted in rear parcel tray
-normal wear on drivers seat bolster
-Glass break sensor mounted next to number plaque in center console

*will assist with shipping worldwide*

What distinguishes an E30 M3 Evolution II?
The E30 M3 Evolution was followed by the E30 M3 Evolution II, 500 of which were built in the Spring of 1988. (NOTE: This model is officially known simply as the "M3 Evolution", since BMW M considers the 505 examples of the first M3 Evolution produced in 1987 as a slight variation on the regular M3 and not a separate edition in its own right.) Unlike the first Evolution, the E30 M3 Evolution II received significant mechanical upgrades to its S14 motor (identifiable by unique valve covers in white with tri-color Motorsport stripes). New pistons raised the compression to 11:1 (from 10.5:1), the air intake was improved, the flywheel lightened and the engine management revised. Power increased to 220 hp and 181 lb/ft of torque, both at the same rpm as the standard non-catalyst S14 motor. The close-ratio Getrag 5-speed manual gearbox carried over unchanged, though the final drive was reduced slightly from 3.25:1 to 3.15:1. Larger 7.5×16-inch alloy wheels with 225/45ZR16 tires, normally an extra-cost option on the standard M3, were fitted as standard to the Evolution II. However, there were no alterations to the suspension or brakes.

The exterior of the Evolution II can be easily identified by its deeper front airdam, additional rear lip spoiler on the trunk lid and front brake cooling ducts in place of foglights . In addition, thinner window glass, plus a lightened trunk lid and bumpers, reduced weight by 22 pounds. The E30 M3 Evolution II was offered only in three exclusive exterior colors: Misano Red (236), Macao Blue metallic (250) and Nogaro Silver metallic (243). The sole interior choice was Silver cloth with matching leather bolsters. Both the front and rear seats were fitted with the tri-color M lapels (as used on the E28 M535i/M5), plus an M foot rest and door sill plates with the "M3" insiginia were included. Finally, a special dashboard plaque denoting the specific number of each example out of 500 was fitted to every Evolution II. All features from the normal M3 option list were also offered on the M3 Evolution II at extra cost, with the exception of the green-tinted windshield stripe, which was standard equipment.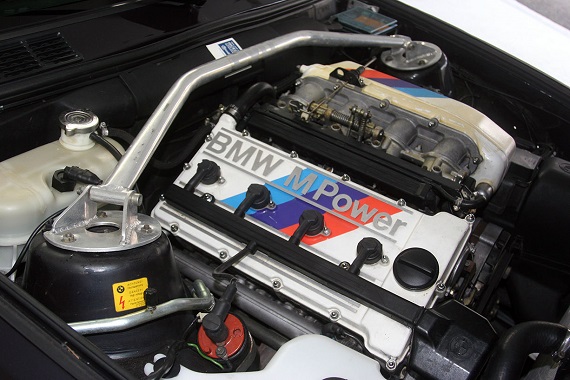 So, this is the second E30 M3 Evolution II, and as with the last one the asking price is $100,000. It's the same Macau Blue, and above being in near identical condition with near identical miles, it's also nearly the same plaque number; the last example was number 339, only 30 after this example. The listing is even nearly identical, with half of the listing lifted from the M Registry. Also like the last example, this car underwent a minor restoration, a reminder that they were not hugely valuable cars in the recent past. The last example sold for "Best Offer" under $100,000, an amount we unfortunately aren't privy too unless you know the seller or buyer. However, considering this is the fourth rare example being asked in that neighborhood and we've seen two over $85,000, we can assume that the sale price was fairly close or above that figure. Now, that said, to my gripe; the wheels. While I'm sure the powdercoating job is very nice, the coloring is off. The Cecotto edition, also available in Macau Blue and with many of the Evolution II details, came with metallic black wheel centers, but here to me they look wrong. I realize it's a minor point; very minor, in fact. It's so minor that it's ridiculous to even be looking for it. Also minor are the modifications like the DTM exhaust, but at $100,000 they're details that I'd argue should probably be correct. They're easily fixable but in my mind if you're marketing the car as a collectable shouldn't it be presented correctly? It almost feels like in the struggle to achieve the most money possible these M3s are being thrown at the market with every single record-breaking sale. This example is lovely overall, quite hard to replace and obviously from the lineup of cars that are presented in the photos the seller is a M3 aficionado. Together, these details are something that makes the sale a little suspect in my mind. Perhaps there's a cost-benefit analysis where the car is no longer enjoyable as a car but becomes simply a procession; functionality takes a back seat to the pedanticism of every detail being exacting in order to extract the maximum value. At what point would the value exceed your desire and speculation to hope it would continue up? Right now, in the E30 market, it seems that $100,000 is that number.
-Carter