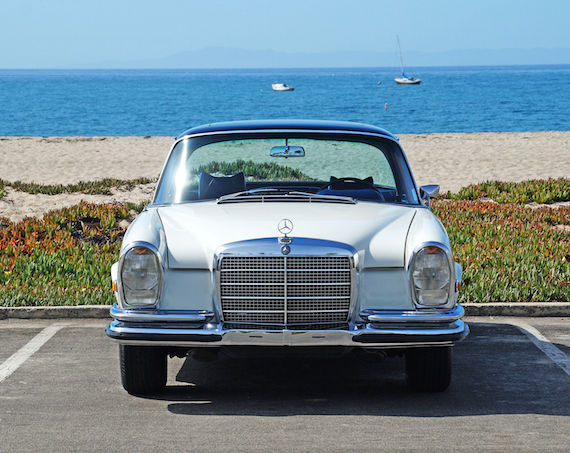 Walking down the street this week I came across a rather uncanny site, a 1970 Mercedes-Benz 280SE 3.5 Coupe. Sitting nonchalantly on a city street amongst dreary modern day machinery, it brought a smile to my face to know someone is intrepid enough to use such a majestic automobile in an urban environment. The car scene is pretty dead around the Washington, DC area, which is part of the reason I'm looking to get out of here as soon as I can. Everyone here is so fixated on politics and their job that it can be hard finding fellow petrolheads to connect with. Nevertheless, you do see some classics wandering about on the roads from time to time. Sadly I didn't get a chance to chat the owner up in this case.
This 1970 280SE we see here for sale in California isn't of the V8 variety, but shares the low grille look of the aforementioned 3.5 with a striking two tone blue and white color combination over a sumptuous blue leather interior. These W111 coupes were some of the last hand-built Mercedes-Benzes to leave the factory and considering what you spend for similar vintage W113 SLs these days, these six-cylinder coupes represent a bit of a relative bargain for the collector.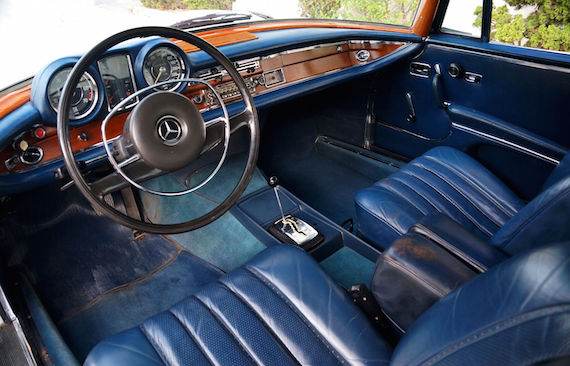 Year: 1970
Model: 280SE Coupe
Engine: 2.8 liter inline-6
Transmission: 4-speed automatic
Mileage: 93,206 mi
Price: $51,000 Buy It Now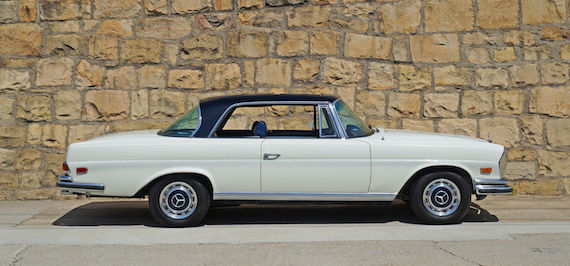 Offered for sale is our incredibly rare and desirable European version 1970 Mercedes-Benz 280SE Low Grill Sunroof Coupe with a floor-shift transmission and finished in factory correct original two-tone Papyrus White (DB 717) and Dark Blue (DB 904) over an entirely original blue leather interior. Only 613 W111 "Heckflosse" (fintail) coupes were produced with the tried and true 2.8L inline six cylinder engine in 1970 – the first year to introduce the desirable low grill design – and this is believed to be the only one that left the factory in this unique two-tone livery. It's arguably as rare as W111 coupes come.

Exceptionally Rare
Numbers Matching
Factory Correct Unique Original Colors
Rare Sunroof (Especially for a European Version)
Desirable Floor-Shift Automatic Transmission
Strong Original Mechanicals
Clean Paint with Few Imperfections
Great Original Chrome and Glass
Completely Original Leather Interior with Wonderful Patina.
Becker Grand Prix Radio

While not a show car, this rare example has always been lovingly cared for and could serve reliably for another 45 years as a very presentable weekend driver or as an excellent original base for a top-notch restoration. Considering their rarity and the astronomical prices that their Cabriolet and 3.5 Coupe siblings are fetching, W111 Coupes have long been undervalued in most classic car enthusiasts' minds. That's not always going to be the case, so it's our opinion that they currently represent excellent investment upside. Finding "Low Grill" W111s is hard enough as it is, but finding a rare European version, with unique correct colors and desirable options is perhaps an irreplaceable opportunity.

Please call 805-886-1823 for more information. You can also visit us online at GoodmanReed.

Goodman Reed Motorcars

We try to give accurate descriptions of the cars we're selling, but we're enthusiasts, not experts, and we encourage and are happy to help facilitate personal or professional inspections. But please do so before bidding, as the alternative harms our ability to make sales to other interested parties who have done their proper due diligence before bidding.

For U.S. buyers a 10% non-refundable deposit is required within 3 days of the auction's end, the balance to be paid within 7 days of the auction's end. Foreign buyers must pay in full within 7 business days of the auction's end. Buyer is responsible for shipping, however we'd be more that happy to help with recommendations and arrangements. The car is listed locally and we reserve the right to end the auction at any time should it sell prior to auction's end. Thanks for your interest.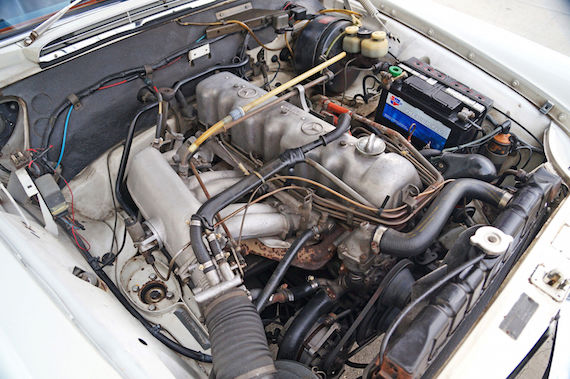 This 280SE has a rather unique combination of options, such as the two-tone paint and sunroof, not to mention the fact that it is a matching numbers example. I love cars like this, which aren't perfectly restored but instead have been looked after by a careful custodian over the years. We saw a 1970 280SE Coupe coupe sell for just over $30,000 last November. For years, these six-cylinder coupes haven't gotten much attention, but with 3.5 Coupes increasing in value, these are sure to appreciate over the years. According to Hagerty's Valuation Tool, this car is priced right under a Condition 2 vehicle, which seems just about on the mark for a car with nice patina and some rare options.
-Paul