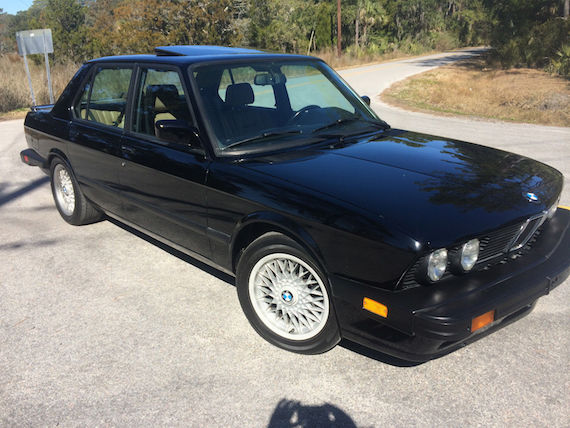 As we saw last week, higher-mileage M5s are starting to get pulled upward. Shredded front seats, a dirty engine compartment, and lost history were the main gripes with last week's, but it still got snatched up locally, indicating the seller got something close to his $15k asking price. This one has a more complete history as it belonged to the seller's father, but its story includes several missteps. The most-referenced in the ad is a decent-but-not great respray after a hailstorm. Next are the recovered seats – better than having them torn up (I guess) but the black piping makes them look cheap. Mechanically and electrically, however, it appears sound, running strong at a mileage where many receive rebuilds (though for some unknown reason the top end was already rebuilt at 125k miles). With no reserve and sitting just over $10k, this could be a good chance at driver for someone who doesn't care too much about originality.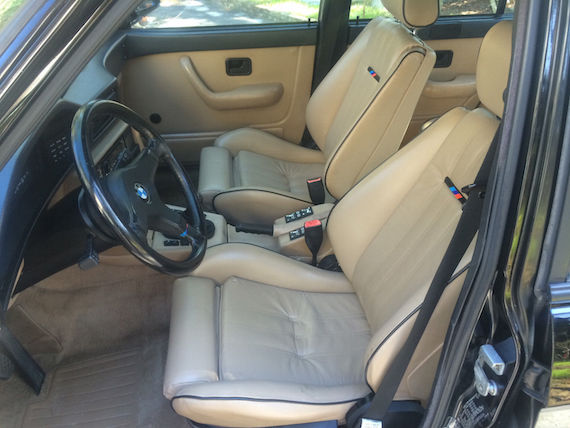 Year: 1988
Model: M5
Engine: 3.5 liter inline-6
Transmission: 5-speed manual
Mileage: 196,000 mi
Price: No reserve auction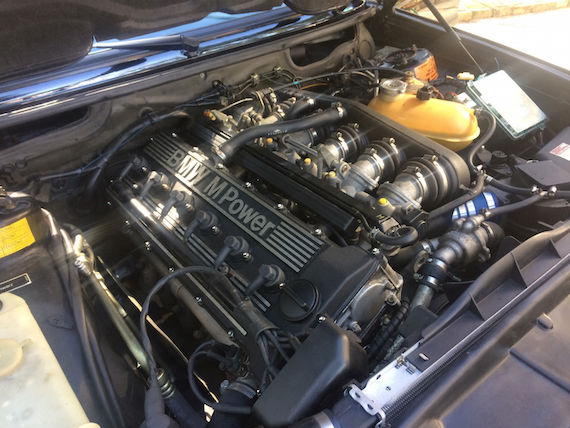 1988 BMW M5, cold A/C, everything works, excellent leather w/piping, runs/drives/stops great. 196,000 miles, driver quality paint, no issues, old car so not perfect or restored, nice driver. Drive anywhere. Cracked light in spoiler, all lights/gauges work. Warning lights reset, motherboard good, computer works, resets work, 2 keys, all warning lights work and are currently green. 8 way pwr & heated seats work, cruise works, all pwr windows work, CD radio, clean carpets/trunks/engine. Starts fast and smooth. Shifts smooth. Ridiculously fast and tight for an old car. No squeaks or rattles. REMEMBER this is a 196,000 mile car though- so dont expect a perfect car. Just a clean, nice driver. Drive anywhere as is. Great old car to restore or have fun drive as is. CASH talks best.

Due to calls and emails regarding paint quality: Resprayed in 2003? Not the greatest paint job in the world, Has several runs in areas not to noticeable such as under bumbers and below molding trim, tiny dent in trunk. They will not show up in picture as I tried to photograph them. Paint is bright, car is straight, No rust or accidents, w/real slick paint this car would be special. AS IS though looks sharp if you dont look too hard. Car has sat in garage and ran only to keep battery up, would benefit from good wax and polishing. #6 paint out of 1 to 10 scale.

Due to more calls/questions, trunk plastic and tool box excellent cond w/all tools and original BMW blue rag unused, hood liner/engine insulator looks new and not falling down, not discolored, not torn. Yes, trunk and dash lights work when opened. The paint again, my mechanic thought it was new paint, everyone who sees it loves the paint as it isnt scratched or dull and car is straight, however under scrutiny paint is flawed and is fine for car shows but would not stand up to any serious judging. Driver Quality!!! I can't believe the response I'm getting on this car, my XKE or 55 Chevy barely got noticed. No wonder my Dad loved this car. Who would have known.

Answer to question about insurance. This car qualifies for Hagerty Antique Collector Car Insurance. This car is insured for 20k at $230 a year driving under 2500 miles and garaged.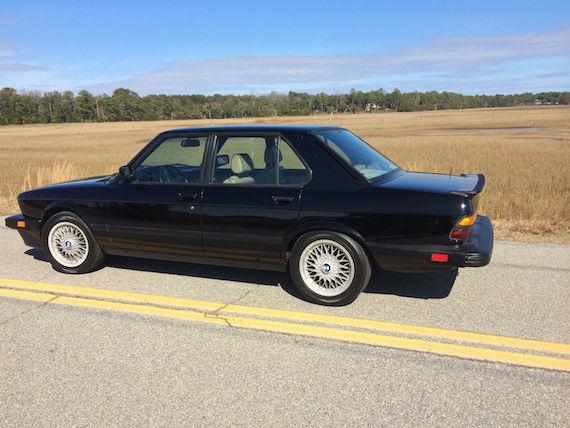 If last week's M5 went for around $15k, I don't see any reason why this example couldn't fetch the same. And realistically, that's about where driver-quality, ~200k-mile M5s are these days. If anyone can jump in on the auction and get it for less than $15k, they'll probably be a happy camper as prices continue to rise. This particular example won't skyrocket like the perfect originals, but it will certainly follow them upward and be a great driver in the meantime.
-NR