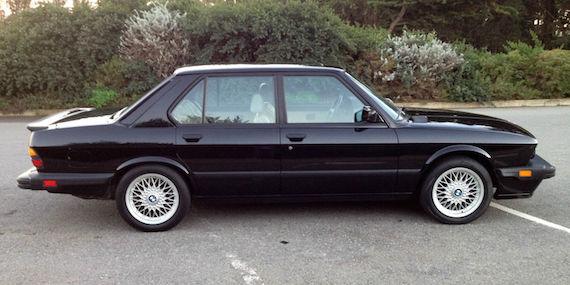 The classic E28 M5 has experienced a recent uptick in values for clean, middle-mileage examples. Even the most beat, 200k-mile, no-documentation examples can command $6-7k, though they will likely require twice the purchase price to make presentable. While I appreciate the ambition of keeping as many of these glorious beasts on the road as possible, there is still a middle ground between the lower-mileage M5s in beautiful condition for $30k+ and the total basket cases. Today's is right in the middle – $15k for a clean but higher-mileage example that lacks history yet looks good enough to spend some time on.
Year: 1988
Model: M5
Engine: 3.5 liter inline-6
Transmission: 5-speed manual
Mileage: 189,000 mi
Price: $15,000 Buy It Now
1988 BMW M5
VIN# WBSDC9300J2875201
189K Miles
History: Please see ebay AutoCheck Report
Seller Comments:
This is a very original, complete and well maintained BMW E28 M5 that I bought last year and had stored away. While in storage, the original service records were unfortunately lost somehow. However, based on discussion with the previous owner, the car was a daily driver up until it was sold with a recent timing chain tensioner service and new clutch, which explains why the M5 runs so smooth and quiet with a very solid feeling clutch and pedal. To sum it up, this BMW E28 M5 can be easily sorted to be a very clean and competent daily driver or serve as a good base for a complete restoration.

Vehicle Condition

Drivetrain/Exhaust:
The M5 starts up instantly with smooth idle from cold. Driving gently before warm up produces very little valve chatter with no stumbling or hesitation and all gear changes are smooth with no unusual noises or vibration. Compression is very even across all cylinders at approximately 170 psi. There are no active fluid leaks that I can find. No oil burning or smoke. Has complete factory OEM exhaust system. Passed California smog check easily with flying colors.

Suspension and Brakes:
From my experience driving the M5, I would surmise that the front springs and struts are factory original with a rear SLS system delete some time ago with BMW replacement shocks and springs. Steering feel and response is excellent around town and on the freeway at speed limits, where the M5's ride is very quiet and smooth, but as speed increases a slight shimmy can be detected, possibly due to worn tires or bushings or both. Braking performance is normal with no pulsation or pulling, but I have not tested the brakes at their limits. The brake warning light illuminates intermittently and I believe new tires and an alignment are in order.

Body/Exterior:
The body panels and unibody is straight and show no evidence of accident impact or visible rust damage. I have inspected the underbody, all jacking points, the rear valance panel and rear trunk seal and did not detect any typical rust in these areas. Paint is presentable and mostly original with evidence of touch up and blending toward the rear of the vehicle on both sides possibly due to vandalism by a key. In bright sunlight numerous swirl marks can be seen on the paint, so it is in need of a good buff out and polish. All VIN stickers are present on all panels; however the trunk lid VIN sticker has a VIN# from another M5. Windshield is in very good condition, but has a small rock chip on the passenger side.

Interior:
The interior appears to be completely factory original with supple leather in good to very good condition with the exception of the front seats. All electrics and controls work including cold AC. Carpet looks to be in very good to excellent condition. Dash is in good condition but has a small crack adjacent to the dash vent screen and small cracks in a few places near the windshield. Headliner is very good, but the sunroof liner has ripped due to binding. Sunroof works perfectly except liner does not flip up in the vent position. Factory rear speakers have been replaced with Boston Acoustics plate speakers. Rear deck has a vibration at low RPM.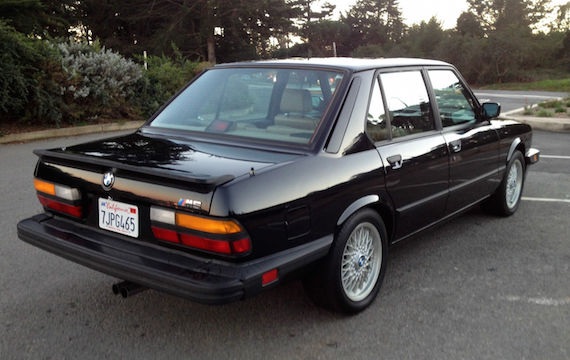 The front seats are surprisingly rough, but the exterior and oft-missing trunk carpet make it seem worth the time and energy to recover them and clean it up piece by piece. The timing chain tensioner was recently serviced, which is good, but the lack of documentation means we have no real idea as to the frequency of valve adjustments and other maintenance. As the E28 M5 starts a real ascent in the market, affordable examples will come with some caveats. This one seems like a decent risk to take, with a little work ahead but plenty of good bits to start with.
-NR