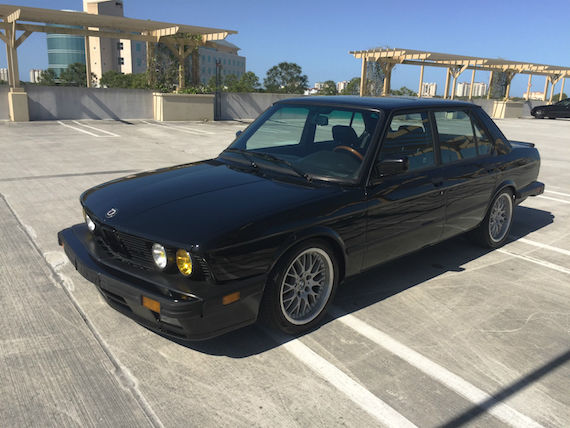 Typically the legendary S38B35 is an engine that gets swapped into other BMWs, now out of them, but today we're playing opposite day with this No-Effs-Given E28 M5. A little while back it received a turbocharged M30 transplant which is a pretty common setup for E28s – just usually done on more pedestrian models than the extremely rare M. A unique aspect to this auction is that the S38 comes with it, so you have the opportunity to ride the turbo monster as long as you please while retaining the prospect of putting the numbers-matching engine back in eventually. Even so, any hopes of originality are long gone after they spray coated the floor rooting out some rust, replaced the wheel and shift knob with anachronistic wooden parts, and spray painted the homebrew center console to accommodate auxiliary gauges. The one thing that I actually do think is original, contrary to the seller's claim, is the black interior. With all seats, door cards, and interior trim in black, and miles instead of km, I think this may well be one of the 31 US M5s with black interiors (more than 2 the seller thinks they made, but still an extreme rarity).
This M5 has been hacked and sprayed to the point that it will forever be valued more like an E28 rather than the second-rarest M car. It looks pretty darn good from the outside, albeit modified with later wheels and yellow lenses, and the S38 alone could recoup a serious chunk of the purchase price. It's already into 5-digits with a long time left on the auction and looks like this basket case M5 with its heart in a box will still pull decent money.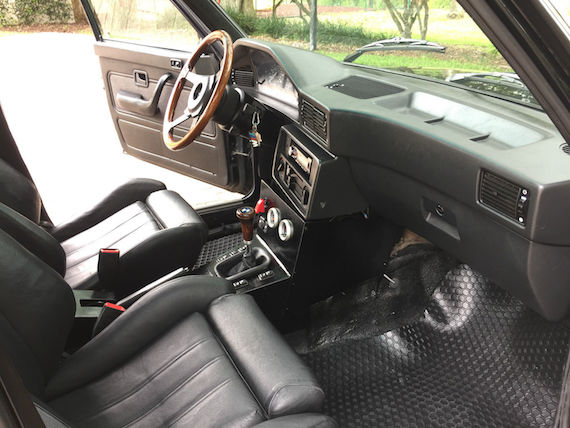 Year: 1988
Model: M5
Engine: 3.5 liter turbocharged inline-6
Transmission: 5-speed manual
Mileage: 152,000
Price: No Reserve Auction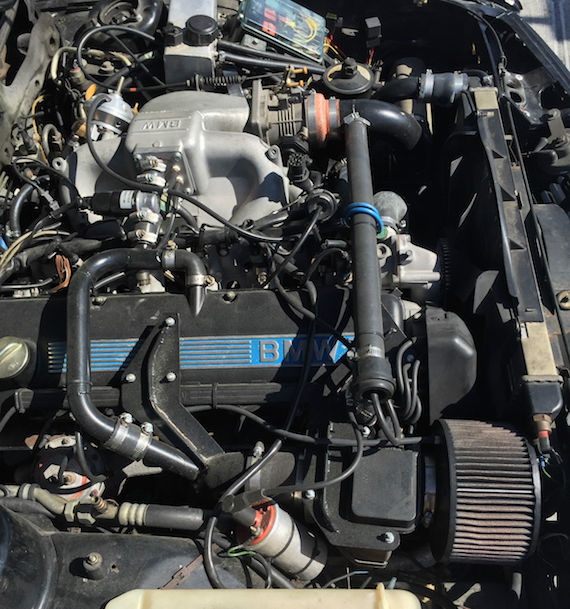 1988 M5 with an installed professionally rebuilt M30 with a turbo charger attached. The car sale COMES WITH a 1988 150k S38 complete! Again it comes included with the sale.

You will be responsible for paying for shipping for the car and the crate that includes the engine**

The car has had lots of modifications but I feel most are done with taste.

The biggest and most noticeable is the center counsel. A professional installed it. It is riveted in for easy internals access as well as removal if you want to make it original again.

Floors had a few spots that where rusted and needed replaced so after that was done, we spray coated for protection.

Crackless Dash

Authentic AC Schnitzer Pedals

Original Euro Black and Grey Houndstooth Door Cards

Updated Hex Floormats

Few chips here and there. There is a crease on the back top left panel just above the tire. Hard to notice unless your standing right in from of it.

Upgraded vintage shifter

A little play in the shifter due to some worm bushings. Not a big deal but just a heads up there is not as tight as new.

Breaks are good

BBS Rims

Tires are fresh

Little little vibration from front right tire area. Not really noticeable but I want to be as clear as I can be. I only notice because I am the owner, but a passenger wouldn't. We have worked on it and there isn't anything mechanically pressing.

Right Brakelight connection has some corrosion causing it not to work. Just needs a wire brush, I might do it myself after posting.

True Hella Yellow Glass French Alpina Headlamps

Paint is not show but decent. You could enjoy it as easily but for show quality it would need redone. I personally liked it how it is.

The M30 that is installed is the 3.5 from a (I am somewhat guessing) a well sought after 6 series from 1987. The thing is bullet proof and was completely rebuilt by professionals before the Turbo Kit was installed. It is perfect and is scary fast. I think we have it right at 8psi daily.

This car is really the most amazing car I have ever driven.

Original Vintage ACS Momo wood steering wheel.

Seats defiantly where refurbished at some point as the car should have come with the tan seats. Only the Canadian cold packages came with black. From what I know, only 2 where sold in the US. Great quality regardless.

The sunroof does not work, but I believe it is just not connected.

All of the seats and windows are functional

The check engine light is blinking due to the M30 Swap. A tech should be able to get it straight. This entire care was refurbished and during that time a very skilled master mechanic when through and straightened all of the wiring so you should be working with very nice base

Rust is very very small and here and there but not really noticeable. You have to really hunt for it because I dealt with any I could find and made it right. I would say that the Glass insulation needs replaced at some point. Its not terrible, but those issues are what cause issues down the road.

Why do I have a M30 in the car and not the S38. The M30 turbo is so much fun, and great part is you don't have to worry about the price of working on it and can just have fun, but always having the s38 in the garage is peace of mind that historical block is there. If it where me, I would drive the current set up and just have fun maxing out the s38. To me, this is one of the best deals in the country right now. I get compliments nonstop. I can't even get gas without a crowd coming over to me. Then the fact that it drives like a dream and extremely quick. Just hits all the right spots.

Exhaust is straight pipes back from the motor. Loud and amazing allowing maximized flow for the Turbo.. Just unreal.

Suspension is great, just a tad lowered.

Updated CD player MP3

S38 Details

The engine is a 150k miles from last reported owner. All coolant passages are very clean and show no signs of neglect.

This engine has not run in about a year but showed beak down numbers:
Cyl1-22%
cyl2-25%
cyl3-25%
cyl4-25%
cyl5-26%
cyl6_24%

Includes harness and computer.

Why am I selling? Child on the way and just what needs to happen.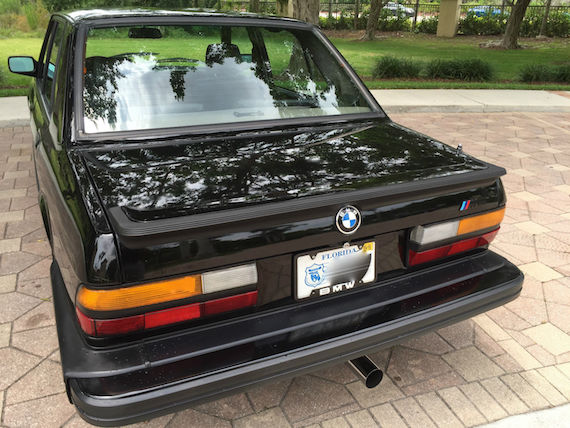 There are so many head-scratching details inside I would only recommend this car to someone who loooooooooves MyE28.com and eBay. If you're one of those puzzle-loving car types, you could get your Sherlock on while you hunt for a center console, new steering wheel, shifter, and carpet set. Once those were acquired, it could start to look like a decent M5 again and even regain some of the allure of its black interior. And all the while, you could be doing donuts with your big turbo six. I'd caution the hoons, however: you may quickly find yourself mortgaging that S38 to pay for the miscellaneous M5-specific parts that break. Considering you could sell either engine for $3-5k, I expect this to reach $15k or $16k before people start really asking themselves if they want to live in that interior.
-NR