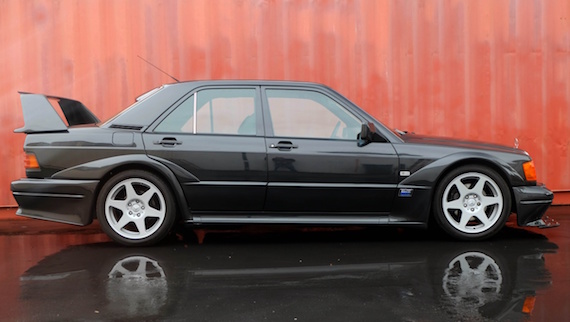 A few months ago, I happened to stop by Keenan Mercedes in Doylestown, Pennsylvania. For those not aware, the owner of the dealership has acquired a car similar to the one we see here for sale in California, a 190E 2.5-16 Evolution II. Those not familiar with this winged beast might mistake it for a gussied up 190E 2.3-16, but it was so much more. While 235 horsepower might not seem like much in this day and age, getting that much grunt from a four-cylinder engine 25 years ago was no mean feat. Add into this mix self-leveling suspension, adjustable rear wing and those tasty Evo alloy wheels and you had a limited production car which would sell out before it went on sale. Expensive when new, prices for these rare Evo IIs are heading through the roof. This one for sale in California has just 10,000 mies on the clock and is surely amongst a handful that have found their way to these shores.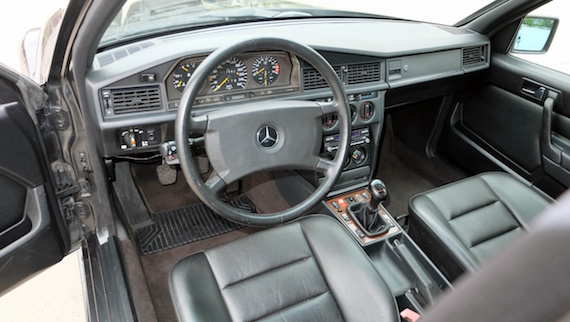 Year: 1991
Model: 190E Evolution II
Engine: 2.5 liter inline-4
Transmission: 5-speed manual
Mileage: 10,923 mi
Price: $279,000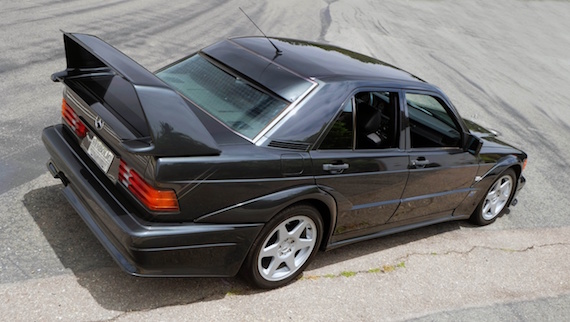 In 1990, Mercedes with the direct assistance of Cosworth and AMG debuted the highly revised 190E Evo II. In order to meet DTM homologation requirements 500 units were built, all of which were immediately spoken for and sold before the first examples had even been completed.

The Evo II had a numerous cosmetic and mechanical updates and changes including a radical and fully functional aerodynamics package, an in-car adjustable suspension, improved brakes, bigger 17-inch wheels, and a reworked Cosworth/AMG 2.5-liter four-cylinder engine that produced an incredible 235 horsepower!

This particular Evo II is No. 345 of the 500 examples built. It is a pristine, single owner from new example with only 17,000 original kilometers (10,000 original miles.) Proper, low mileage, un-modified and un-raced road/homologation examples rarely come up for sale. This particular Evo II is regarded as one of the lowest mileage and finest surviving examples known to exist.

This EVO II is sold with full service history and records from new. It is complete with all manuals, books, pouch, and both the original and the extra spare key. All tools, spare rim tire, jack and warning triangle are complete and as delivered new.

It is unlikely you will ever encounter a finer, more correct, authentic or lower mileage example anywhere at any price!

Please contact me if I can assist further in anyway with the potential purchase of this vehicle.

Kind regards always,

Bill Noon

Symbolic International
11425 Sorrento Valley Road
San Diego, California 92121 USA

Phone 619 840 7811
Email bill@symbolicinternational.com
Website http://goo.gl/z8cUIl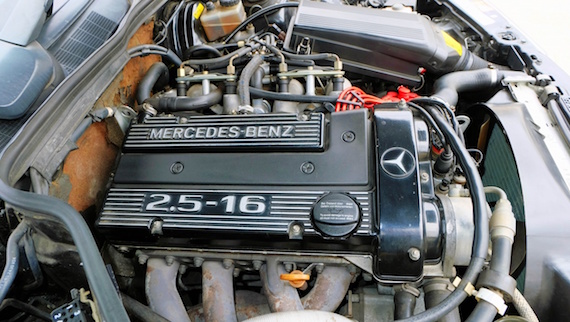 The Cosworth engined W201s are always accused of being a bit down on power, but the Evo I and II went a ways to addressing that issue. The Evo II's horsepower rating isn't high by today's standards, but if you judge this car based on that figure alone, you are selling these cars short. Their direct lineage to the Deutsche Tourenwagen Meisterschaft (DTM) along with great handling and a character vastly different from the cooking variety W201. Only 500 Evo II's were ever built, so these days, they are highly prized. Even in their home market of Europe, they are regularly fetching six figures. The asking price here is not surprising to me, as you can probably count on one hand how many of these have come to the US. It's nice to dream, though, isn't it?
-Paul