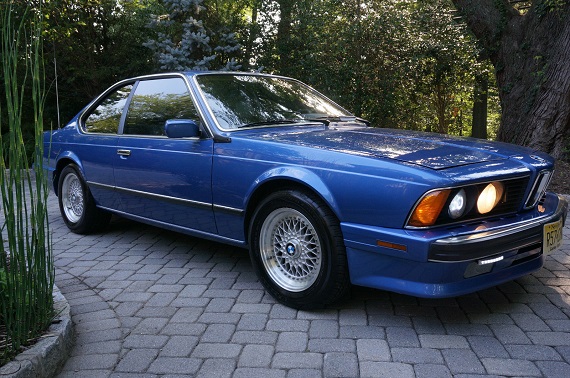 You know what the problem with modifying a car from stock is? More than anything, it's that you're modifying the car to your taste, and tastes vary just like ice cream flavors. If you're intending on keeping said car forever, perhaps that's not a problem – turning a road car into a track car, for example. It's also not a problem if you're ridiculously rich and just don't care who's downstream of your tastes; the Koenig 560SEC comes to mind. But if your hope is long term collectability, altering the car can have disastrous effects and and seriously change both the desirability of the car and the value in the market. Yesterday's E28 M5 is a great example; a seller posturing the car as a collector status car when it had many unoriginal details that turned it really from a collector into a good driver candidate. But, at least many of those details were easily reversible – how about today's similar E24 M6?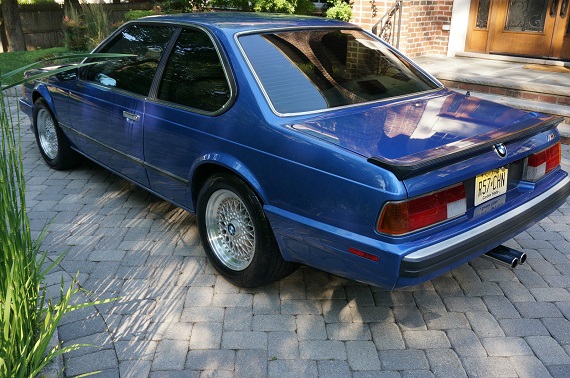 Year: 1988
Model: M6
Engine: 3.5 liter inline-6
Transmission: 5-speed manual
Mileage: 160,545 mi
Price: $27,000 Buy It Now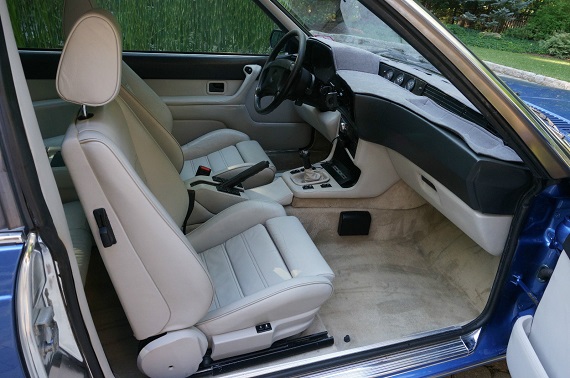 I purchased my first BMW E24 635csi back in 1993 and took care of it for more than 21 years. At the 19 year mark my original 635csi was joined by this stunning M6 which I picked up almost 3 years ago. I searched for almost 6 months to find this pampered M6 which was originally located in Nashville, Tennessee. So yes this M6 has never been driven in Northeast salt and has been garaged ever since. Think of this car as being from the South and only recently transplanted to the Northeast.

As I got to know the E24 when I received this M6 i quickly applied many of my original upgrades on my original 6 to this M6. Modern amenities such as Xenon/HID headlights, an Alpine stereo with Bluetooth / Pandora / iphone support with meaningfully improved German Helix speakers. Note that the integrated Pandora and iPod support only works with IOS7 and earlier so if you are on IOS8 it won't work unless you hotspot to an ipod touch / earlier iPhone 4/5 with pre IOS7, which is what I ended up doing once the iphone 6/6+ came out with IOS8. I also upgraded to remote power locks since it's quite embarrassing to have to manually use the key to open your car door in the year 2015 plus the heated key door locks are prone to wearing out and breaking and are expensive to repair.

Even though I wanted to see the road clearer with HID (Xenon) headlights leveraging the focused beam lenses that came standard with 88 & 89 6 series, I didn't appreciate getting blinded by bright headlights following me. Hence the need to install an LCD rearview dimming mirror. Since I also backed up into my garage I wanted to maximize my back-up visibility and so I had the best back-up camera system installed which beeps and shows exactly whats behind / below / beside the rear of the car. This is exactly the kind that you'd find in a car more than 25 years newer. Since an '88 M6 does not have room in the dashboard for a big integrated display I went with integrating it into the rear view mirror display which by the way also has integrated bluetooth handsfree audio support for your smartphone.

Since it's a known fact that if a car as stunning as this is driving 10 miles above the speed limit vs. non-head turners, this car for sure will get pulled over by the police. Given this I had the Laser Interceptor professionally installed which is essentially a Laser Radar jammer. Normally when the police/radar/speed camera hits this car – <>. However with the Laser Interceptor, the radar gun returns an error, so that the evidence which is normally required to ticket you suddenly disappears…. Note that this is legal in at least 48 states in the USA so you'll have to do research to determine the legality of this based on where you live. Note too that you can turn off the Laser Interceptor if you happen to be driving through a state where radar jammers are illegal. I recall Virginia being one of those states.

On the performance side of this car, it came with a super rare BMW E30 M3 Exhaust Cam engine modification which boosts the normal horsepower of this car from 282HP to 296HP and was paired with a special chip which is no longer made. In case your wondering how a 4 cylinder engine exhaust cam gear can fit into a 6 cylinder the S14 engine from the e30 m3 evo 2 is basically an S38 engine with 2 cylinders chopped off.

The Evo 2 exhaust cam gear interchanges with the M6 exhaust cam and gives great gains in midrange torque and peak power by retarding the timing a few degrees.
The paired chip is designed also to work synergistically with the cam gear.

Interior & exterior were also fully refreshed when I took possession of the car. The car was originally Navy Blue and while the paint overall was in really good shape, the original trunk needed to be re-painted and when i was faced with the decision of getting the Navy Blue perfect or transitioning it to the more exciting and famous Estoril Blue, it just had to be done since I have yet to find an Estoril Blue M6 on planet earth. Navy Blue is rare and since I wanted to maintain the integrity of the original title it was safe to move it to Estoril Blue, the classic 90's M color. In addition, as many have discovered Estoril Blue is best when paired with Everest Gray so Everest Gray is also the interior of this perfect and rare color combo M6.

Air conditioning blows bone chilling cold. This still uses the original freon system both front and back dual-compressor AC, just in case you want to load the rear refrigerator arm rest with cans of 12 oz Perrier water soda. Ironically enough since the Germans didn't believe in cup holders back in the 80's, an OEM grade one has been installed by the passenger foot well within arms reach in addition to supplemental DC 12v power sources to recharge your smartphone, tablet and even your wife's/girlfriend/partner.

Wheels are rare 3 piece BBS staggered front and back and are non-metric so that you can drive using the latest top-of line tires from the 21st century. Brand new tires have been installed, top of the line all-seasons:
FRONT TIRES: 225/55ZR-16 BFGoodrich g-Force Super Sport A/S
BACK TIRES: 245/50ZR-16 BFGOODRICH G-FORCE SUPER SPORT A/S

In addition brand new Meyle brakes and platinum rotors have been freshly installed via Bavaria Motorsport.

Key list of supplemental upgrade details can be found here:
(1) Laser Interceptor Dual BMW edition: https://www.laser-interceptorusa.com/info: fully installed $1500
(2) Valentine 1 radar with concealed display: http://www.valentine1.com/v1info/ : $500
(3) Full new set of Breyle brake pads & rotors: http://www.bavauto.com/lview.asp?imgfile=assets/imglib500/rbk.jpg: fully installed $1000
(4) Alpine ida-x305S stereo: http://www.cnet.com/products/alpine-ida-x305/ : full system professionally installed with subwoofer: $2400
(5) Alpine PXA-H100 imprint sound processor: http://alpine-usa.com/company/press/general/2009/alpine-imprint-sound-processing/
(6) Alpine PDX-V9 Amplifier 1600W: http://alpine-usa.com/product/view/pdx-v9/Specs $799
(7) Alpine KCE 400BT bluetooth stereo: http://alpine-usa.com/product/view/kce-400bt/ $180
(8) Fischer cup holder: http://www.ultimatecupholders.com/fischercupholder.html
(9) Alpine HCE-C300R rear camera system installed: $1200 http://www.alpine-usa.com/product/view/hce-c300r/
(10) LCD Rearview mirror with integrated back-up camera display http://a248.e.akamai.net/pix.crutchfield.com/Manuals/074/074RVM430B.PDF

As you can tell this car has been pampered silly. Maintenance is in top condition and I even have the original M6 owners manual. This car also has LoJack installed. Access to my mechanic can be provided who can fully attest to the cars operational excellence.

Why am I selling this car? I just got another car and my wife insists that I must sell one car since otherwise I end up having 4 cars which is too many in her mind, especially since I don't even have a daily commute that ends up requiring a car. I hope the next owner of this beautiful car will pamper and enjoy her as much as I did. This car deserves an owner who has always wanted one of these. Not only is it awesome to drive but it will only keep going up in value as long as you keep taking great care of it!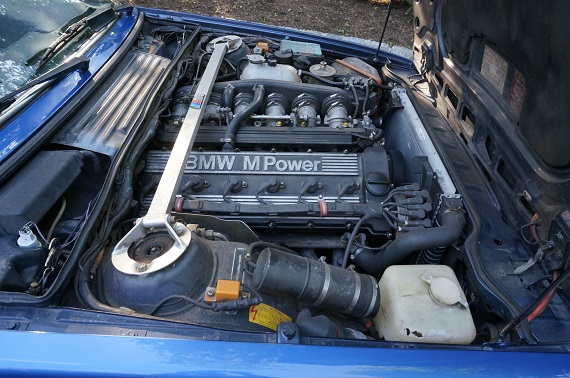 It's as if we took yesterday's M5 and turned it up to 11 with the unoriginal details. First is obviously the color, and in my mind the most unfortunate. Not only is the Estoril Blue very unoriginal to the series, the original color was the lovely Royal Blue Metallic – I think my favorite E24 M6 color. You don't have to dig very far to find it though, since the open hood shots show the incomplete paint job. For a cheap driver, that's not necessarily bad; for a collector, you've ruined the value. That's matched by the tinted tail lights and horrible Xenon HID headlight conversion. How ironic is it that the seller mentions how they like the bright headlights themselves, but hate when other people have them? From the dimming mirror, backup camera, iPod integration and additional power sources, much has been done to make this car easier to live with in 2015 – all of which is unoriginal, and wrecks value for collectors. Then there are the "performance" mods, such as the claim of installing a 4-cylinder cam into a 6-cylinder engine. What I'm guessing they actually mean is the cam sprocket, which Dinan claims adds 45 horsepower coupled with a chip. While the mod doesn't really change value much for most I'd think, the seller's lack of clarity (and semi-hilarious explanation about how a 4-cylinder cam fits in a 6-cylinder engine) doesn't help their cause. It's one of the few modifications that I don't really mind, though; add to that list the 16″ BBS RS wheels. While not correct, they're in the spirit of the option 415mm TRX RS wheels and much easier to fit tires to. The interior has also been customized, with a non-original color and pattern. And while the seller claims the car has been pampered, importantly no maintenance records have been mentioned; on a 160,000 mile M6, something you'd want to see for sure. In terms of value, it's question of where you'd place this car; I'd have to estimate it as a condition 3.5 car. It is slightly above fair, but in my opinion below good, and the modifications in no way help the value. By Hagerty's valuation, that means this car should change hands in the high teens – to me, that sounds even a bit of a stretch, but certainly more appropriate than the seller's current asking price.
-Carter