With prices of the Mercedes-Benz W123 on the rise, it may seem a daunting task to get old school Mercedes durability in a small, simple package. Fear not, because the Mercedes-Benz W201, better known as the 190E, offers second hand buyers the chance of getting legendary quality at a low cost of entry. True, the supply of good W123s eclipses that of the 190E, but if you find a good one, those in the market for reliable, practical used transport should give this sedan a look. Apart from the Cosworth engined models, the best of the bunch is the 2.6 version, which has the smooth M103 inline six cylinder engine. Most of these 2.6 versions were mated to four speed automatic transmissions, but this example for sale near Atlanta has the lesser seen 5-speed manual gearbox.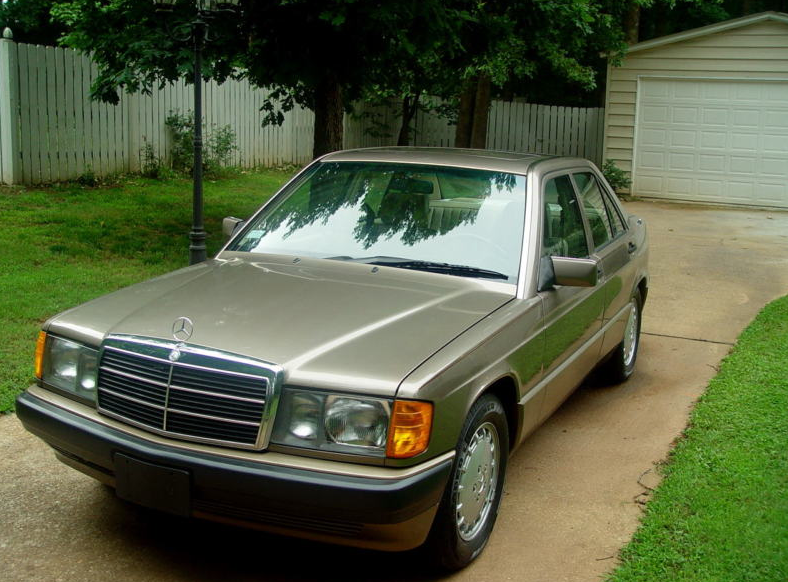 You are looking for a really good Mercedes 190E? A sporty 6-cylinder with five speeds, hard to find? A 190E with low original mileage? Look no further here is your Mercedes 190E in very good condition with all service records on hand. Absolutely no rust, no leaks and everything works except the outside temperature display. I am a retired mechanic from Germany I bought the car for my daughter in law and now she wants a car with automatic transmission.

I am angry and disappointed, because I was looking for more than a year for a good Mercedes Benz 190E. I bought the car fore $2,700 and invested $2,000 plus 80 hours of my work in the car. I have the bills on hand. The following parts are new: front and rear wheel bearings, brake discs front and rear, brake pads front and rear, rear brake line, brake fluid, front and rear shock absorbers, exhaust rear muffler, hood insulation, European headlights, brake light switch, floor mats, stereo with CD, spark plugs, oil and filter, fuel filter, antenna seal. The tires including the spare tire have 80% left.

The car is equipped with: Power driver and passenger seats, power windows, central locking, power Sunroof, cruise control, power steering, ABS, airbag, leather seats, stereo, power antenna, alloy wheels, air conditioning, tinted glass, leather steering wheel. The car is very clean inside and out. The engine sounds like new, you can not kill this 2.6 inline 6 Mercedes engine; they are good for 400,000 miles.

The car has no noise and no vibration. In other words, it is a very good car. I do not want to make money on the car. I just want my money back from what I invested. My work and my knowledge you will receive for free. I drive an 1997 Mercedes S420 for myself. Car comes with two keys, all service records and the owners manual.

The NADA price for this Classic Benz is:

Low: $4,050
Average: $5,450
High sales price: $6,900

This does not reflect the low mileage of the car! I ask $4,800 for this nice Benz. You have questions, send me an e-mail. You can drive the car home to any place in the US. Fly in to Atlanta, free pick you up at Atlanta airport and you drive home. The car is also local for sale, I reserve the right to end the auction at any time.
As time marches on, it's getting harder and harder to find a 190E with under 100,000 miles. Die hard Mercedes fans hang onto these cars, as I've heard more than a few enthusiasts describe these models as one of the best. One thing I do like about this car, apart from the recent attention it was given by a Mercedes mechanic, is the flush, Euro market headlamps. It gives the front end a cleaner look than the separate sealed beam units that were mandated by the US government. The manual transmission will detract certain buyers to this car. Even though I'd prefer an automatic, I'd take the 5-speed in this one, given the car's condition. There are a lot of used cars out there you can buy for under $5,000, but probably not many that have the inherent quality and durability built into them like this W201.
-Paul