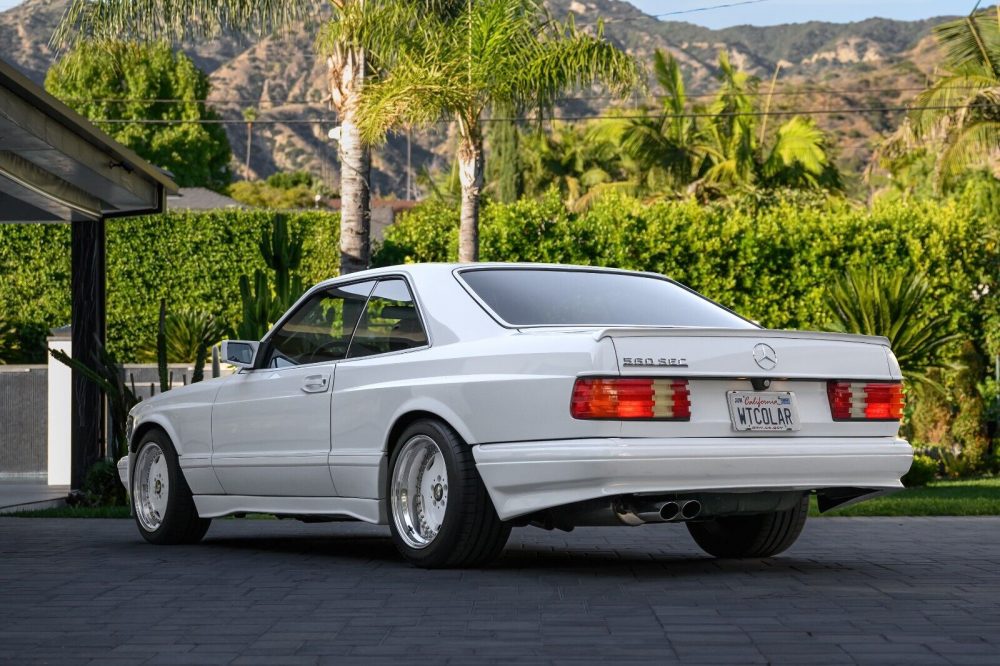 There are many legends from the 1980s tuning scene, and probably if you were to single out one single car as the most famous it would be the Ruf CTR "Yellowbird" that stunned magazines with its 200+ m.p.h. top speed and created one of the first internet sensations with its slithering sideways lap of the 'Ring. But near equal to the yellow 911 is the widebody bad boys from Affalterbach. With their four cam V8s churning supercar power levels and their widened flanks, they were a favorite poster subjects and still draw adoring crowds today. Today's car isn't an original, but it sure looks good:
CLICK FOR DETAILS: 1988 Mercedes-Benz 560SEC Widebody on eBay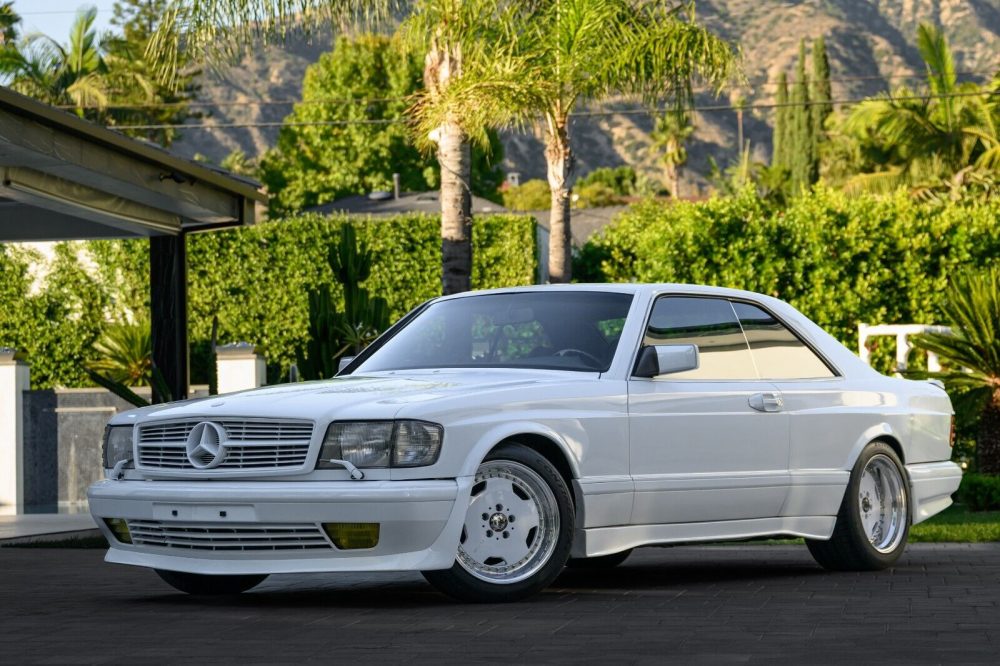 Year: 1988
Model: 560SEC Widebody
VIN: WDB1260451A391122
Engine: 5.5 liter V8
Transmission: 4-speed automatic
Mileage: 64,000 mi
Location: Glendale, California
Price: $125,000 Buy It Now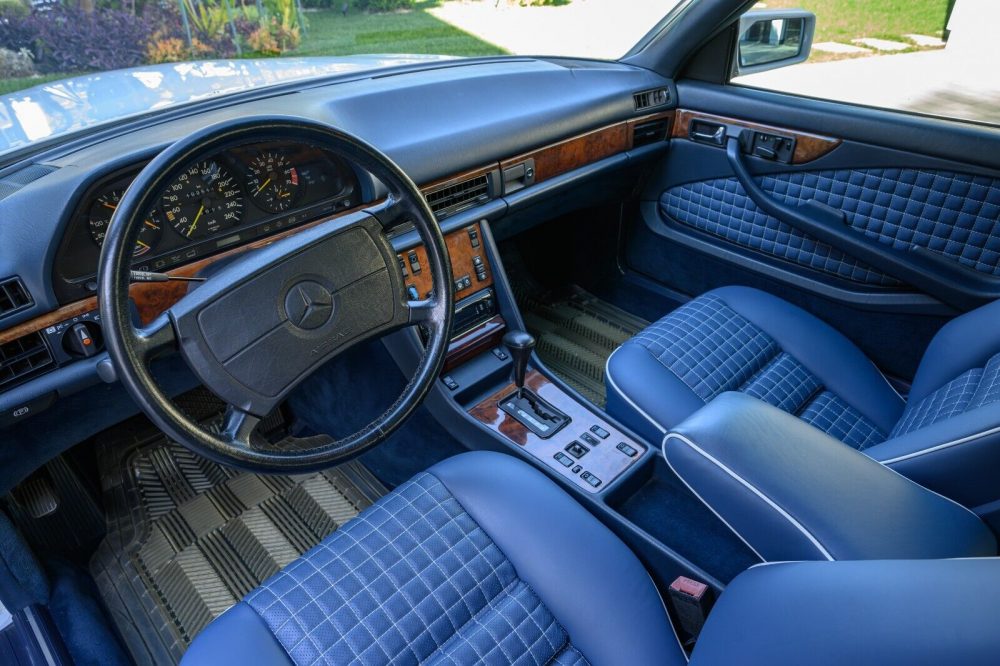 Please, read the entire description then contact me before you hit the "BUY IT NOW." 

For sale is a very special 1988Mercedes-Benz 560SEC

This is a very special car that has been pampered since the beginning. In 35 years of its life, it only has 64,000 original miles.  This car was driven roughly 1,800miles/year.  I am the 3rdowner and before the car came to me it was completely stock.  It had all the original paint and absolutely no evidence of any accidents.  I have owned the car since 2018 and all the modifications were completed under my ownership about a year ago.

Origin:

The car is a rare European example, that was originally sold in Japan, then it went to Canada and finally coming to the United States.  Being a European model, it comes with a more powerful engine that has a higher compression ratio (more horsepower) as opposed to the cars build for the U.S. market.  The European cars also came with tucked in bumpers and the one-piece headlights. That's why European models are more sought after.  The problem with that is registering the car in United States, especially in States like California, which is the hardest State to have anything having to do with a car.  The California DMV database wouldn't accept the European Vin.  I had to go through a lot of hurtles but I was able to add the cars Vin into the California DMV database.  In this case you have nothing to worry about.  

The correct Vin for the car is: WDB1260451A391122.  But since it's a European Vin Ebay program wouldn't accept it, so I had to put a vin I got from the internet.

Maintenance:

In my opinion this is the best engineered, hand-built vehicle Mercedes has produced.  But the fact remains that these cars are reaching almost 40 years old and parts on them are starting to get old.  Parts and labor on these cars are not cheap, especially when it's done by a technician specializing in older Mercedes.  On this car all the important items have been replaced.  I have the repair invoices.

List of new items:

1 Fuel – 2 fuel pumps, fuel filter, all fuel hoses, smog filter, fuel accumulator.

2 Motor – Oil level sensor, oil pressure switch, sub pan, oil pan gasket, oil plug, oil cap, air filter, sparkplugs, spark plug wires, ignition cap/rotor/coil, vacuum hoses, valve cover gaskets, distributor, belts

3 Suspension – 4 control arm bushings

4 Miscellaneous – A/C compressor, Transmission gear oil, Rear sway bar link

Aftermarket additions:

Exterior:

I started with a car that had absolutely no rust or any evidence of an accident.  It had all the original paint, but again being a 35 year old car, the paint was starting to show its age.  So, after I installed the AMG wide body kit, the entire car was pointed in the original white color.  The lower moldings were all color matched(originally came light gray), along with the front grill.  The AMG body kit is made of fiberglass, and it included a front chin spoiler, front complete fenders, side skirts, rear quarter add ons, rear lower spoiler and decklid spoiler.  There are rumors that AMG used metal widebody pieces, but that is not correct. They used metal for the first batch of the body kits, then switched to fiberglass because the metal was too expensive and needed a lot more work, making it fit.  Propper adhesive epoxy was used to make sure that bond between the quarter panel and the fiber glass wide body piece is rock solid, so the paint doesn't crack in the future.  The body work on the car was performed by DTM Auto Body in El Monte, California.  These guys specialize in fiberglass repairs and wide body installations.

Drivetrain:

Engine needed to breathe better so a set of Try-Y stainless steel headers by Elbe Engineering were installed along with a Supersprint exhaust.

The car also received a set of the original AMG wheels built by OZ Racing for AMG cars.

To get the stance right a set of H&R lowering spring was installed as well.

Interior:

The original interior was blue velour.  The driver's seat had worn out parts and the color on the rest of the interior had faded, so I couldn't even replace only the driver's seat velour. The headliner material was falling apart as well.  I decided to redo the complete interior with a high-quality blue leather in the same color as the original interior, which was contrasted with white stitching and piping to complement the exterior color.   The interior was completed with a suede headliner.

Electronics:

The factory stereo system was old and obsolete.  The speakers were dry and torn.  So, I decided to install a full custom stereo system that included all new front and rear speakers, twitters and a small subwoofer and an amplifier to make sure everything sounds right.  The stereo comes with Bluetooth, which enables you to play music from your phone or even make phone calls.  It also has a USB port.  A custom enclosure is built in the trunk to accommodate the subwoofer and the amplifier. It's very simple but era correct. It is built in a way that would have been done in the 80's.  I still have still have the original stereo and it will come with the car.

Reason for selling:

I built 2 wide body 560sec's, a black one for myself and this white one for my wife, but she doesn't drive hers much.  The car is just sitting there.  And for me, there's no point in having 2 of the same cars.  I would rather make room in the garage for another car. Real estate is very important for car guys.  I have several other projects close to completion and I can use the space.

I am a car guy, I am not a dealer.  I don't make my money on cars, I am a real estate developer.  I have a lifelong passion for cars.  I tried to give as much information as possible on the car, but I am sure if you are a serious buyer, you are welcome to call me and ask me whatever questions you might have.  The last car I sold, the buyer told me that my description was so thorough that there were no more questions left to ask but, "when can I come see the car?" I want the buyer on this car to feel the same comfort.

For an average car enthusiast this car is overpriced, but for a seasoned car enthusiast that has done a few projects, really understands and appreciates everything that has been done to the car.  I know you can find a clean, low mileage 560SEC for around $50-60K, but by the time you go through all the work and time to get everything done, the bill keeps piling up and you see that you end up spending more money and not to mention the time.  Like I said, this car is for someone that understands how much work it takes to finish a car like this.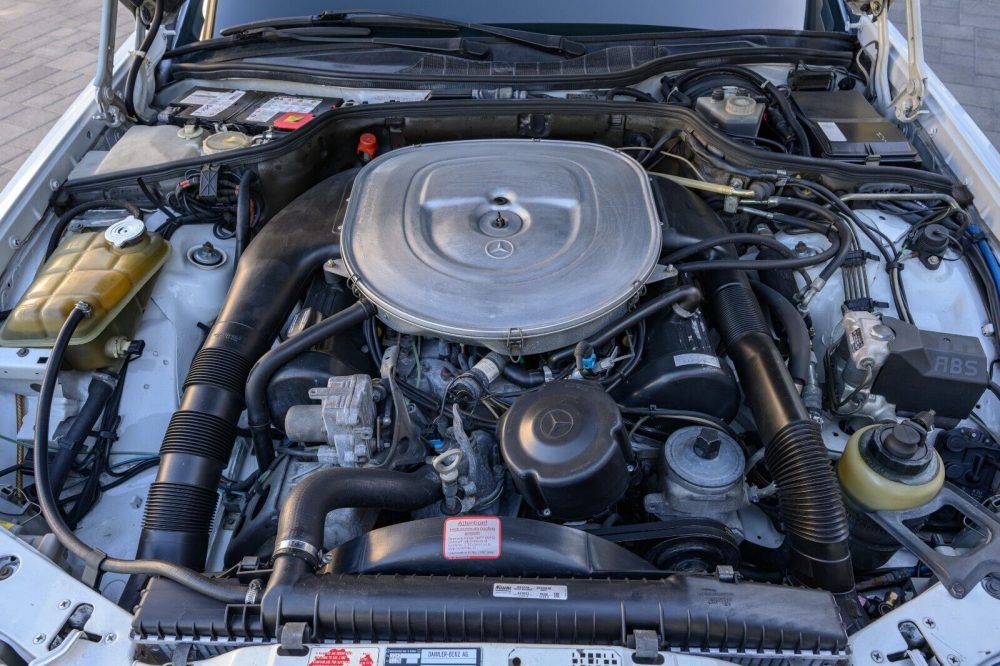 There's clearly a lot of work done and it mostly looks like a faithful recreation, though the Aero III wheels aren't quite right to my eye. Still, this is the type of car that would attract a lot of attention wherever it goes; the question is, is it worth $125,000? Well, for argument's sake, a real AMG 6.0 Widebody sold for $720,000, and since only a few real ones were made, a tribute is almost always going to be more affordable – if you can fake it 'til you make it.
-Carter