What do you get when you combine the winningest marque in motorsports, the world's toughest rallye, and a legendary rallye driver? You get this stunning tribute to Björn Waldegård's 1978 entry in to the East African Safari Rally. While the combination of Waldegård and porsche never produced a victory in the 1978 Safari Rallye, the combo teamed up 34 years later for a victory in the 2011 Safari Rallye Classic.
This impecably done tribute for sale in Costa Mesa, California is an instant throwback, and embodies everything that made the late'70s motorsports awesome.
1988 Porsche 911 3.2 Martini Tribute on eBay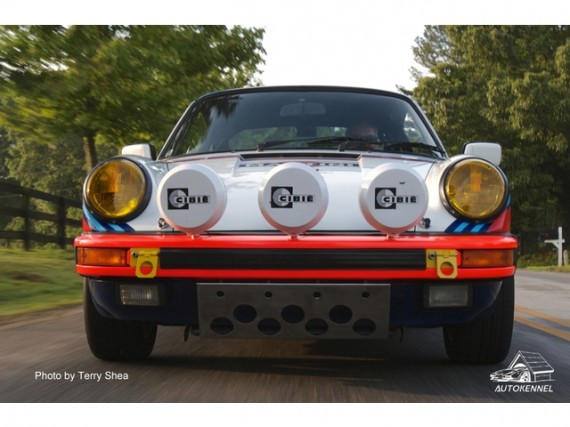 1988 Porsche 911 Carrera 3.2 RS Martini

East Africa Safari Rallye Björn Waldegård Tribute

VIN # WP0AB0910JS121255 146,200 chassis miles (7,500 miles since build)

Grand Prix White with Martini Graphics and Black Leather Interior 5-Speed G50 Manual Transmission

Clean and Clear Title

Original California 2-Owner Car

No Accidents/Original Paint

Numbers Matching

Vehicle Located in Atlanta, GA

In the late '70s, the Porsche motorsport department set itself challenges away from asphalted surfaces. The East African Safari Rally entered into Porsche racing history as an extraordinary trial for driver and technicians. In fact, the African Safari is considered by many to be the world's toughest rally.  In 1978, Porsche sent two modified 911 SC 3.0 sponsored by Martini to the starting line.

Porsche dominated the field, until a technical defect threw Waldegård, who had a lead of 46 minutes, back into fourth place. The team of Preston and Layl ended the rally in second place overall. Waldegård was one of the premier rally drivers starting and went on to win the championship the following year as a driver for Lancia.  Porsche eventually settled its account with the African continent in the Paris-Dakar Rally: the Porsche 911 Carrera 4×4 won there in 1984, followed two years later by the legendary Porsche 959.

With all the RS/RSR clones out on the market, dare to be different with a unique tribute to this important part of Porsche racing.  The smiles, thumbs-ups, and positive comments are numerous every time we take the care out for a spin.   If many of you are like us, we love the look of the vintage Porsche racecars and have always dreamed of driving them.  However, many of us don't have the time to race and would prefer to drive our toys rather than look at them in our garage.  So, we created this car to appeal to people like us:  those who love to drive.

I must admit, as we get older, the thought of driving a thoroughbred racecar on a 1,000-mile drive has become less and less appealing.  So, when we built this car, we focused on making this car very drivable, comfortable, reliable, and still fun.  We had this car custom built about 4 years ago for a good friend of ours in Atlanta.  He was very specific with his details.  He wanted a car that he and his wife could use in the prestigious Carolina Trophy road rally.  It had to be comfortable enough to got thousands of miles; it also had to be reliable; and, finally, it had to win.  And, it did just that.  In 2010, they won the Carolina Trophy!

Ed and Jeannie Cave are the perfect people to purchase a collectible Porsche from.  They have that eye for details.  Being in the design industry, they like things right.  After they received this tribute Porsche from us (AutoKennel), they took it another step further.  They put some of their touches into the car to make it pop.  They mounted a pair of  dash Heuer Rally Master clocks and a top-shelf Monit TC200 Rally Computer with a pedal-operated reset switch.  This is valued at over $6,000 worth of collectible equipment.  Both look great and are extremely functional.  The car even appealed to Vic Elford (Porsche Factory rallye driver) who chose it as his favorite car of a PCA event.  He commemorated his choice by signing the underside of the hood (see attached pictures).

We started the project in late 2007 when we found a Grand Prix white over black 1988 3.2 Carrera.  The car was immaculate.  It had a 138,000 miles, 2-SoCal owners, and the original paint.  Honestly, it was almost too nice to transform.  But, Ed was very particular about starting with an original white car and one with a G50 gearbox.  The flat six engine was pulled and its top end rebuilt. The 5-speed G50 transmission was disassembled and restored to new, and the entire powertrain was cleaned, reassembled and reinstalled with a mildly modified exhaust and an existing performance chip left in place. Horsepower is estimated to be near 240 and, better still, the engine retains incredible reliability and drivability without the peakiness of a full-fledged race motor.

That power is put to the ground through a chassis tuned and reinforced for the rigors of long distance rallying. For starters, the entire suspension was disassembled and checked for integrity before all bushings were replaced with stiffer and stronger polyurethane units from Elephant Racing. Bilstein HD shocks were installed to control wheel travel, the ride height raised slightly to accommodate potentially choppy road conditions and the 7×16 and 8×16 Fuchs alloy wheels powdercoated white to match the factory race car.

Outside, the 911 wears the same livery as the 1978 East African Safari rally car complete with a fluorescent orange front bumper, blue sills and rear bumper, and removable vinyl Martini sponsorship logos and striping throughout. Early H4 headlights with yellow lenses reside in each front fender and, when necessary, are complimented by three Cibie fog lights up front and a unique rear Hella out back. Getty Racing provided a lightweight and downforce-generating duck tail engine cover, and both it and the hood are held in place with race-spec rubber tie-downs. Also visible at both the front and rear of the car are the aluminum skid plates that shield mechanical components from damage.

Inside, the 911's high performance intentions were furthered with the deletion of the rear seats, replacement of the door panels with lightweight RS units and installation of early light-weight carpeting. The stock seats were replaced with custom Scheel items upholstered in perforated leather and piped in the Martini racing colors, a MOMO Prototipo steering wheel took the place of the stock unit, and the shifter was swapped for a WEVO short-throw mechanism that reduces throws by 30%. The aforementioned Heuer Rally Master clocks and Monit TC200 Rally Computer highlight the dash and, just to the side of the Monit, lies an infrared remote that controls the hidden, iPod compatible Alpine stereo. Even with the addition of the ST style roll bar, the changes within the cabin help to reduce the 911's curb weight by nearly 100 pounds.

European Car was so impressed with the build that they sent a writer to Ed's neighborhood for a full test drive and feature article.

All lights, gauges, clock, turn signals, power windows, sunroof, wipers and auxiliary lights work.  The factory air conditioning currently blows cool, but not ice cold air. The Optima red top battery has a cut-off switch to maintain a charge during storage and the oil was last changed 500 miles ago.  Finally, the 911 comes complete with many service receipts, passed Georgia emissions tests, an original owner's manual, a service manual, a largely complete tool kit, a copy of the European Car article and a manual for the Monit rally computer.

Few cars possess the reliability and performance to win TSD rallies. Fewer still the comfort needed to entice non-gearheads to join in the fun. This 911, is a unique opportunity and offers its next owner the chance to drive competitively in a beautiful, fast and comfortable car and, if they so choose, to do so with the company of a loved one.

If you have any questions, please do not hesitate to contact Paul at 714-335-4911 or paul@autokennel.com
For tons of pictures, go to: http://www.AutoKennel.com
As with the Dakar Rally tribute car a few weeks back, it's tough to put a price on such a car. Cars like this don't really fit in anywhere. It is too new for true vintage racing, and likely wouldn't pass tech for any rallye competition. So what do you buy something like this for?  Cool factor. There is no doubt that this car is a head turner no matter where it goes, and with the 3.2 lump, racing suspension, and light weight this car has to be a blast to drive.
So all things considered, who is a buyer for this car? My guess is that if you get the right combination of Porsche fanatic, and Rally fanatic, you'd have someone willing to shell out the $53,990 for this beauty.
-Brian