In 1984, Porsche modified a version of the 911 for the sole purpose of competing in the 1984 Paris to Dakar Rally. This car was known as the 953.  While it was quickly replaced in 1985 by the infamous 959, it won overall in its maiden Dakar outing with Rene Metge and Dominique Lemoyne at the wheel. With a modified off road suspension, and powered by a 300bhp boxer 6, this car served as the test bed for Porsche's four-wheel drive system that would later be used on the 959.
This implacably detailed tribute car for sale in Bristol, Tennessee is as close as anyone will get to owning one of these legendary cars. The owner spared no expense in transforming this 1989 911 in to a spot on replica of the original 953.
Dakar Winning 953 Off Road Rally Tribute Car on eBay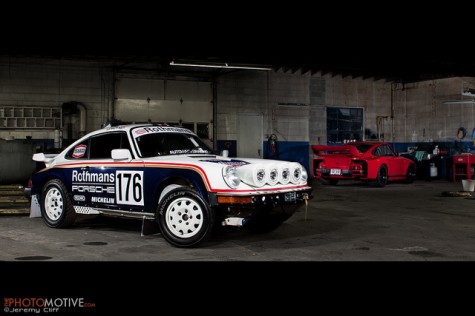 You asked for it. You got it. You wanted an all-wheel-drive Rothmans Rally Car and here it is.  You may remember July of 2010 when another 2-wheel drive 1980 Rothmans Rally Car sold to GoPro for upwards of $70,000 here on eBay.  Although that car was stunning in everyway the last owner knew it needed something more.  The previous owner searched the country high and low for the perfect donor and finally found an accident free, perfectly maintained, weekend driver, pilot owned, all original with every factory option 1989 1/2 Porsche 964 C4.

Meet AWD Paris……
She is an absolutely stunning freshly completed Porsche 911 Paris, Alger, Dakar Winning 953 Off Road Rally Tribute Car that has been painstakingly built over the past year from the previous order.  The previous owner spent thousands and thousands of hours building her.  She was built as a tribute to the winning Porsche 953 raced from Paris to Dakar in 1984 Piloted by Rene Metge and Dominique Lemoyne.  Paris originally started life as a 1989 1/2 Porsche 964 Carrera 4 in PERFECT condition.  She is perfectly street legal and was plated and titled in Illinois.

From my understanding there were only three (3) of these factory cars, two (2) owned by Porsche and one in private hands.  Although this is a reproduction, most observers will swear this is the real deal…
The pictures of this car speak volumes to the target audience.  The picture of the car in a living room setting shows exactly where something like this should live.  This is a car for a truly hardcore (and wealthy) Porsche enthusiast, paging Mr. Seinfeld.  What is the value of something like this?
The big question is, what is it worth? Since the 953 was a race only car, the closest thing I could equate this to, is a 959, and those are worth north of $300k, however this is just a highly modified '89 911, which is only worth $20k. Looking at the parts and amount of fabrication it takes to make a car like this, you could not build this for the $80K asking price, so I guess the question can only be answered by the buyer, as to what it's worth to them.
Whatever its value, this car is 100% cool, and would make a great addition to any living room.
-Brian