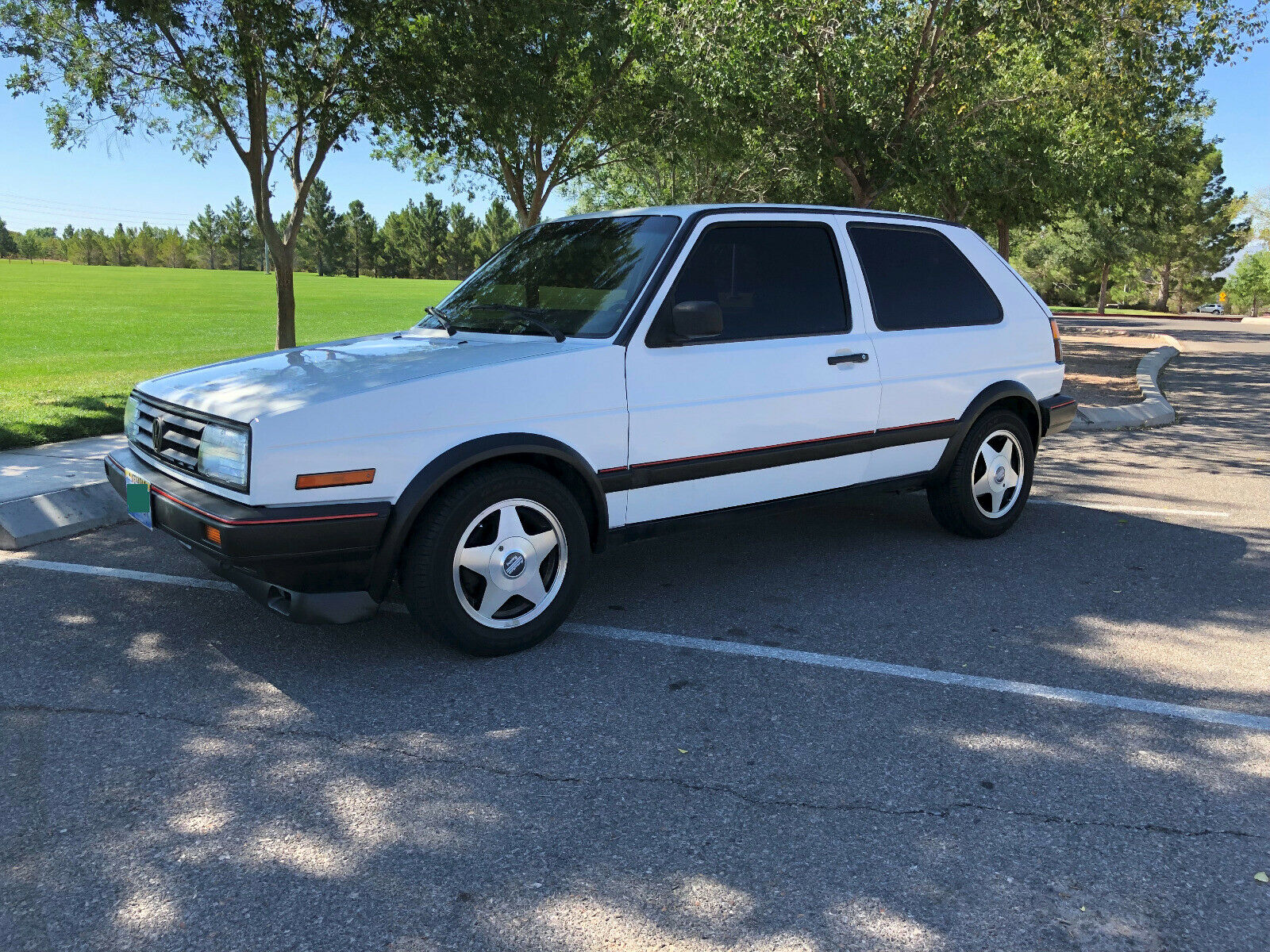 Update 7/21/19: This GTI 16V sold for $7,500.
Another GTI 16V?
Yes. And there are good reasons to look at this one!
A few years ago it seemed near impossible to find a clean, original 16V anymore. With prices of nice ones in the basement and most modded to death, it was a really rare treat to find a survivor. But they still weren't really worth anything, so most nice examples remained tucked away, appreciated by their owners instead of the market. Today, though, the market has very much changed as 80s icons are enjoying celebrity star power once again and cars like today's '88 GTI attract as much attention as that new Porsche GTsomenumeral. Don't believe me? Well, the lightly modded Montana Green Metallic example I just looked at hammered at $12,900 just the other day:
The '87-89 model years are, to me, not quite as appealing as the later 9A GTIs. But in true hot-hatch form, they retained a strong link to the normal production models while offering sports car performance. Adding 8 more valves in '87 to the GTI gave it about 20% more power, and that additional grunt was met with new wheels, trim, a deeper spoiler and a revised interior. '88 saw the change to the "big door" and one-piece glass, along with a new 3-bar grill. We've recently seen two ultra-clean Tornado Red '89s, so let's take a look at this L90E Alpine White '88: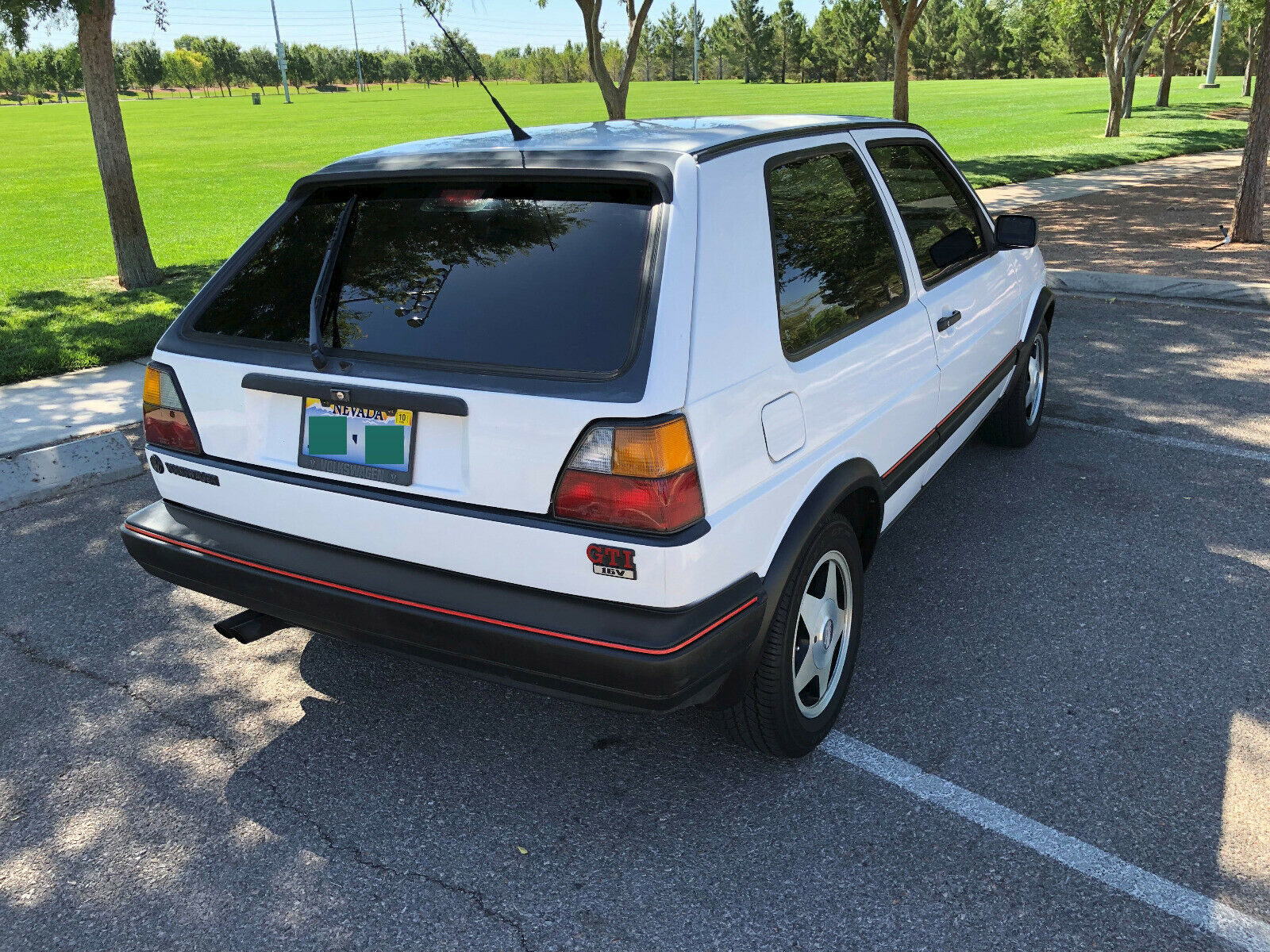 Year: 1988
Model: GTI 16V
VIN: 1VWDC0175JV013719
Engine: 1.8 liter inline-4
Transmission: 5-speed manual
Mileage: 189,000 mi
Price: Reserve Auction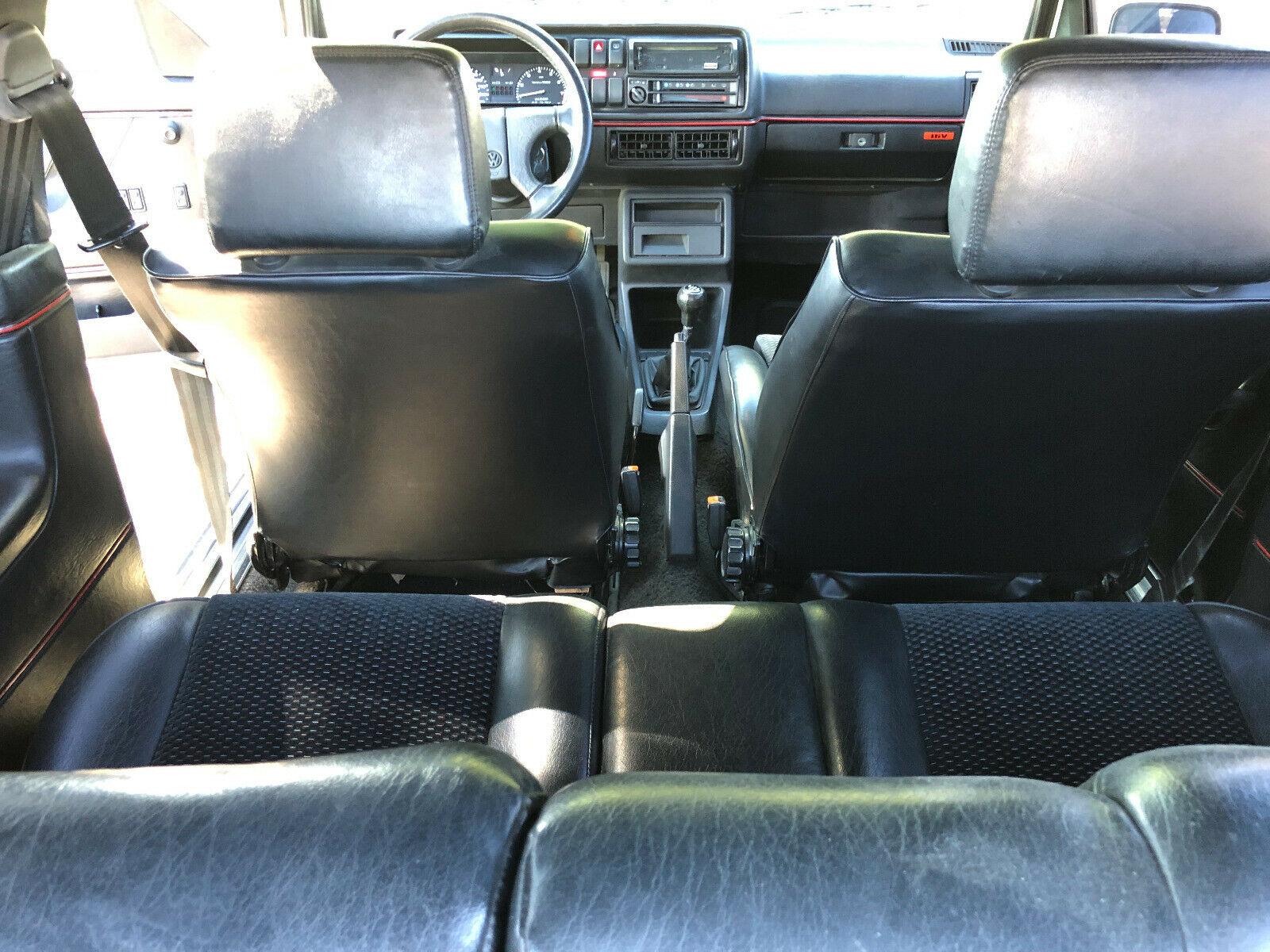 For sale is my VW Golf GTI 16v 5-speed. I am the 2nd owner and I have had it for the last 23+ years. This car is an all original survivor, except for the wheels, with a clean CarFax. I drove this car for many years between central CA to Las Vegas NV so a lot of the 188k miles are highway miles. Oil and filter changes were done religiously along with coolant flushes.
Through the years, I have done all the usual maintenance and have insisted on using OEM German parts if possible. This car runs perfect. Currently it only gets driven once or twice a year which is why I've decided to sell it. I keep it on a battery tender and even after sitting for 6-8 months, it will start immediately and idle at 1k RPM!
All gears shift smoothly. Sunroof works perfect, no leaks. The A/C is still R-12 Freon and it blows seriously ice cold. It hasn't been recharged for many years so it has no leaks in system. I installed power windows and door locks which all work perfectly. The car has an alarm system which locks/unlocks the doors but not the trunk. Upholstery was replaced and is good except area on driver's side bolster (see picture). Carpets are in excellent condition, no wear marks or holes. All gauges work, lights, clock, radio etc, no problems. The speakers have been upgraded. I've recently put in a new Bosch distributor, cap/rotor & Bosch super 4 spark plugs with new ignition wires, new C/V joints and boots & air cleaner element. I've had the struts replaced with KYB inserts, front and rear. In the past, it's had an OEM VW German water pump installed. The engine was worked on about 20k miles ago or so which included a valve job, clutch/pressure plate & t/o bearing. The rod bearings and rings were also replaced. The Goodyear Eagle GT tires have good tread. Brakes are good too. Power steering works perfect. I ordered a muffler and mid muffler from the VW dealer years ago and replaced the catalytic converter so that is all stock.
The car passes smog (tailpipe test) every year, is currently registered and is being kept in covered storage. I have a clean clear title. Miscellaneous paperwork done on the car has been lost throughout the years, I figured with the ease and low cost for parts and DIY maintenance, it wasn't really a big deal.
This car is sold AS IS with no warranties. You are welcomed to check it out before you bid if you would like to make arrangements for that. Please contact me with any questions, I'll be glad to answer them.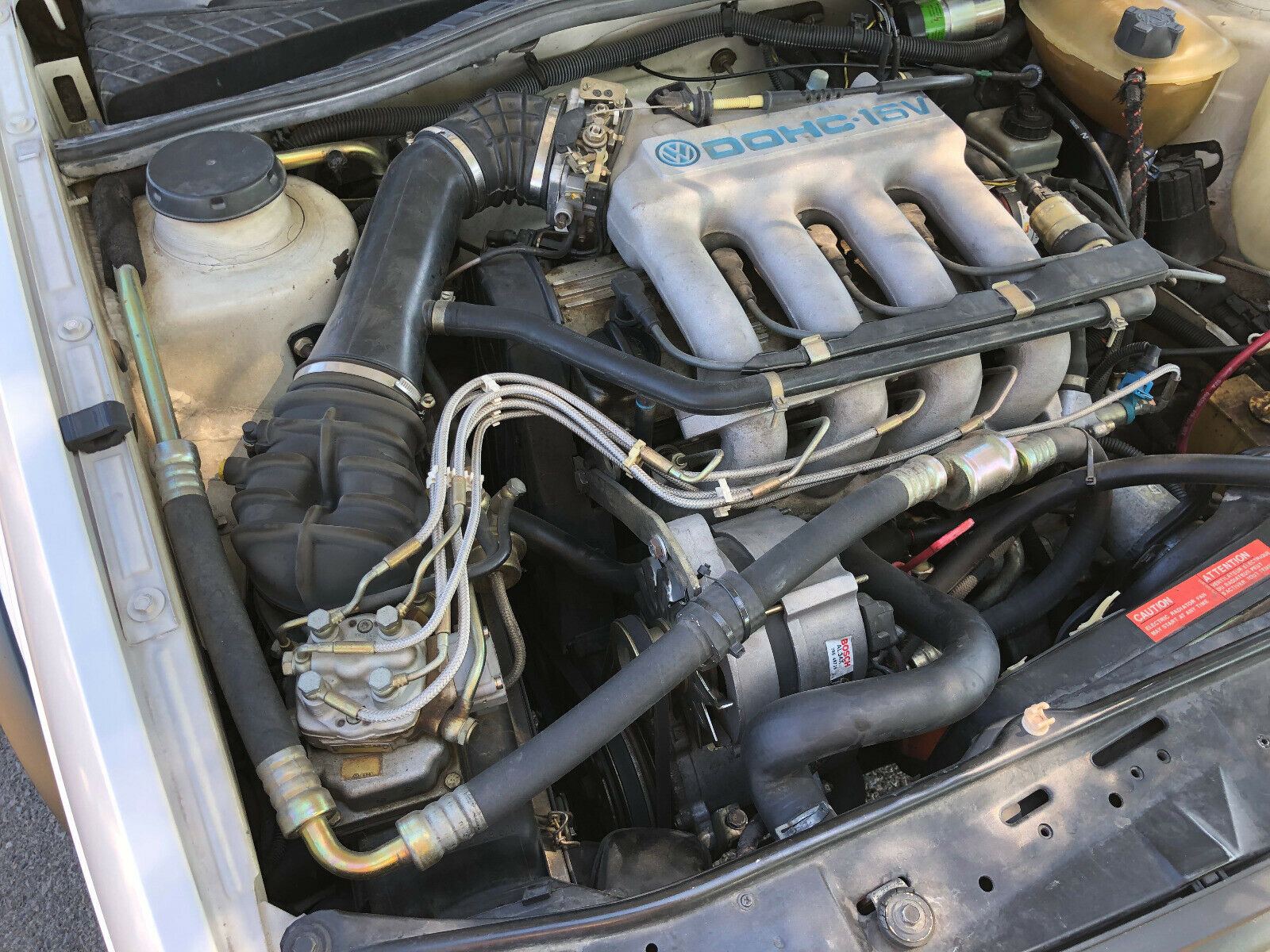 One of the critiques of the Montana 2.0 was that there were just a few too many missing original bits. Clearly, that's not the case here – again, the car doesn't have the OEM mats or wheels, but outside of that this one is really a survivor. The condition belies the nearly 200,000 miles on the odometer, and a thorough detailing would really take this example to the next level. There are niggles outside of the missing wheels; the front badge is gone, the radio of course isn't original, the driver's seat has seen better days on the bolster, and I could do without the dark tint which makes this one look a bit too much like a Storm Trooper's helmet to me. But the functioning A/C is a plus, it has optional power windows which is cool (but maybe not super desirable to some), and the seat fabric is unlike the normal red stripe fabric. In fact, I'm not sure I've seen this combination before but it looks very cool – but since it's not listed as a factory interior, I'm guessing it was replaced at some point when the original cloth ripped, perhaps.
Pricing? Well, the last PL GTI we saw sell hit $8,300 but was in better condition and more original. But bids with a week to go are already at $4,500 here. Frankly I was surprised to see that, and a bit amazed at the same time. It will be interesting to find out just what that reserve is, and if it will be met…
-Carter