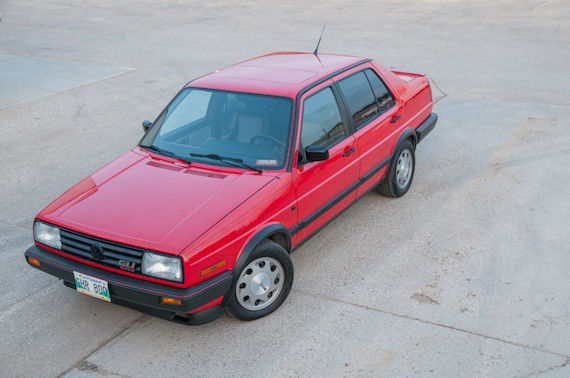 The other day I was stuck behind a brand new Honda Accord Sport in traffic. When I think of modern day Accords, "Sport" is the last word that comes to my mind. I grew up in a household that had a few Accords back in the 1980s and 1990s. These were marvelously engineered machines and utterly reliable. But as the baby boomer generation got older, so did the Accord. Some might welcome the extra girth of the ninth generation Accord, but it is so far removed from the cars I knew and loved in my childhood. But hey, at least you can still spec one with a 6-speed manual. For that, I give Honda my propers.
Back during Accord's heyday, Volkswagen was busy injecting a bit of sport into the Jetta. This 1988 Jetta GLI 16V is the sedan counterpart to the GTI 16V, perfect for those sporting motorists who might happen to have a child seat in tow. This Jetta has the 1.8 liter 16V four cylinder under the hood good for 127 hp. That doesn't seem like a lot in this day and age but kept it on par power wise with top spec sedans of its class from Japan. If you couldn't make the stretch to a BMW in those days, these Jettas were the next best thing when it came to German sport sedans.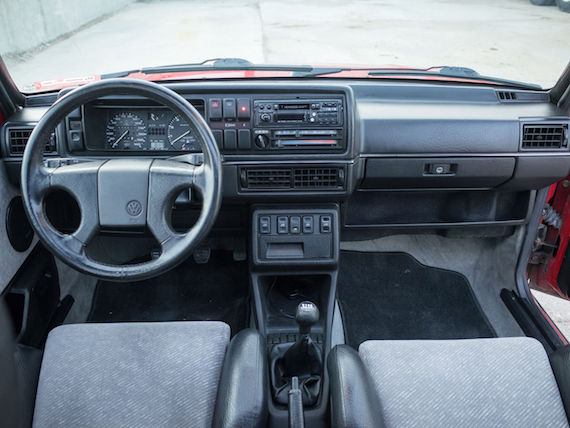 Year: 1988
Model: Jetta GLI 16V
Engine: 1.8 liter inline-4
Transmission: 5-speed manual
Mileage: 119,600 mi
Price: $5,800 Buy It Now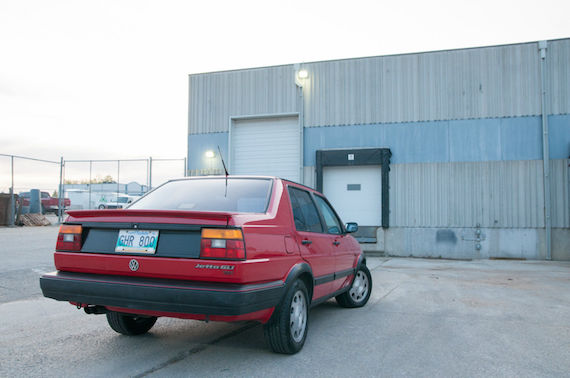 1988 VW Jetta GLI 16V

Original Paint Survivor

'88 Jetta GLI, very stock and original California car in Tornado Red. Three-owner car with history from new. Stock teardrop wheels and Recaro Trophy interior, with working A/C, MFA trip computer, sunroof. Factory 16-valve 1.8, 5-speed trans, 4-wheel disc brakes, front spoiler with brake ducts, and rear lip.

Car was sold at Fairway VW in Placentia, CA (have original window sticker and one of its blue plates), and remained with the original owner until 2011 (103K).

The second owner replaced many pieces on purchase in 2011, including: front struts (and upper bearings), rear shocks (and bumpstops), fuel pump (and pre-pump), fan switch, O2 sensor, fuel filter, brake and upper rad hoses, and did a full alignment. The car also passed a California smog test in 2011.

I bought the car from second owner in Palm Springs in 2012 and drove it home to Winnipeg, Manitoba (about 2000 miles) without issue. In 2012, I replaced all four tires, front and rear brakes (rotors and pads), wiper/headlight switch stalk with correct cruise switch (NOS VW — a small fortune), CV boots, and a door handle. In 2013, I replaced the Bosch fuel pressure regulator, timing belt and tensioner.

I have receipts for all of the 2011 — 2013 service items mentioned above.

I took the car on an extended trip from Winnipeg to Mosport in summer 2013 (about 3500 miles), without any issues. It's been stored indoors and not driven during all of its Canadian winters, and only been driven a few hundred miles over the summers of 2014 and 2015.

Paint appears to be all-original. Paint and plastic bumpers/wheel arches had some fading when I got it, but on polishing the paint and treating the plastic it came out very nicely. A couple of minor dents and scrapes, but nothing major. Original teardrop wheels look very nice.

Similarly, interior looks original with very nice factory Recaro trophies showing some driver's bolster wear. There is a crack in the mid-dash trim piece, rear headliner is sagging a bit (trim piece loose), a few coffee stains on carpeting, there is non-factory tint on the rear windows, and a period-correct but aftermarket stereo system installed (I have receipt from the install in the early '90s). Package tray is non-original, but I've bought a stock used one to include. I also have a used Heidelberg VII head unit (no code) that could be included if buyer wants it.

Known issues:
– Car is optioned with the rare factory cruise control, and still has all of its cruise parts intact, but the cruise does not work.

– In summer 2015, car developed a bit of a low idle in the city from time to time, only when the A/C is turned off. I think it's probably a sensor issue, but have not had time to trace it.

– Odometer has seemed to rack up mileage slowly since midway through my 2012 trip home. Probably needs the typical gear replacement. It now reads mid-119K, but likely has more like mid-120K's on it.

– Driver's side parking light is a bit rotated, front/rear spoilers are slightly loose on passenger side, and there is an abrasion on the rear bumper.

– There is a period car alarm installed that seems to drain the battery if the car sits more than about 48 hours. I've taken to disconnecting the battery if the car is going to sit more than overnight, but plan on removing the alarm soon if car doesn't sell immediately.

Shipping:
Car is located in Winnipeg, Manitoba, about 400 miles north of the Twin Cities. I plan on driving the car to Brainerd this May 27 — 29 for the SCCA meet, so it can be seen there for anyone near the Twin Cities.

Car can be picked up in Winnipeg, Manitoba (about 60 miles north of the US border with Pembina). I'd be happy to drop it off at a shipper of buyer's choice here in Winnipeg, but buyer will need to arrange the shipping.

I may be willing to drive the car to the buyer in exchange for the cost of fuel/hotel/flight home, depending on distance and my schedule. If interested in this, please contact me before purchasing to see if it makes sense given my schedule and the costs of delivering it.

Price & Payment:
Price of $5800 is firm, but I'd consider dropping it if buyer does not want the stock wheels and tires. Would also consider trading the car plus cash on my end for a Mk I Scirocco, Mk I GTI, or Corrado VR6 in similar condition, or an Audi Ur in any condition.

Non-refundable deposit of $1,000.00 via Paypal due on purchase. Full payment by wire transfer or cash/USPS money order in person due within 7 days of purchase.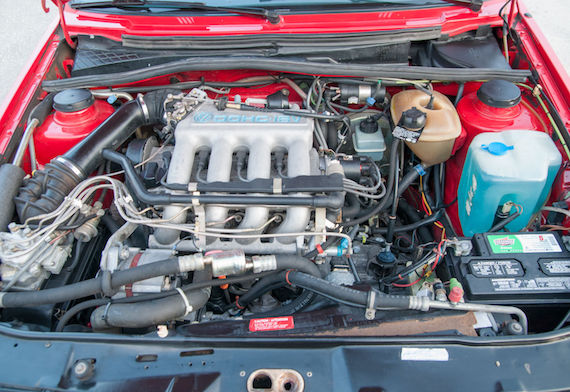 Sure there are a few issues with this particular Jetta, but I would challenge anyone to try and find one as clean and stock as this car. From VR6 swaps to show queens equipped with air suspension, few of these Mk2 Jetta GLI 16Vs survived in tact. It's really nice to see one in its natural form, right down to the teardrop alloy wheels. There's something about these chunky looking Mk2s that always draws me in and this Jetta is no exception. Sure, there is more powerful machinery out there for the price that we are looking at here, but having driven a few of GTIs and Jettas of this era, there is something that is honest and reminds you of what back to basics motoring is all about. It's a level of involvement you just can't get from modern machinery.
-Paul