Similar to the Quantum GL5 we featured at the beginning of the month, the Fox is one of those forgotten Volkswagens back when the company was struggling in the US market. You may come across the occasional sedan from time to time, but the two-door wagon offered from 1987 to 1990 was a unique offering that is practically extinct from the automotive landscape. This Fox Wagon for sale in New Jersey has had a host of performance upgrades, including a 5-speed manual gearbox, as these cars came standard with a 4-speed manual.
Year: 1988
Model: Fox GL Wagon
Engine: 1.8 liter inline four
Transmission: 5-speed manual
Mileage: 98,000 miles
Price: $3,800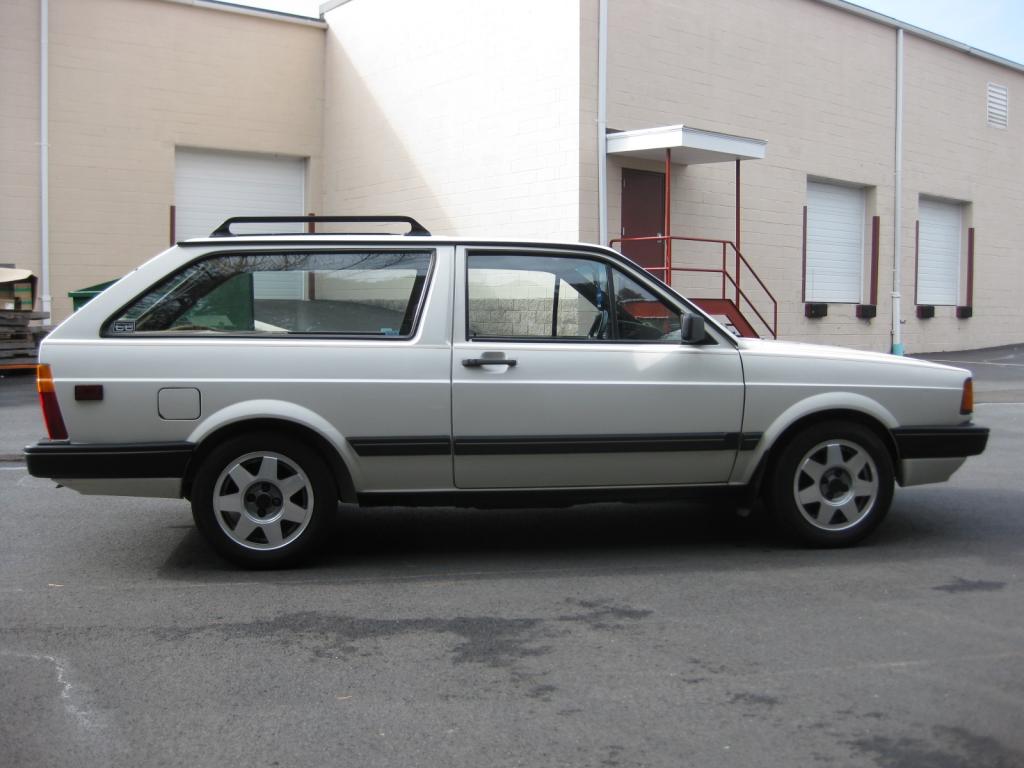 Selling my 1988 VW Fox GL wagon, SERIOUS INQUIRIES ONLY PLEASE.

1988 VW Fox GL wagon
-White – Paint is original and clean. Could use a re-buff from winter.
-Brown/tan interior – Interior is pretty much mint aside for the tear in the drivers seat.
-Has around 98k original miles (Body and underside are very clean)
-MINIMAL RUST, a little bit of surface rust here around the windshield and under the car, NO ROT. It's very clean, and the pictures show that.

**Engine & Drivetrain**
-Stock original shortblock
-JH heavily ported and polished cylinder head
-G-Grind cam
-Neuspeed adjustable cam gear
-Ported mk1 intake manifold
-Bigger TB
-Dual outlet exhaust manifold
-Dual downpipe
-E30 engine mounts
-TT HD front engine mount
-New radiator
-Brand new heatercore
-Low temp theromostat and matching fan switch
–Top end has no more than 4k miles on it, timing belt and tensioner were done all at the same time.
-New oil pan gasket just installed less than 1k ago
-WOT switch installed on Throttle body, wired into the car and running a 16v ecm. I personally tuned the car and the a/f is perfect at WOT from idle to redline. The timing is currently set to 9degrees advance and it runs on 87 octane. It's not the fastest thing in the world but for what it is, it moves along well.
-9Q Quantum turbo diesel 5 speed trans with all appropriate linkage swapped in. EXCELLENT trans for cruising on the highway and has a close 1/2/3 gear pattern.
-Clutch installed with trans, about 15k miles ago.
-New trans mount just installed
-Shifter bushings done when the trans was swapped out and are still fresh, the shifter feels great.

**Suspension & brakes**
-Bilstein Sport shocks/struts
-Vogtland 60mm race springs for a mk2 application
-Brand new strut bearings
-Rear shock mounts installed at the same time as the suspension about 15k ago
-Front brakes are 10.1 units just installed about 2k miles ago. Nice Ate pads and rotors. Brake fluid flushed at the same time.
-Rear wheel cylinders replaced about 10k ago, Shoes and drums were in great shape.
-Rear wheel bearings done at the same time 10k ago.

**Interior & Exterior**
-Hella H4 headlights with sylvania silverstar bulbs
-Kenwood excelon headunit — the stereo sounds great for small sized speakers!
-Infinity kappa front and rear speakers
-Pioneer amp and 10″ sub in the trunk
-As mentioned the drivers bolster is ripped, but the rest of the interior is in very nice shape.
-Heater core was just replaced 3k miles ago. The car is a factory non-a/c car and at one point had an aftermarket a/c unit installed, the heaterbox that was in the car was destroyed, so I was forced to source another heaterbox. The one in the car functions and works like it should, heat is blasting hot like it should be.
-Wired in 16v CE-1 mk2 cluster. I was having problems sourcing another fox tachometer cluster and had a spare 16v cluster around and wired it in. Everything works as it should, and if you wanted to you could wire in MFA at a later date.

**Spares**
-New front wheel bearings
-New timing belt
-New tensioner
-Assorted valve covers, (Fox, mk2, mk3)
-Cylinder head oil cam spash shields (x2)
-Oil pickup baffles (x2)
-Extra low mile tuneup parts
-Spare blower motor & resistor pack (known working fine)
-Spare heater control head & cables (also working fine)
-Blend door parts and assorted tubing
-Original cylinder head
-Original intake manifold & throttle body
-Spare big bore throttle body
-Original exhaust manifold
-Original downpipe
-Original engine mounts
-Original radio
-Original ECM
-Original headlights
-Rear side windows for a wagon with seals
-Rear window for a wagon with seal
-Spare turn signal/wiper stalks
-Original cluster parts and tach cluster
-2 spare brand new clutch cables
-Spare new shifter bushings
-Original springs
-Stock low mile JH rabbit GTI bottom end
-Spare Ported and polished Solid lifter head with HD valve springs (Dissassembled, needs guides but its all there)

**Extras for more $$$**
-VERY low mile freshly built (maybe 2 hours of run time?) 3a bottom end, painted, new rings, pistons, bearings etc. I purchased the proper AEB oil filter flange for it as well, and the distributor that is in the block has the proper gear and sleeve for proper fitment. Also the block has the correct block off plate. $400.
-276/280 TT solid lifter cam that has about 1500 miles on it at most. Its a great cam but is a bit too much for a low compression 1.8 bottom end. This cam would work great if you installed a 2.0l bottom end. $150.

I am sure I am forgetting a lot, this list is just off the top of my head, as I figure out more of what I have done I will post it. I also have receipts for most of what I have done. PLEASE PM me or email me at Dacolino84@hotmail.com for details if interested and we can figure something out. $3,800 obo
The two-door estate, or "shooting break" as some call is a vehicle variant that few brands have attempted to manufacture over the course of automotive history. It didn't last long in Volkswagen's US lineup, but the Fox Wagon has a small, devoted group of followers. At this price, this car certainly won't last long, as some VW enthusiast is sure to snap it up.
-Paul