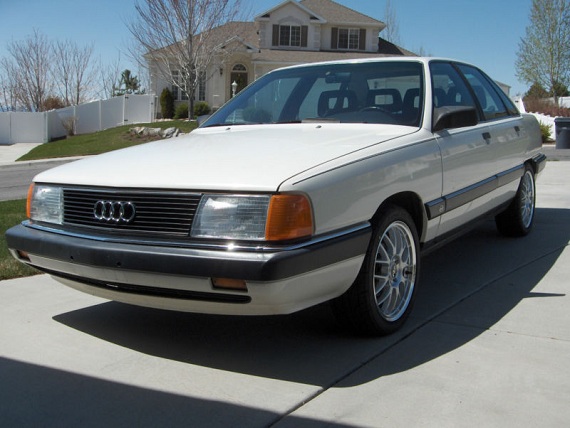 If this doesn't spark your interest in a diesel, not much will! The Audi 100 Quattro is not a car that we often feature at GCFSB. Both generations of 100 quattro – C3 and C4 – fall squarely in the shadow of their more powerful big brothers. In the case of the C4, the S4 quattro stole all of the limelight from the relatively unremembered 2.8 V6 powered 100 quattro (which would be renamed the A6 quattro in 1995), while the C3 100 quattro was around for only a very short time – like the turbocharged 200 and 200 20V quattros. While not many opted for the less powerful 2.3 10V motor, they're known as solid workhorses of cars, with many still hitting their stride with 250,000 plus miles. Like old Benzs, these cars were strong, dependable and well built – if admittedly quite slow. Today's example has resolved some of the "slow" issue in a unique way; this particular quattro has received a 2.4 inline 5 turbo diesel transplant: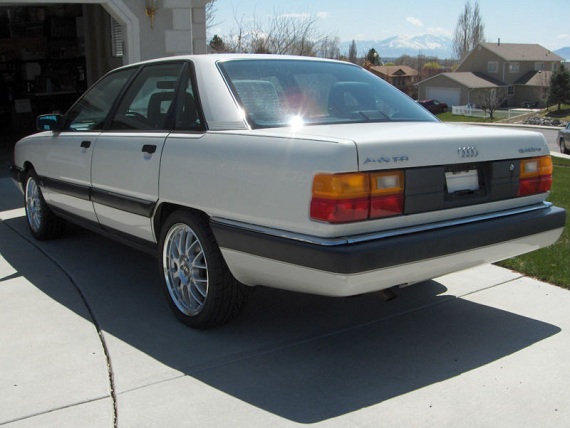 Year: 1989
Model: 100 Quattro
Engine: 2.4 liter turbocharged inline-5
Transmission: 5-speed manual
Mileage: 98,296 mi
Price: Reserve Auction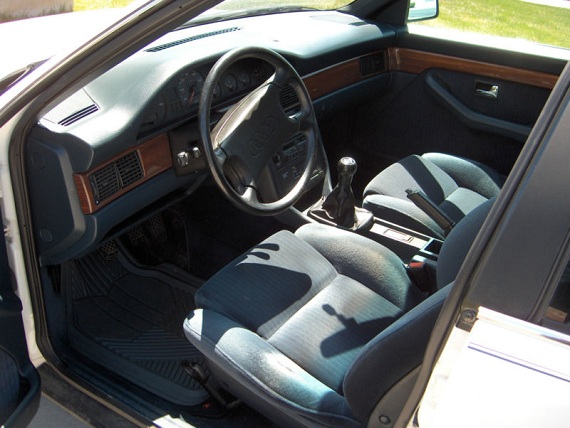 Purchase of new house necessitates sale:

1989 Audi 100 Quattro converted to turbo diesel.

98,296 miles on chassis, 18,936 miles on engine. (Engine swap done at 79,360 miles on chassis.)

Link to build thread on VWDiesel.net: http://www.vwdiesel.net/forum/index.php?topic=25252.0

Link to build thread on MotorGeek: http://www.motorgeek.com/viewtopic.php?f=6&t=45746

YouTube video: http://youtu.be/XVP1p0f2Oik

Link to vehicle specifications on AudiWorld: http://www.AudiWorld.com -> Tools -> Model Guide -> 100 -> 1989 Audi 100

Fuel economy – I drive mostly around town, and always get better than 30 MPG. On a road trip staying between 55 and 65, it gets about 35 MPG.

As far as power, it does surprisingly well. It's much quicker than it was in gas form. There's always more power to be had. I would suggest a free-flow exhaust system for starters. Next would be a bigger turbo.

2.4 liter (2370cc) diesel engine from Canadian Eurovan application. 79.5 mm bore, 95.5 mm stroke, 22.5:1 compression ratio. This engine also features oil squirters under the pistons.

This is an indirect injected diesel (IDI) engine, not a direct injected (TDI) engine. In general, it revs higher, and is a little quieter than a TDI engine.

It uses 100% mechanical fuel injection, and is extremely reliable. Apart from the starter and the glow plugs, it only requires 1 wire to run, and that's for the fuel cutoff solenoid to the fuel injection pump.

It is licensed and titled as a "Diesel", and thus shouldn't be any problems getting it registered in your state. In the state/county where I live, diesels don't require emissions inspections.

I run Mobil 1 Turbo Diesel oil, and have changed the oil and filter every 5000 miles.

It is always properly warmed up. It starts in the cold well, especially when the block heater is plugged in.

The gear ratios aren't ideal, but I have run it up to 80 MPH no problem. I mostly run it at 55 MPH or less.

It runs about 12 PSI of boost just casually rowing through the gears. It will peak at about 15 PSI when floored. When cruising down the road at a steady 55 MPH, it runs about 4 PSI.

It smokes very little. Basically the only time you can see it, is if you floor it while the engine is bogged down. There's a good example of it in the YouTube video.

New spare parts – Brake fluid reservoir, clutch master cylinder, clutch slave cylinder, Zimmerman cross-drilled rotors for front brakes (2 sets), Hawk pads (front), stainless steel brake lines (front), brake caliper rebuild kits (front and rear) 034 Motorsport short shift kit, VDO pyrometer and wiring kit, tail light (Hella), oil drain plugs and gaskets, rear trunk lid "turbo" and "D" chrome badges from Europe.

I will also include a set of Bentley workshop manuals.

The Engine:

When VW/Audi remanufactures an engine, they recondition the good useable parts, and replace the rest with new. This particular engine has a brand new block among other things. The head was remanufactured to new specifications and new swirl chambers were installed.

The number of new parts on this car is staggering. Just a quick, yet incomplete rundown:

Pistons – Genuine

Oil pump – Genuine

Starter motor – Genuine

Camshaft – Genuine

Lifters (Hydraulic) – Genuine

Valves – Genuine

Front crankshaft sprocket – Genuine

Camshaft front sprocket – Genuine

Tensioner pulley – Genuine

Upper and lower timing belt covers – Genuine

Valve cover (imported from European Audi 100 TD application) – Genuine

Multi-layered steel head gasket (from European Audi 100 TD application) – Genuine

ARP 2000 head studs, ARP 2000 connecting rod bolts, ARP main bolts

Dual mass flywheel and clutch from early S4 application – Luk – (Absolutely no gear chatter)

Pilot and release bearings – Genuine

Intercooler – Genuine

Upper and lower intercooler hoses – Genuine

Coolant reservoir – Genuine

All coolant hoses, including heater core hoses – Genuine

All belts – Genuine

Water pump – Genuine

Aluminum lower thermostat coolant flange – Genuine

Aluminum upper head coolant flange – Genuine

Rear head coolant flange – Genuine

Thermostat – OEM

Fuel injectors – 155 bar – Bosch

Fuel injection lines – Genuine

Turbo oil lines – Custom made by 034 Motorsport

Valve cover oil separator/breather – Genuine

Glow plugs – Bosch

Glow plug relay – Genuine

Block heater – Autobahn (Genuine)

All engine gaskets, seals, fasteners, and hose clamps – Genuine

Again, these are just some of the new parts. All of the other parts were refurbished to "as new" condition:

The already very low mile fuel injection pump was rebuilt to "Super Pump" specifications by Performance Injection in Canada (a.k.a. "Giles"). It is supposed to be able to supply enough fuel and proper timing for 250 HP, in case you decide to turn the wick up that high.

Turbo professionally rebuilt

Intake manifold – glass beaded, port matched and painted

Exhaust manifold – cleaned, no cracks

Aluminum oil pan from Audi 20 valve 3B/7A application

Pyrometer thermocouple already installed in the turbo, just needs to be connected to the gauge.

Body stuff:

Headlights – Hella

Floor mats – Genuine

Hood struts – Genuine

Shift knob – Genuine

All of the proper engine-specific tools were used in the assembly of this engine, including a freshly calibrated torque wrench.

I installed a different transmission with slightly better gear ratios. Before doing so, I replaced all of the external seals. I also replaced the transmission mounts with new.

I purchased the wheels and tires new from the Tire Rack a few years ago. The wheels are 17″ ASA in excellent condition with the exception of a little bit of pitting from the elements on the machined lip. They have never been "curbed". The tires are Dunlop Direzza Sport Z1 215/45-17, and are in ok condition, except for the fronts which wouldn't pass Utah safety inspection because of excessive wear on the insides. (Everything else passed the safety inspection just fine though.)

Electric vacuum pump runs the HVAC controls and rear differential lock.

Alpine head unit with full iPod control – Actually shows the album cover and such on the display. It does not play CDs.

Infinity front dash speakers

Due to its thermostatically controlled oil cooler, the engine stays cool, even in hot weather. Yet, it produces plenty of heat in the winter.

The paint and body is in very good condition with the exception of a couple of small dings, and what appears to be some oxidation on the hood, roof and trunk lid. I'm sure a good buffing would take care of it.

It's in good condition, but it has some small issues:

The headliner in the rear is starting to sag. This is a very common occurrence on these cars. It just started a couple of months ago.

Slight battery drain – Can be left over the weekend just fine, but after more than about 4 days, the battery will be too weak to start the engine.

The tensioning rod for the alternator belt is cracked – This causes the alternator to squeal a little under load. It could easily be welded or replaced

There is a small leak around the intercooler to manifold coupling that is causing oil to weep out and land on the inside passenger-side fender and firewall.

It needs a new shift boot – These are no longer available from Audi, but I have the leather, special thread, special leather sewing machine needle, and the old one to use for parts and as a template to make a new one.

The air conditioning works, but needs a recharge. The air coming out of the vents is only slightly cooler than the ambient air. For now the belt has been removed to conserve energy.

The transmission doesn't shift as smoothly into 2nd gear as it should. I think it's because of the Motul transmission oil I put in there. I think original Audi transmission oil should be put back in.

The engine oil pressure indicator stays on. I think it's either because I have it wired wrong, or the wrong sender in installed. The actual oil pressure gauge works fine, and the engine always has plenty of oil pressure.

The front passenger-side power window doesn't reliably roll up. It eventually does, but only after clicking the switch a bunch of times.

I think the front left wheel bearing is groaning a little bit. I can't tell for sure, but it seems like there is a little bit of noise coming from that area when slowing down to stop.

The tachometer doesn't work. This could probably be adapted to work by running the output from an alternator with a "W" terminal up to the instrument cluster. Behind the cluster is a switch for "Petrol or Diesel", which I assume has something to do with where the tachometer gets its input from.

Slight power steering pump leak. I think it's leaking near the bottom of the pump, and then down onto the block. The power steering rack itself is fine, no leaks.

Small oil leak near the front of the engine somewhere. It's very slow, and has never noticeably affected the oil levels in the engine. It could be coming from the lower turbo oil line since I have seen a drip or two there before.

The exhaust system needs a flexible coupler between the downpipe and the rest of the system. Romping on the throttle can cause this joint to come apart.

Cruise control is not operational.

All of these things have been on my "To Do" list, but I no longer have the time to work on it.

Everything else works great (e.g. ABS, rear differential lock, CV joints, sunroof, defroster, lights, etc.)

Don't buy this because you're looking for a cheap diesel car to drive, or because you want to run Veggie oil in it. Buy it because you're looking for a reliable, simple, safe, and iconic 80's vintage Audi Quattro.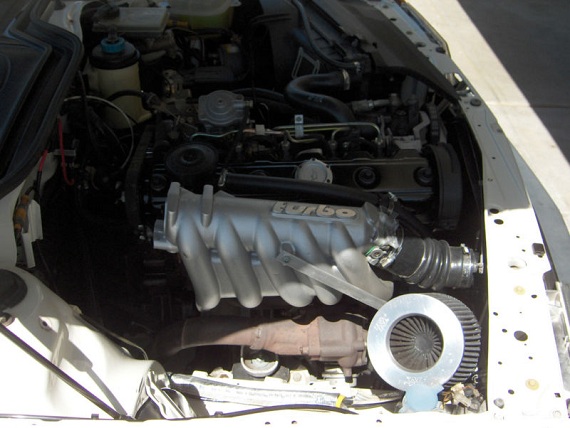 Cool, cool, cool. Sure, not the most stylish Audi out there, but this one is sure unique. Yeah, you'll fly under the radar, but you'll do so for a long time as this is one of the lowest mile Audi 100 quattros I've seen for sale in a long time, and the addition of the turbo diesel insures longevity to be measured in decades, not years. If there is one thing not to like, it's the wheels; I'd prefer to opt for something smaller and a touch more appropriate, such as these period-correct and super rare Rials: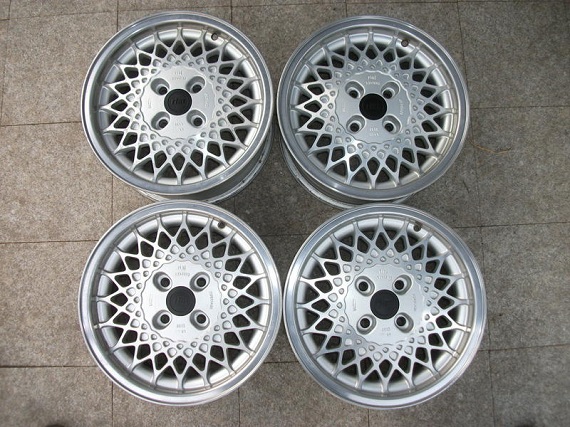 Of course, these cars originally came with 15×6 BBSs that can still be sourced, so there's that option as well. The relative simplicity of this car is what makes it appealing; I love that it's cloth interior rather than leather. It will be really interesting to see where this one ends up; value is tough to peg. Normally a 100 Quattro would have a tough time even fetching a few thousand dollars, but this is simply the best one I remember seeing and the uniqueness of the turbo diesel unit kicks it up another notch. Will it outperform (in price, at least) its 200 20V brethren? If there's a 100 Quattro that could do it, this just may be it.
-Carter