It's a wagon kind of week.  It took me some time to come around to the notion that the Germans do not make a very good SUV.  It's not their fault, they really don't want to, but the market demand in the states is just too lucrative to turn your back on.  Drive through any major, or not so major, metropolitan European city and you will find tons of touring wagons.  You may see the occasional SUV but this is the exception and not the rule.
Much of this may be due to gas prices and the tight confines these cars need to be wedged into.  The rest of it may be attributed to the fact that SUV's are, well, kind of ugly.  I can't remember the last time I saw one and said, "I gotta have that."  It's not that I have not tried, having owned a Touareg, XC90, Cayenne, and a X5 I figure I have tried more than most.  But I am over it, my next German family mover is going to be a German Wagon.  Something that looks a great deal like this.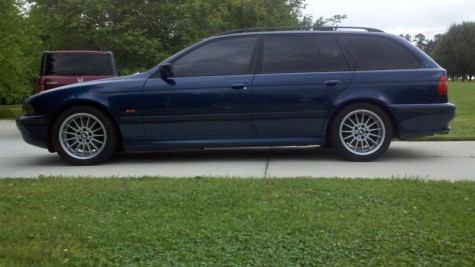 From the seller –
"I have worked in the automobile business in one form or another for over thirty years and this is one of or maybe the nicest 60,000 mile car I have ever seen. It is all original, unmolested, and as near new as any I have ever seen. The E39 BMW is held in the highest regard by BMW enthusiast and often referred to as the best 5series ever. Car and Driver call it the nearest to perfect automobile. This car handles with the agility of a 3series and the comfort of a 7series. One of the most satisfying cars you will  ever drive. Finding cars like this is my passion, driving it will be yours. This car is clean, fully serviced and ready to enjoy."
Beautiful car, I would like to see some better pictures and some info on service history but… what can you do. I see lower mileage examples such as this knocking around the auctions but they are never running right and always seem to have unibody damage. Do your homework here buyers. I appreciate the seller's enthusiasm for this wagon but the listing is a bit scant on details so be careful.
Almost $16k is a tough sale, regardless of condition. Something closer to $14k seems to be more accurate. I am guessing this auction is not going anywhere until the seller comes down in price a bit.
~Aaron.