Warning!
This post is in our archives. Links in this post may have been updated to point to similar cars available to bid on eBay.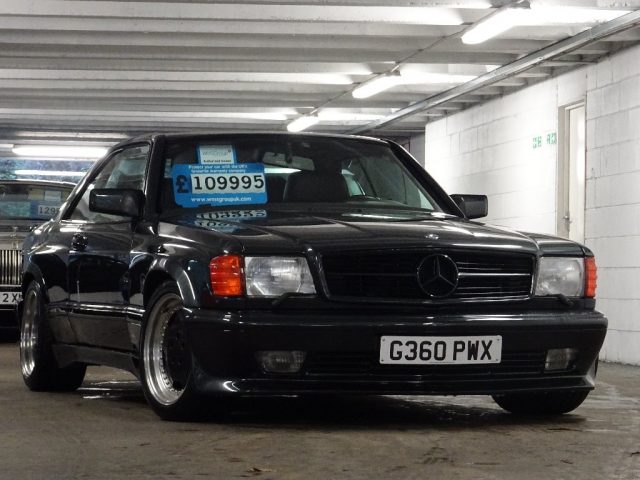 2017 marked the 50th anniversary of AMG that was celebrated through the year with various events and press pieces. As a result, lots of AMG cars young and old came out of the woodwork for sale. All of a sudden, a clapped out 1995 C36 with faded paint is a desirable car that people are fighting over. You take the good with the bad and today we have, I think, one of the good. It's a desirable 1989 560SEC for sale just out of Leeds, England. What started life as your standard W126 coupe was transformed into a 6.0 AMG monster … I think.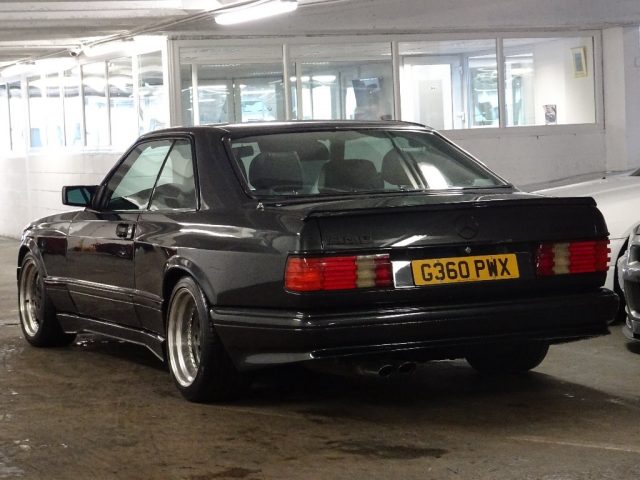 Year: 1989
Model: 560SEC
Engine: 5.5 liter V8
Transmission: 4-speed automatic
Mileage: 16,767 mi
Price: £109,995 ($145,237)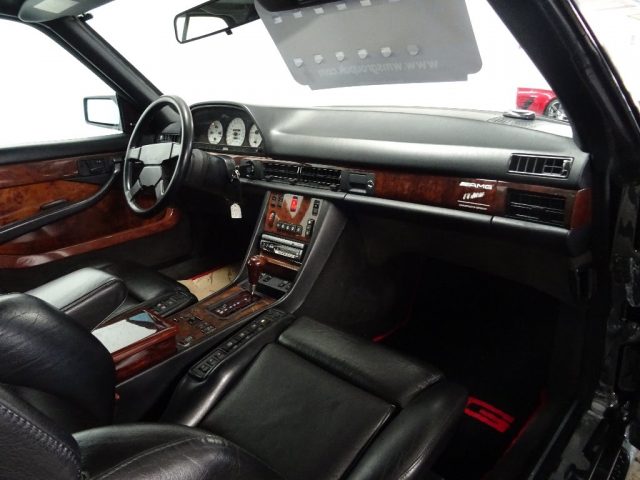 ******* FACTORY 560SEC AMG 6.0 HAMMER WIDEBODY LHD 1 OF 50 EVER PRODUCED WORLDWIDE *********** Left-hand drive, Metallic Black, Costing in excess of $200k when new, just 50 of a projected run of 100 cars are believed to have been completed pre-merger by the AMG factory. Utilising their own 385 bhp DOHC 6.0 version of MB's big V8, along with suspension and interior upgrades and the stunning body modifications, AMG created what is, even today, regarded as one the most desirable and easily recognizable factory modified modern Mercedes. , High Spec Includes, Full Black Upgraded AMG Recaro Leather Interior, Wood Capping Including Door Cards, AMG Steering, Amg White Dials, Electric Seats, Heated Seats, Memory Seats, Climate Control, Air Conditioning, CD Player, Cruise Control, Electric Windows, Electric Mirrors, Central Locking, AMG Upgraded Suspension, AMG Sports Exhaust, Full Wide Body BY AMG Factory, AMG Split Rim Alloys, Fresh Imported From Japan From A collector, Japanese Service History, Recently Recommissioned, No Expense Spared,, Very Rare And Collectible Model,, £109,995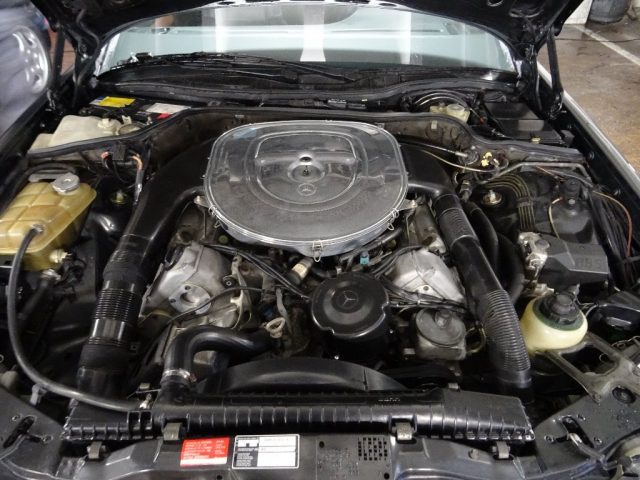 This car is a classic AMG Japan creation. This car left Germany as a regular 560SEC and at some point in its life was transformed into what you see today. That equals lots of AMG parts and even more wood. If you see a modified Mercedes from decades past and it has an extreme amount of wood in it, it is almost always from AMG Japan. Everything looks really great and is no doubt a really stunning car.  But, I see a problem under the hood. Everywhere in the sellers description and everywhere on this car it is labeled as a 6.0, but it is clearly stamped on the valve covers as a 5.6. Now, I can't prove this isn't a 6.0, but it is very easy to add a bunch of stickers and badges to a car while it is not so easy to add AMG valve covers. You can make the call.
Vintage AMG stuff is extremely hot right now so seeing this one listed for sale for over $145,000 doesn't surprise me at all. Is it worth that? In my opinion, no way. I understand these cars are selling for big money, but it seems like a giant risk to me. Lots of these pre-merger cars have little to no documentation as to where they came from, who did the work and what exactly is in the car. I feel like these cars are bringing big money because they are rare, they look cool and there is some sort of speculation going on that values will just keep rising on them. While I agree on the first two points, I can't say I see these ever being multiple six-figure cars. I look at it this way: A really nice regular 560SEC you can pick up for $20,000 and it will probably keep it's value for a good while. So is this car, with a bunch of body work, interior treatment and what may or may not be a 6.0, worth another $120,000?
– Andrew