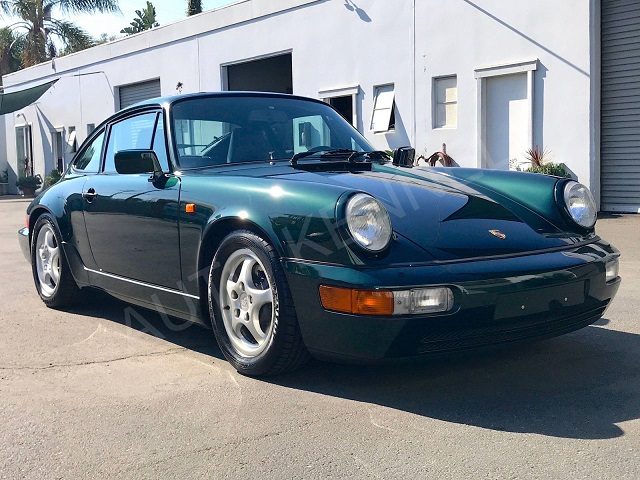 Let's continue with yesterday's theme and look at another 911 that originated outside of our shores. Here we have a Japanese market Forest Green Metallic 1990 Porsche 911 Carrera 2 Coupe, located in California, with Black interior and a very low 32,200 kilometers on it. Of additional import this Carrera 2 does not have a sunroof. The seller has listed it as a sunroof delete – and I've followed suit – but properly speaking I think we'd say this 911 didn't have the sunroof selected as an option, rather than deleted. It gets us to the same point though.
We've seen a few of these Japanese market 964s come up lately – I've even featured one – and they certainly make for a nice departure from the US versions. This particular example looks fantastic!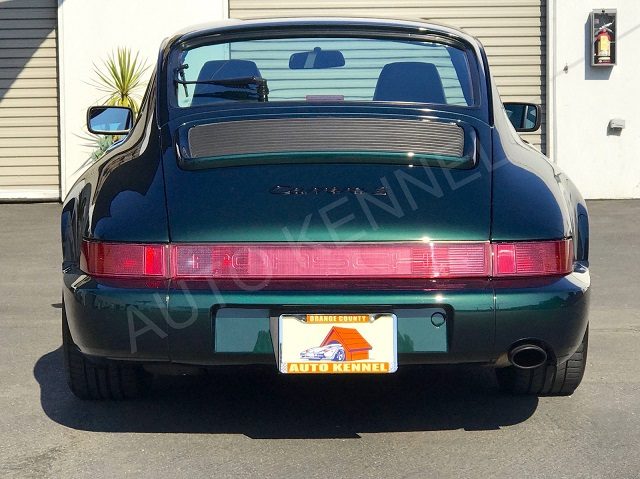 Year: 1990
Model: 911 Carrera 2
Engine: 3.6 liter flat-6
Transmission: 5-speed manual
Mileage: 32,200 km (19,900 mi)
Price: $119,990 Buy It Now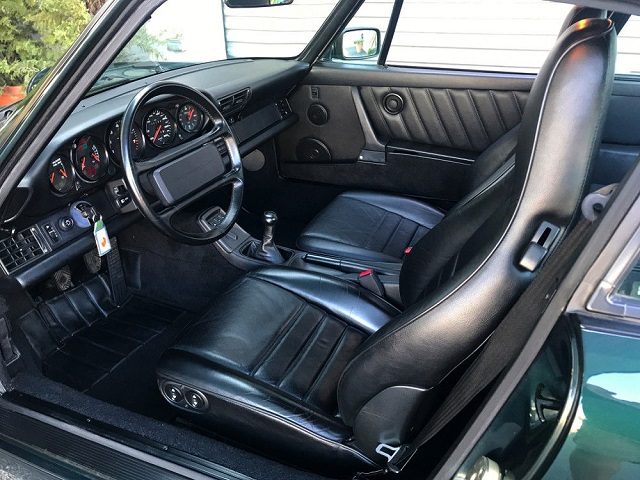 1990 Porsche 911/964 Carrera 2 Coupe
Euro/Rest of World Edition
Sunroof Delete/Manual Trans/LSD
Numbers Matching
Stock #0882

VIN# WP0ZZZ96ZLS403967
ENG# 62L07426 (M64/01)
TRN# 1L03261 (G50/03)
Numbers Matching
19,900 Original Miles (32,200 kilometers)
Forest Green Metallic (L22E) on Black Partial Leather/LT
5-speed G50 Manual Transmission with LSD
Clean and Clear Montana Title
1-Owner from New
Imported by the Famous Mitsuwa Motors of Japan
Porsche Certificate of Authenticity

The Porsche 964 market has caught the attention of collectors and enthusiasts. It was really the beginning of the modern version of the 911. Some of the most significant changes in the 911's history began with this model. Torsion bar suspension was replaced with an adjustable coil-over setup. Power steering was added. The A/C system was updated and much more effective. The new twin-plug 3.6L engine made these cars wonderful around town with great low-end power. The changes were extensive and really made these examples some of the best all-around driving 911s. In particular, the Rest of World (ROW) models are considered the best. They are lighter, the suspension is better, and they look better. Now with the U.S. 25-year import law in effect, these cars are finally legal for the American market.

This C2 was built on January 3rd, 1990 and imported by Mitsuwa Motors of Japan. This company was the legal importer for all Porsche cars entering the Japanese market for decades. This Porsche was ordered with the following factory options:

Special order paint (Forest Green Metallic)
Rear Wiper
Air Conditioner
Bridgestone Tires
Limited Slip Differential (dealer installed)

This 964 lived with one owner from new in Osaka, Japan. Recently, it was imported to the United States. Prior to being shipped, the Porsche dealer in Japan performed a major service.

Furthermore, the air-conditioning system has also been serviced and it blows cold. The car was fully detailed and a ceramic paint protection coat was applied. This is a process that costs over $3,000 and seals the paint from contaminants.

The exterior looks fantastic and shows minimal signs of use. It is indicative of a low-mile example. The body panels have been checked with a paint meter and verified original except for some paint blending on the right rear fender and right door. The paint work was done due to some dents and scratches. Visually, the match is spot on and the only way you can tell is with a meter. The glass is all original including the windshield and looks near new. The wheels are wrapped in older Dunlop tires that should be replaced soon. The front brakes are new and the rears have about half-life remaining. All the exterior lights function properly. The headlights have HID bulbs. The rear power wing operates as it should and the accordion plastic part is in good condition (see pic). The exterior of these ROW cars looks fantastic. The bumpers are cleaner and the side European marker lights add a nice touch. Also, the ride height is lower and gives it a more aggressive stance and better handling.

The engine compartment is clean and tidy. The engine has recently been serviced by Porsche. All the proper factory decals are in place. The engine sound pad is in excellent condition as well. The underside is also clean and still has all of its plastic undercarriage panels in place.

The interior is equally as nice and also reflective of the low miles. The leather seats are in excellent condition with just some light bolster wear with no tears. The carpet, door panels, and headliner all look fresh. The dash is perfect with no cracks or warping. An aftermarket Japanese stereo has been installed. It powers up and plays, but the FM tuning does not work in the U.S. market. The A/C blows cold. All the gauges operate properly. The clock keeps time as well. All the interior lights and buttons function as they should.

It's hard to put a finger on why these cars drive so nice, but they feel much tighter and more responsive than their North American counterparts. This example starts easily with the first twist of the key and holds an even idle. The power is immediate and has excellent low-end torque. The lightened flywheel really helps free up the motor's rpms. The power assisted steering is a welcome addition, yet it still provides plenty of road feel and feedback. Turn in is precise and the car tracks straight. The LSD helps with applying the torque on the exit from turns. Some fresh tires would improve handling even more. The brakes have great initial bite with no fading or pulling. The gearbox shifts smoothly with no grinding or slipping.

This example is truly a rare site to see stateside and would certainly gather a crowd at your local cars and coffee. Meanwhile, it is easy enough to use daily and a blast in the canyons. This would make a great driver for distance touring events or even showing at your local concours events.

This 964 comes with its original owner's manuals, Certificate of Authenticity, space saver spare, jack, air compressor, extra key, and tool kit.

If you have any questions, please do not hesitate to contact Paul at 714-335-4911 or paul@autokennel.com

For tons of photos, go to: www.AutoKennel.com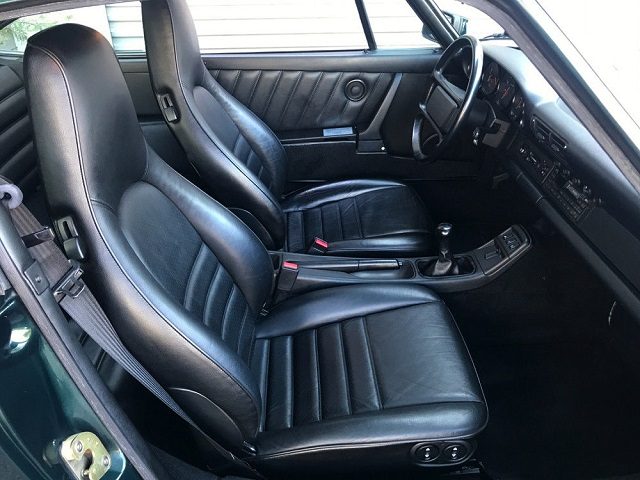 I also should note that this same seller has another non-sunroof Carrera 2 available. In many ways it is very similar. I chose to feature this one because the color is a little more unique so I like it better. But, if you prefer black, there's one available.
The asking price for both of these 911s is very high and I'll be pretty curious to see whether either can sell. Even given the condition and very low mileage it's still tough to consider moving above six figures for a Carrera 2, regardless of its various unique qualities. For comparison, the Slate Grey Japanese Carrera 2 I featured had an asking price of $78K. It sold, presumably for a price close to asking since I don't think it was available all that long. It also had no sunroof, but at 74K kilometers it's mileage definitely was higher. So we'll have to factor that in, but that still leaves me wondering if lower mileage is worth this much of a premium. Nonetheless, this is a really nice looking RoW Carrera 2 and certainly one that will start some conversation with anyone who sees it.
-Rob