I'm not much of a Corvette fan. Outside of the original ZR1 and some interesting classics (I'm a big fan of the flawed-but-beautiful '63 Coupe), most just aren't very interesting to me. However, take the same formula and drop it into a German car, and I take notice. Is this fair? Probably not. Nevertheless, the 'German Corvette' – the 928 – has always intrigued me.
I'm not alone, as the market star of early 928s is rising and the GTS models are still breaking records. So what better way to go than to split the middle? The S4 is just that – enough updates to have fun without the budget-breaking buzz of the last-of-the-run GTS. Sure, you give up some horsepower. But it's not like the S4 is exactly slow – the 32-valve V8 cranks out 316 horsepower, if you're counting – and here it's hooked to a 5-speed manual and a limited-slip differential, as well. You also got the updated looks of the later cars, and the Baltic Blue paintwork shows those curves well. Slip inside and you'll find Linen leather in the luxurious cabin. What's not to love?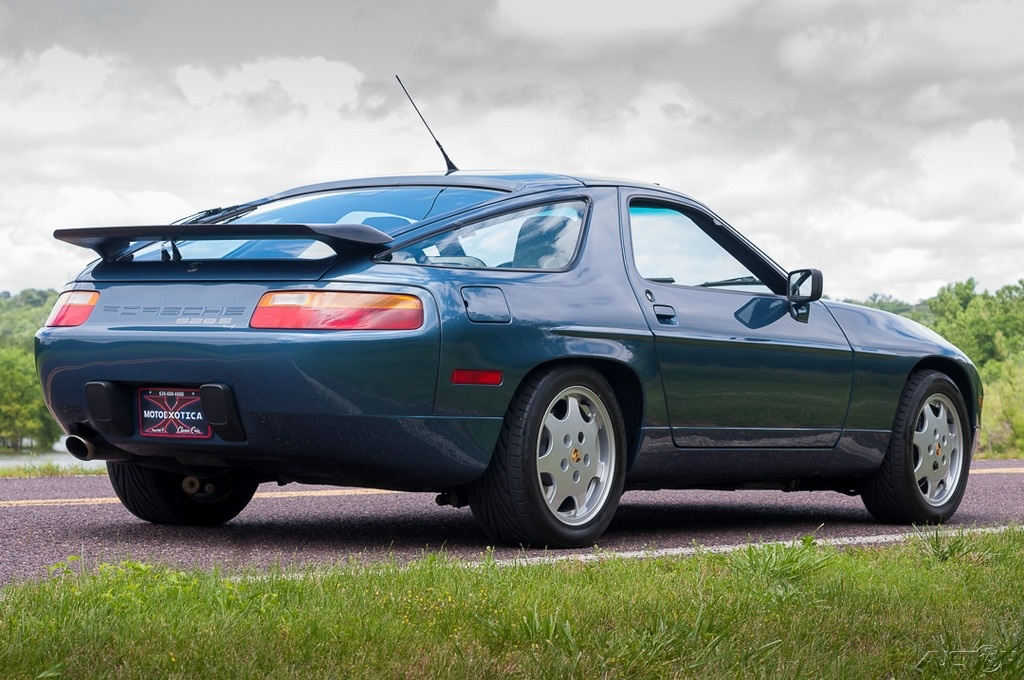 Year: 1989
Model: 928S4
VIN: WP0JB0920KS861091
Engine: 5.0 liter V8
Transmission: 5-speed manual
Mileage: 54,573 mi
Location: Fenton, Missouri
Price: Reserve Auction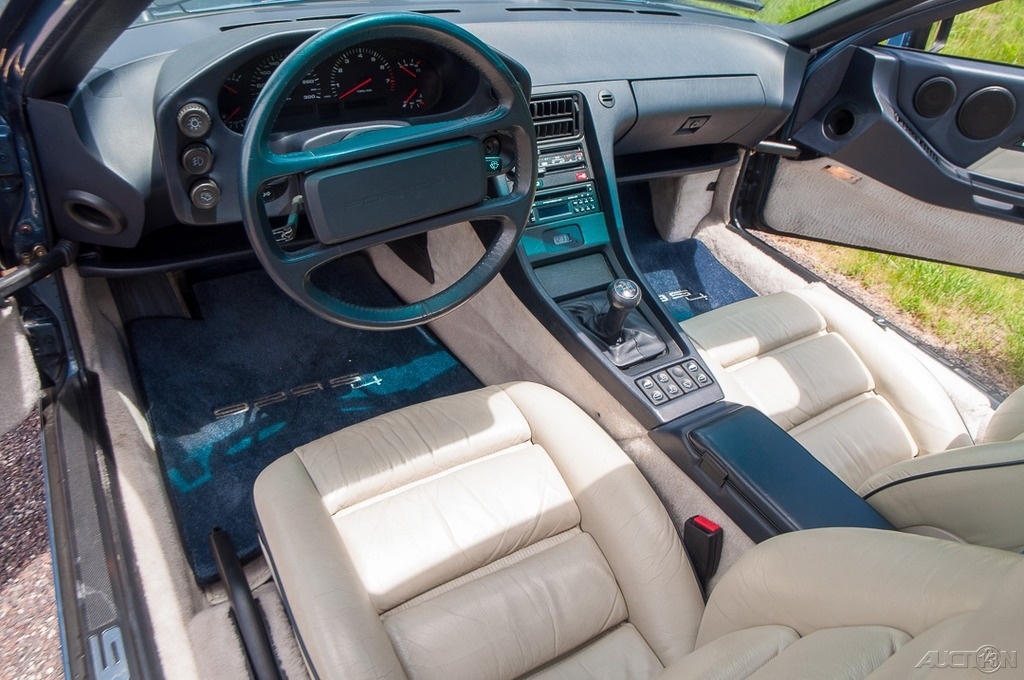 Description
1989 Porsche 928 S4

Low original mileage of 54, 573 miles (87,828 Kilometers)
Highly desireable 5 speed transmission
One of 1,039 models exported to North America in 1989
5.0L DOHC 32-valve V-8 engine
Rear-mounted five-speed manual transaxle with limited-slip differential
Baltic Blue Metallic exterior (code L37B) with Marine Blue and Linen leather interior (code NM)
Air-conditioning, power-assisted rack-and-pinion steering, power four-wheel disc brakes, cruise control
VDO gauges, sunroof, power windows, rear window defroster, heated and power front seats with lumbar support, rear wiper and washer and remote-controlled hatch lid
Timing belt and vehicle fluids flushed in July 2016
Water pump replaced, oil change and four-wheel alignment in September 2018
Manuals, keys and tool kit

Care for a Porsche from north of the border? We're pleased to offer this 1989 Porsche 928 S4 that is in excellent condition with low mileage of 54,573(87,828 km) and desireable 5 speed transmission in a a rarely seen color combination Baltic Blue and Linen.

This example made in March 1989 at Porsche's Stuttgart, Germany factory and was shipped to Quebec, Canada. It is dressed in Baltic Blue Metallic (code L37B). The car's paint and trim are in overall excellent order, with only minor blemishes visible at close range. It left the factory with the following options:

M139 Seat Heating System, left seat
M220 Locking Differential – 40 percent
I302 Type designated on rear end
M340 Seat Heating System, right seat
M418 Side Protection Moldings
M481 Manual Transmission
I586 Lumbar support- left seat
M650 Electrical Sliding Roof
I691 CD=Player "CD-2" with radio
980 Seat Cover- Draped Leather (Front Seats in Supple Leather)
935 Seat Cover- Draped Leather (Rear Seats in Supple Leather)
C36 Canadian Car
04601 Seat Piping

An earlier owner in Quebec reported that fewer than 500 kilometers or 311 miles were added per year from 1999 until he sold the car in 2016, and that the car was garaged from October to May and started twice a month during the winter. The car was purchased in 2016, the owner relocated it to Missouri and added just under 800 miles while using it as a personal vehicle.

The car's bodywork is solid and straight, the engine bay is extremely tidy, and the Marine Blue rear cargo area is impeccably clean for a 31-year-old car. Items in that cargo bay include a cargo net, cargo shade, original Vredestein spacesaver spare tire, size I65-16, wheel and air pump. The car's body-colored bumpers are in excellent order, matching the rest of the exterior.

The following parts have been replaced — the timing belt was replaced with an OEM replacement belt and fluids were flushed in July 2016 at 86,360 kilometers or 53,661 miles; in March 2018, it was serviced with oil/filter change and a four-wheel alignment; and a new water pump in September 2018.

This car rolls on stock D90 wheels mounted on Toyo Proxes radials installed in 2016. The tires are 225/50ZR16 in front and 245/45ZR16 in back. The wheels and tires are all in very good order.

Under the hood is a 5.0L, DOHC 32-valve V-8 paired with a rear-mounted five-speed manual transaxle with optional limited-slip differential. Driver convenience features are numerous – air-conditioning, cruise control, power and heated front seats with lumbar support, power rack-and-pinion steering, power four-wheel disc brakes, power windows, rear window defroster, rear window wiper/washer and remote-controlled hatch.

Inside, the Linen leather front buckets and rear demi-buckets are in overall very good order. The Linen carpet with Marine Blue floormats look great and lend the car Polo Sport/Nautica vibe. The black headliner is in very good shape and offers great contrast to the seats and carpet. A four-speed steering wheel faces the driver and the new-for-89 VDO digital instrument cluster has no missing pixels. The rest of the gauges are the usual VDO analog type and offer a full array of ancillary dials. Note that since the car is an original Canadian market car, the gauges read metric. The dashboard and inner door panels are in fine shape. The center console with shift lever echo the rest of the interior's condition. A Porsche CD-2 AM/FM stereo with CD player completes the interior.

The 928 S4 variant debuted in the second half of 1986 as a 1987 model, an updated version of the 5.0L V-8 for all markets, sporting a new single-disc clutch in manual transmission cars and fairly significant styling updates which gave the car a cleaner, sleeker look. S4 was much closer to a truly world car than previous models as only major differences for North American models were instrumentation in either kilometers or miles, lighting, front and rear bumper shocks and the availability of catalytic converters in many other markets. For the 1989 model year, a visible change inside was digital trip computer/warning system added to the dashboard. Other changes included:

Ignition circuit monitor system added
North America manual transmission model used same shorter final drive ratio as used elsewhere, to simplify production
RDK tire pressure monitoring system optional on S4
Thicker cylinder head casting taken into use early in model year to strengthen head against cracking. Longer head bolts needed because of the change
Modified front brake calipers with improved seals taken into use early in model year

The maintenance book shows services performed at Quebec Porsche dealerships through June 1998 at 80,000 kilometers or 49,709 miles, with the exception of an oil change completed at Champion Porsche in Pompano Beach, Florida in April 1993. The car is offered with manuals, a stamped service book, keys, tools and a clean Carfax report.

Coupe competition to this Porsche in 1989 included Aston Martin's Virage, Chevrolet's Corvette, Dodge's Stealth, Ferrari's 348 TB, Mitsubishi's 3000GT, Nissan's 300ZX, Porsche's own 911 Turbo and Toyota's Supra.

If you're after a primo Porsche with Canadian citizenship, then this is the German car you need to see at MotoeXotica Classic Cars today!

VIN: WP0JB0920KS861091
EIN: M2841-81K
TIN: G2812-2K

This car is currently located at our facility in St. Louis, Missouri. Current mileage on the odometer shows 87,828 kilometers or 54,573 miles. It is sold as is, where is, on a clean and clear, mileage exempt title. GET OUT AND DRIVE!!!

Note: Please see full terms and conditions listed below that pertain to the purchase of any said vehicle, thank you.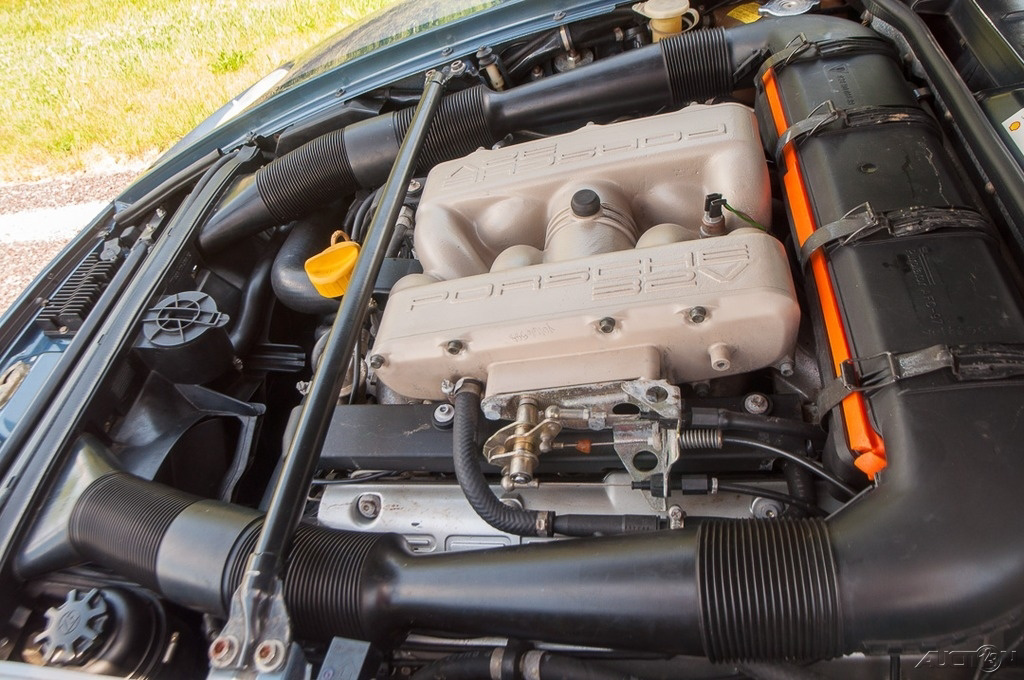 Perhaps the only thing you can really complain about is that these cars are no longer as cheap as they used to be. A clean S4 changed hands in the mid-teens only a few years ago, and now they're riding the wave of GTS popularity. Pop in great condition, lower miles, and an unusual specification of a manual and blue over white, and this one has the right ingredients to set a high number.
How high?
S4s have been consistently hitting in the $20k range just about regardless of miles and condition, assuming they're not a wreck. This car obviously isn't one, and it's nicely equipped. This Venetian Blue over Marine might be the closest match, and it failed to sell at $32,000 but was an automatic. The higher miles should balance out on this this one, but my guess is that like the cited example, the seller will be looking for more than the market is willing to bid right now.
-Carter