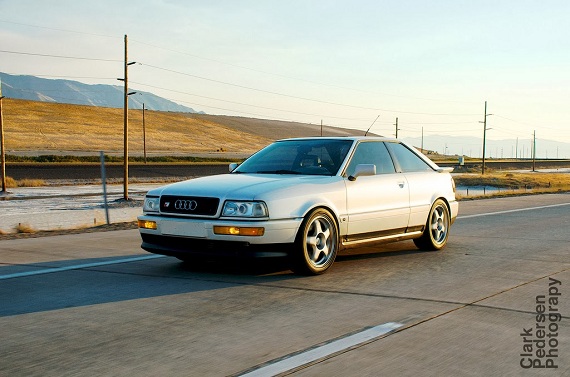 For a long time now, one of the most popular builds that Audi fans have undertaken is coupling the excellent 20 valve turbocharged inline-5 Audi motor to the capable, fun and good looking Coupe Quattro. It makes sense; out of the box, the heavy Type 89 chassis had a hard time feeling fast despite being equipped with the fantastic 7A 20 valve motor. Consequently, both the non-turbo motor and the Coupe got a undeserved reputation as being slow compared to the competition. However, just as the 4000 Quattro was a stout chassis in search of more power, adding the AAN 20 valve turbo to the Coupe Quattro was a match made in heaven – certainly, the factory agreed, since that was basically what they did to create the S2. This particular conversion goes to 11, upgrading the engine, swapping in a TDi-spec 6 speed and all the correct S2/RS2 bits to make a stunning looker with even more stunning performance: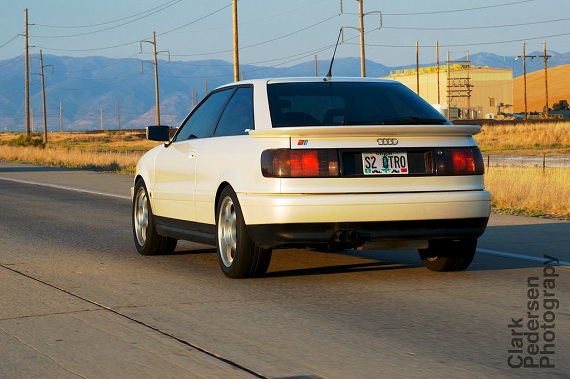 Year: 1990
Model: Coupe Quattro
Engine: 2.2 liter turbocharged inline-5
Transmission: 6-speed manual
Mileage: 116,000 mi
Price: $18,000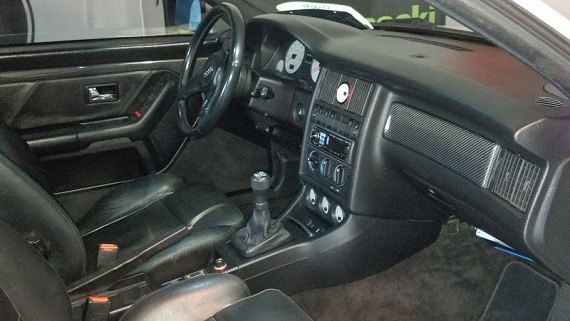 The modifications and work done on this car is well documented. The car is fast and runs flawlessly. Pretty much everything has been cleaned, maintained, refreshed, upgraded, fixed and works. Interior was removed. Carpet shampooed. All interior bulbs were replaced, even the ones that were soldered. Even the underhood light bulb works.

I have over $20k into the car. Email me (ktnguye1@gmail.com) with any questions or for my contact info if you are interested.

1990 CQ
VIN: WAUGE58B9LA015479
Mileage: 116,XXX
Clean Title

Maintenance
Stainless Steel Brake Lines 116
Brake Fluid Flush and Fill Motul RBF600 116
Timing belt, TB roller, idler, water pump, thermostat 115
Crank, cam, rear main seal 115
PS belt, alternator belt, A/C belt 115
Throttle Body, Valve Cover, Intake Manifold Gaskets 115
Oil filter, oil, quick drain valve 115
OEM G11 Coolant Flush/Change 115
OEM Mineral PS Fluid Flush/Change 115
Transmission Fluid Change 115
Diff Fluid Change 115
Replaced rear block coolant outlet (034 billet) 115
Replaced new power steering reservoir hose (OEM ordered from Germany) 115
Replaced coolant banjo bolt crush washers 115
Replaced coolant feed/return turbo hose 115
Replaced Rear Tranny Output Seal 115
Replaced all vacuum hoses with silicone hoses 115
Replaced all hose clamps with ABA HD clamps 115
Replaced all silicone hose clamps with CT spring clamps and used seal all sealant 115
Leather door cards reupholstered 115
Seat back swapped to Cabriolet with updated seams 115
Fore/aft seat motor replaced 115
Replaced all interior bulbs (dash, buttons, window, mirrors, memory, seat heater switches, cluster, aux, climate control, ash trays, cig lighter, grab handles, dome lights) 115
Fixed/replaced missing/broken parts: (rear parcel shelf, rear seat latch trim/seat belt trim, headlight glass clips, rear parcel shelf trim, mounting brackets for rear cards, brackets/gaskets/seals for front doorcards) 115
Lubricated all hinges, sunroof rails, seat rails, window rails 115
Replaced Exhaust hangers with HD chained hangars 115
New OEM under headlight trim plastic inserts 115
New Driver and Passenger side door seals (all 4) 115
Head gasket, timing chain 109
Spark plugs replaced, tri electrode (PN FD5DTC) 109
Lubricated rear wiper motor 108
Brand new OEM windshield with correct installation (flush a pillar riveted in place) 107
Brand new Behr main radiator 106
Fuel Filter 104
New heatercore 104
HVAC heaterbox rebuilt with all new foam 104
Window regulators replaced 104
Interior carpet replaced with better condition black carpet 104
Replaced 6 piece lower trim moldings 104
N75 replaced 105
Rear tie rods replaced 104
Front ball joints 104
Wheel bearings 104

Interior
S2 3 spoke steering wheel 115
S2 cluster and aux gauges 104
VDO boost gauge w/ matching white face/red illumination (vent mounted) 104
OEM "quattro" floor mats 104
OEM driver side lower cubby shelf 104
Manual heater control conversion with new OEM heater valve 104
S2 euro only black interior (A, B, C pillars, trunk trim, grab handles, dome lights and more) 108
Headliner reupholstered in black B5S4 type headliner 108
Carbon Fiber Trim (door, ash tray, climate control, aux gauge) 115
JHM weighted 6 speed shiftknob 115

Exterior
S2 front bumper 104
S2 rear bumper 104
LHD RS2 projector headlights 104
DDM HID 55W lights 104
S2 fog lights, brand new when installed 104 (French spec yellow)
S2 indicators, brand new when installed 104 (yellow)
Treser tail lights 105
B4 hood and core support conversion 104
OEM front/rear S2 badge 104
LED license plate bulbs 115
Front and rear B5 mudflaps 110
35% tint all around, except front windshield 104

Brakes
S2 5×112 hubs 104
Front Porsche 996 calipers 106
Front RS2 Caliper carriers 106
Front S8 rotors (323x30mm from 00-03 S8, pads from 996 911 non-turbo) 106
Brand new rear rotors/pads (B6 A4) 106

Suspension
KW V1 Coilovers 107
034 Motorsport Aluminum subframe mounts 106/115
034 Motorsport street density engine mounts 104
034 street density rear diff mounts (both) 115
034 street density rear diff bushing 115
034 Motorsport/Meyle HD strut mounts 110
Apikol snub mount 104
CQ front and rear sway bars with sway bar links attached to KW coilovers 115
OEM HD Rear control arm bushings 115

Wheels/Tires
5×112 17×8 OZ Chrono Evo (16.4 lbs ea) 105
245x40x17 Pilot Sport Tires 105
Front/rear 5mm H&R hubcentric spacers (PN 1055571) 105
034 wheel stud conversion 106

Engine Block
1992 AAN Block
Block honed 109
Brand new OEM AAN forged pistons 109
Brand new OEM piston rings 109
DM Forged/Scar rods with ARP hardware 109
Calico RS2 coated main bearings 109
Calico coated rod bearings 109
7A harmonic balancer 104
7A oil pickup tube 109
7A oil pan 109

Engine Head
1990 7A Head
7A cams 105
7A head machined for ABY water manifold 109
Brand new OEM head guides 109
Brand new OEM hydro lifters 109
Brand new OEM valve seats 109
Brand new OEM intake valves 109
Brand new stainless steel exhaust valves 109
ARP main 109
ARP head studs 109

Engine Misc
K26/GT3071R 109
S2 ABY oil feed and return lines (oil pan extension return style) 104
034 Motorsport silicone boost hoses 104
034 Motorsport silicone heater hoses 104
034 1.9 Bar wastegate spring 104
S4 windage tray 104
Metal headgasket 109
RS2 Aux Radiator 115
Euro ABY engine heat shields 115
Billet cam gear w/ new OEM bolt/washer115
Billet crank gear w/ new OEM bolt 115
Carbon Fiber Radiator shroud, timing belt cover, coil cover, ABY airbox cover 115
7a distributor as cam position sensor w/ 034 metal distributor gear 115
034 billet distributor cap 115

Exhaust
RS2 exhaust manifold 105
Stebro exhaust 105
3″ Iroz Motorsport v-banded downpipe 109
Vband cat for DEQ 115

Intake
RS2 intake pipe 104
ABY intake manifold w service channels removed for increased airflow 104
S2 ABY front crossmember 104
S2 ABY intercooler 104
Forge 007 DV 104
034 phenolic intake spacer 104
ABY airbox 115
ABY/S2 headlight/airbox ducting shroud (6 piece) 115
Custom powder coated EFIExpress MAF Bypass Tube for ABY Airbox 115
Euro ABY Silicone Inlet Hose w/ N75/valve cover breather, N75 hooked up 115
Mann Catch Can with Oil Return Line 115

Electronics
S2 ABY wiring harness 104
24 psi AAN PNP VEMS standalone tuned by Marc Swanson at EFIExpress 105
Wideband sensor 105
EGT sensor 105
LS2 EFI express coilpacks 105
Stock VR sensors for the crank 105
7a dizzy for the hall sensor for cam trigger 105
Internal 4bar MAP sensor 105
Rclick code hopping keyless entry integrated into alarm w/Audi flip key 115

Fueling
RS2 fuel rail 105
4 bar FPR 105
Siemens 60# Deka Injectors EV1 109
Brand new fuel pump 115

Transmission
Spec Stage 3+ clutch 104
034 short shifter kit 104
7A style Fidanza 12 lb (vs 25.5 OEM) flywheel 106
034 Motorsport street density trans mount 106
Iroz Motorsport RS2 transmission mount with spacer 106
B5 S4 modified linkage 106
4k driveshaft 106
01E TDI 6 speed with longer stronger flexible main shaft, longer 4,5,6 gears and 100mm output flanges 115
Retrofitted 6 speed lockout 115
New driveshaft support bearing 115
New (not rebuilt) driveshaft U-Joint 115

Audio
Alpine headunit w/ipod cable and remote (matching red illumination, model CDA-9887 HD/XM/MP3/BT, 4x 50W) 104
Alpine Amp (model MRP-M350 200W) 105
Alpine 10″ Type E subwoofer in enclosure 105
Alpine Type S 2 way front/rear speaker (4″ and 5.25″) 107

Extras
Brand new 6 piece lower trim moldings
Brand new set of 4 door card weather seals
Winter wheels: Ronal R38 17×8 35ET w/245/40/17 blizzaks
Bentley Manual
Laptop and tuning cable
S2 leather binder and manual
Driver side seat base
Stock US spec tail lights
Crank position sensor
Donut tire/rim that fits over Porsche BBK (fits into stock location in trunk)
Brand new sealed A/C dryer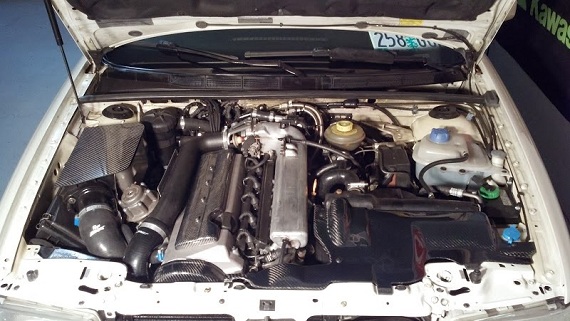 Reading through the build list on this car, it's easy to see the claimed $20,000 invested; indeed, I bet if I started to add up the details on my car I'd come up with somewhere around that figure too. The question is, does that make the car worth $18,000? Well, that's a bit harder to justify – especially when you consider that there recently was a real factory S2 for sale in Canada for $10,000. I have to believe that over the next two years, the market price on these built S2 replicas is going to crumble as real cars make their way over since you can pick up a pretty good example for the equivalent of $5,000 – $6,000 in Europe.
However, about this car; it's pretty awesome, it's undoubtedly fast, it looks fantastic – there's a lot to like here! I really like the incorporation of the correct S2 front end rather than the commonplace RS2 "catfish" bumper cover which often looks out of place. For me though, despite the great condition and quite impressive build sheet, I'm just not sure it's worth $18,000. For that price, I'd really rather have very nice 944 Turbo or 968 in all honesty, but if the S2 is your goal, perhaps this strikes your fancy.
-Carter