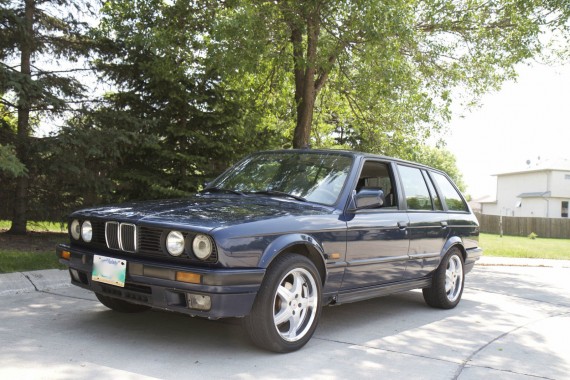 Here we have a BMW 325i Touring imported from Japan to Canada with the intention of doing a full restoration. The seller states other projects have now taken over his time and he has to let the car go. Perhaps this is the case, it very often is but perhaps the seller also decided the juice was not worth the squeeze. The car needs a dash replacement due to it being cracked, the front passenger seat is badly ripped, one dent is mentioned and though I'm sure there are others and as you can see in the picture above there is a rust hole just in front of the drivers door. Now most of these issues are not major ones that'll drain your wallet but those kinds of things will happen down the road.
The seller notes that the odometer has stopped working and the car has roughly 102,000 miles on it. That's relatively low compared to most of the E30 Tourings I come across and yet many of those are in better condition. Makes me wonder what kind of life this car lived prior to arriving in Canada. Also the seller doesn't mention inclusion of extensive service records or any kind of recent work which leads me to believe that that aforementioned bigger issues will indeed be popping up in the not so distant future. And yet, I'm still intrigued by this car because after all, it's a Japan Spec E30 Touring in Lazurblau Metallic with a grey cloth interior!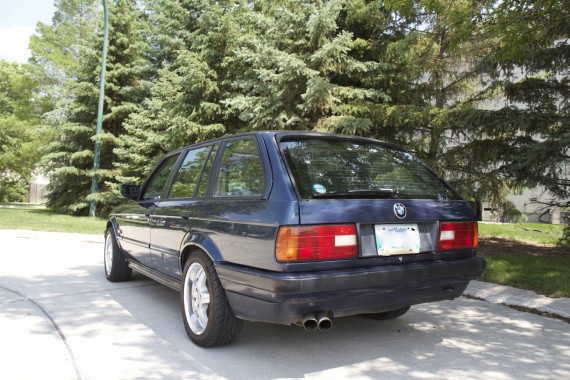 Year: 1990
Model: 325i
Engine: 2.5 liter inline-6
Transmission: 4-speed automatic
Mileage: 102,000 mi
Price: Reserve auction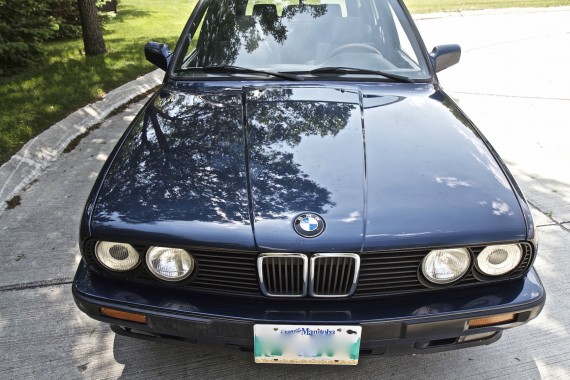 For Sale Rare BMW E30 325i Touring Wagon in good condition. Car was imported from Japan and body is very clean for its age. BMW Touring model that was never sold to the North American market and is very desirable. I originally was planning on doing a full restore on this but picked up a few other projects and will sadly have no room and time for this one. Looking for someone to give her a new home and bring out the the true potential of this amazing gem. 

Car has small dent on left rear door that can easily be fixed with a good PDR. Engine cylinder head a bit noisy and needs valve adjustment I was told. I was planning on swapping to a M50 engine after doing all the exterior work. Dash has cracks very common with the E30 models. Replacement part would be roughly $100 give or take. Power door locks only work with alarm remote common E30 thing. Odometer stopped working at 99000 miles and has approximately 102000 miles. Front passenger seat has rips in it. Oil was just changed 2 weeks ago with European Full Synthetic Oil with Mann filter. Transmission shifts very smooth and on point. I am selling car as is. Car looks overall good condition for a 25 year old car. A paint, interior fixes, and updates would really bring this car back to life. I will take as many photos of all the items listed as best as I can. I have listed all the items and issues to the best of my knowledge. I encourage all buyers to come see car in person. Car is insured and plated and is located in Winnipeg Manitoba Canada. I can arrange shipping at buyers expense.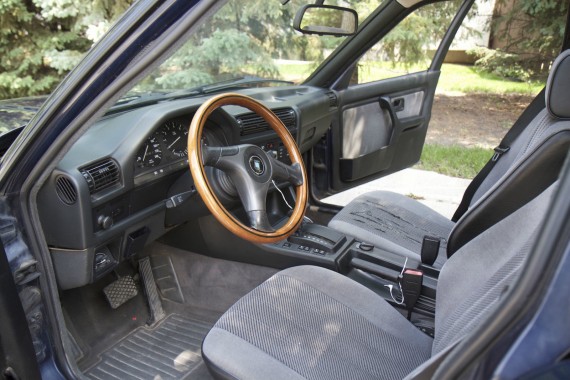 So clearly this car needs some work and that's ok, not every vehicle we feature here on GCFSB is perfect, they just have to have potential and I think this E30 Touring absolutely does. I'd hope the reserve is set somewhere around $3,500 because at that price I'd consider rescuing this example from the Great White North and giving it a home here in sunny Southern California. The seller notes he was planning to do an M50 engine swap, I'd go a step further and put in a S52 and swap the autotragic for a 6spd manual. As for the ripped up passenger seat(raccoons?) I'd be looking to put in a set of grey M-Tech II buckets anyway so I don't see that as a major probably. The car sports a beautiful Nardi steering wheel which I'd leave right where it is because the wood contrasts nicely with the blue exterior and warms up the cold interior. The stereo needs to be replaced with a period correct unit and those wheels have got to go as well. All of these things can be handled on a budget, the biggest expense would be the engine and transmission swap. Of course you don't have to go that route, you could just fix all the cosmetic issues, attend to noisy cylinder head and enjoy the car as is. It'll certainly turn heads of those in the know and to everyone else it'll just be an old ass BMW wagon. The allure of doing an engine swap is that when you want to surprise those folks you can and though it may be childish, I'd love to do just that.
Cheers,
-Andrew