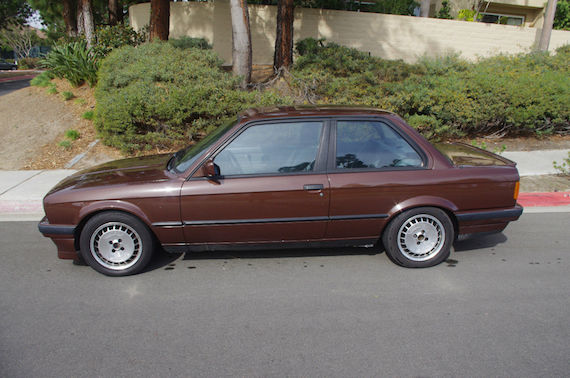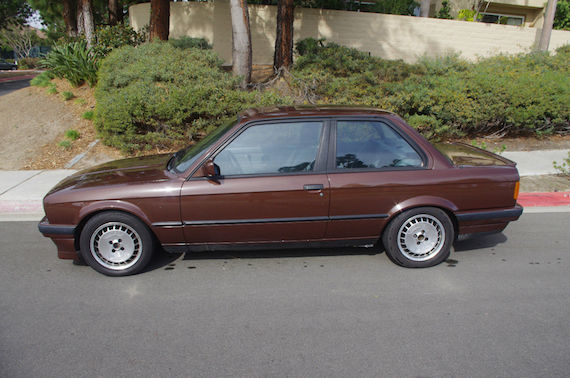 I've featured some nice examples of the 325is recently, ranging from an extremely low-mile '87 to a subtly modified M-Tech '87, to a slammed '89 ready for a feature in European Car. All of those cars were severely lacking in one important category: Brown. The 71k-mile '87 was beige, which is close but no cigar. This '90 325is was originally silver, but a previous owner made the outstanding choice to make it a nice, chocolatey brown. It's the highest mileage we've seen in a while, with something like 206k miles on the chassis but being blessed with a rebuild and plenty of other new parts. It comes with absolutely classic Ronal Turbos and other nice bits like a Z3 steering rack (2.7 turns lock to lock instead of 3.5 should surprise your E30-driving buds) and a reupholstered interior. As you might expect of a double-century car, it could use a little love, but small things like fixing a cracked bumper, touching up some rock chips, and putting center caps in the Turbos would make a world of difference. Bidding is low for this high-mileage E30, but potential is high.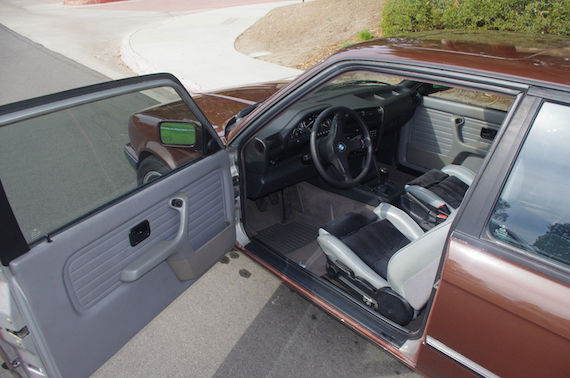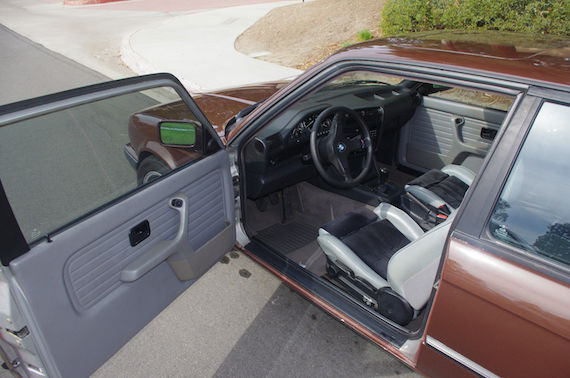 Year: 1990
Model: 325is
Engine: 2.5 liter inline-6
Transmission: 5-speed manual
Mileage: 206,000 mi
Price: Reserve auction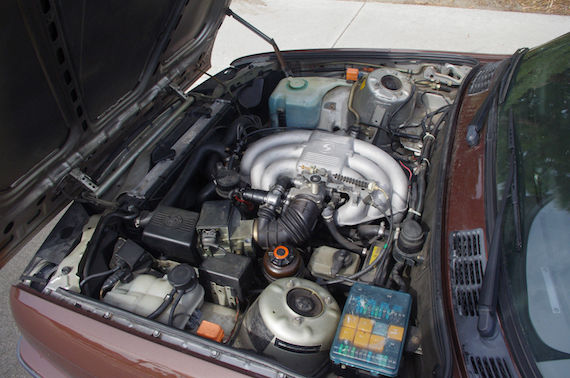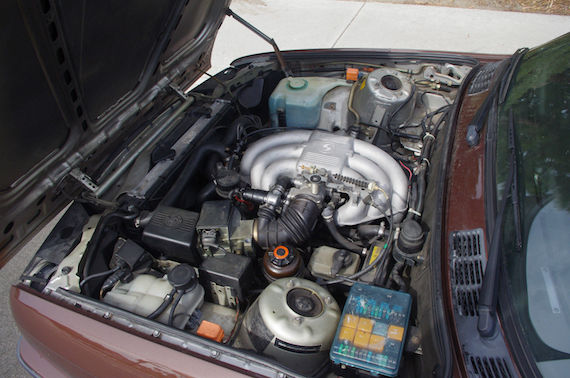 1990 BMW 325is coupe, 5-speed manual

I have had the car for a year and a half and have enjoyed it immensely. It was my daily driver for a long time, and it drives as it should. Eventually I grew tired of reaching into the back seat to buckle my kids in the car seats, and so the car should move on to someone who can appreciate it as it deserves.

It's a genuine 325is, which has the heated sport seats and limited slip differential. I bought it from a BMW enthusiast who had invested considerable amounts into the vehicle. Before I bought it, it had a full engine rebuild (have receipts) and a reupholstered interior in the original grey. I have the records for the past ten years or so, and it has been meticulously maintained

The drivetrain is stock and the car runs well. The car has been tastefully lowered on Bilsteins and H&R springs. I think these came as a kit since they are a fairly standard upgrade for the e30. It has an M3 shift knob with short shift kit, again professionally installed. Apparently it has M3 bushings on the sway bar. The electrical, power windows and central locking work. It was originally silver but is now brown. It has not had an accident (clean Autocheck) and there is no rust on the body.

The upgrades I made to it was having it painted brown, installing an Mtech leather steering wheel, a rebuilt Z3 steering rack (2.7 turns lock to lock instead of 3.5). It also has a new battery, and a set of original 15X8 Ronal Turbo wheels. They are stripped and ready for refinishing. They are wrapped in Dunlop Sport 205/40R15, which have plenty of tread and were new last year.

It has approximately 206,000 miles. The last cluster read 199,XXX and some of the gauges were not working, so I replaced it with a refurbished cluster for which the mileage read approx. 161,000. Now it is 167,500 approximately. I will include the original cluster with the car. All gauges work. It passed smog and has no illuminated dash lights. Air conditioning blows cold, and heating works. It has a good quality Clarion DXZ465 after market stereo with subwoofer.

The sunroof does not work, apparently it needs a new track. The car also has some dash cracking, common in e30s from sunny climes, shown in the photos. It has a rear bumper crack, also pictured.

This car is in good shape and well maintained as a daily driver and has the right modifications for an effective track car, however it has never been tracked. I am the owner. Located in San Diego CA however I can arrange shipping worldwide. Thanks for looking!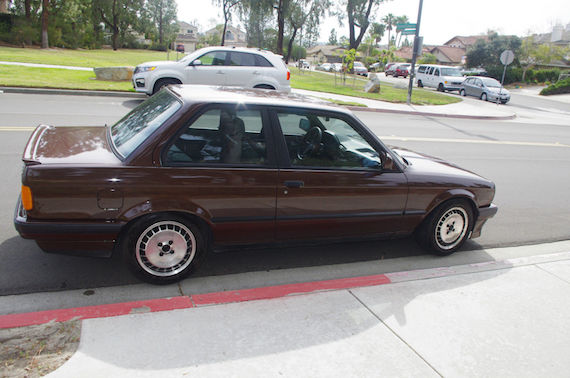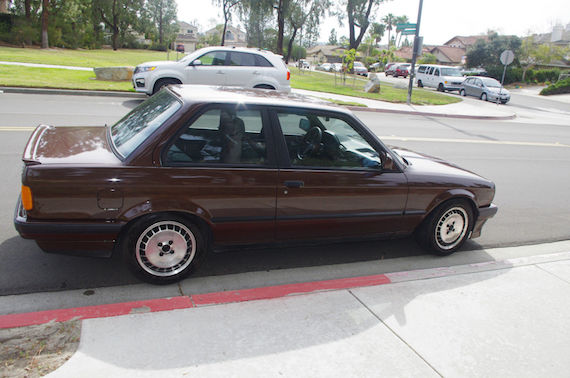 This is not a xx,000 mi cream puff, but a lot of attention has gone into making it a fun and unique E30 and I just love the brown. Hands-down how I will now envision my dream E30 (sorry red and black…). The black cloth seat centers weird me out a little bit but look comfy. I'm guessing the seller is hoping for higher four digits, but with the mileage and needs I wouldn't go higher than $6k. Anywhere up to that point, however, I'd jump on this and finally find out what brown can do for me.
-NR