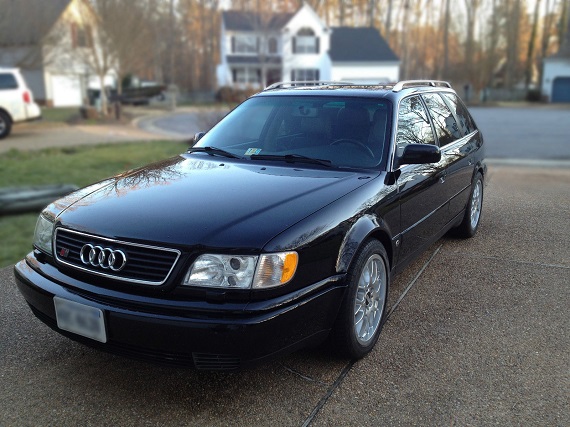 Certain cars have a few known issues or subjective desires when considering their value. Talk about a 500E and the wiring harness comes up. Mention a 996 non-turbo and instantly people start shouting "IMS" even if they don't know what it means or what it does. And every time I mention anything about an E46 M3 the first question is instantly SMG related. Those are certainly all important and relevant factors in determining the value of their respective models. But when it comes to the S6 Avant, for me the first question when determining value is "Does it run?". And the answer, which is almost invariably yes, almost certainly affirms the value. As with their 200 20V quattro grandfather I looked at last night, the S6 Avant has a cult following and of the few hundred that were imported most are well used by this point. But they were well built cars that shrug off improbably high mileage such that the expectation when looking at one is that the odometer probably reads north of 200,000. Properly maintained and modified, they are a package without peer: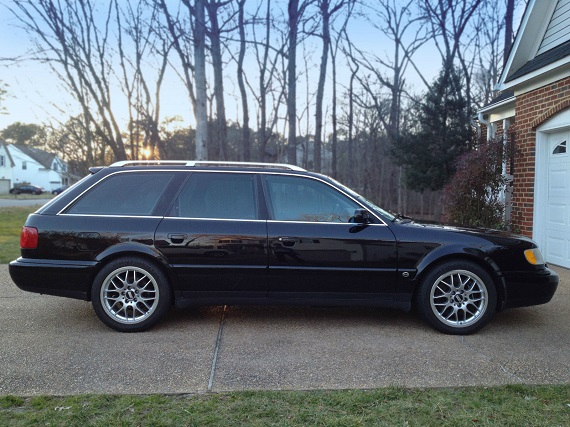 Year: 1995.5
Model: S6 Avant
Engine: 2.2 liter turbocharged inline-5
Transmission: 6-speed manual
Mileage: 190,454 mi
Price: Reserve Auction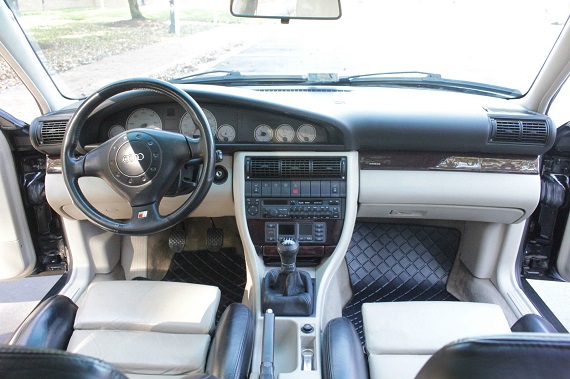 Up for sale is a rare 1995.5 S6 Avant. This car has been my daily driver since I purchased it in Oct 2012.

History:
Car has been in VA, NM, UT and NE. Owned by enthusiast and currently in Yorktown, VA. I have most records since new. Built as a RS2+ power level UrS6 combined with the reliability of a daily driver, the car spools at @3000rpms and pulls hard to redline. No expense has been spared regarding maintenance and upgrades. No accidents or stories. Clean and clear Virginia title.

Current mileage may increase slightly as it is my daily driver. All exterior surfaces present very well, due to quality paint job in 2010, proper care over the years, and garage storage. The previous owner had car painted a beautiful 2 stage, black (originally green). Six speed shifts smooth. AC and heat both work as they should. Headlights are clear and bright. Wheels have some curb rash but remain nice examples of genuine BBS. All rubber, plastic, and glass are in good condition. No cracks in dash. Sunroof doesn't leak. There are some paint chips on front. The interior is clean. Seats recovered in 2011 in a custom ecru/black two-tone pattern. Only front passenger heated seat works. Dash lights are all bright. CD player does not work but is complete (as is phone). Integrity is still very high, with some slight rattles on colder days. Alarm works; however, key fob doesn't unlock car. There are no fluid leaks, and doesn't use oil.

Maintenance Highlights: (since 2012 or last 40k miles)

– 190k: Oil Change

– 190k: New Battery

– 190k: New windshield

– 186k: Oil change/Valve cover gasket/new spark plugs

— Coolant 'T' replaced

– 184k: New Fuel Lines and fuel filter/after run pump replaced

– 181k: Oil Change

– 178k: Timing & Drive Belt service/Thermostat/PS J-hose rebuilt

— Brake flush/clutch bleed

— Coolant Temp Sensor/oil pressure switch

– 176k: Front shocks, struts, bushings, tie rods, alignment

– 176k: Oil Change/Oil Pan Gasket

– 172k: Oil Change/New spark plugs

– 168k: Oil Change/Rear brakes (rotors/emergency brake cables/pads)

– 168k: Coolant Flush

– 165k: Oil Change

– 160k: Hi Flow Cat (for VA safety inspection)

– 159k: New front brake pads

– 158k: Oil Change

– 156k: LS2 Coils and New Spark Plugs

– 155k: Both rear upper control arms/alignment

– 154k: Oil Change

– 151k: Oil Change and Front outer tie rods replaced

– Other odds and ends:

– Rear avant exterior handle replaced and hatch lock refurbished

– Avant lock actuator replaced due to leak

– Sunroof tray replaced

Engine/Performance Upgrades:

Mods completed at Autosportwerks in Denver CO @130k miles annotated by an asterisk

– Custom AMD Tune* (linear for daily driving)

– Hybrid K26/GT2871RS turbo*

– Apikol Front Mount Intercooler*

– Upgraded coils* (currently has LS2 Coils w/ Magnacore wires)

– 044 Bosch Hi Pressure Fuel Pump kit *

– Adjustable fuel pressure regulator

– Green Top Injectors*

– 034 HO manifold*

– 034 3" turbo back exhaust w/ CAT*

– 034 silicone hose kit *

– Six Speed Conversion*

– South Bend Stage 2 Daily Clutch*

– Apikol short shift kit*

– 034 Diverter Valve*

– 034 1.9bar Wastegate Spring

– Apikol 323mm Big Black Brakes (Front)*

– ECS drilled rotors (Rear)

– ASW modified front camber plates*

– H&R sport springs*

– Bilsten rear * and OEM front shocks

Interior/Exterior Cosmetic Upgrades:

– Complete color change to Black in 2009 (2 stage paint)

– Custom 2 tone leather seat interior

– 2 watt dash bulb upgrade

– Phillips 5000K HID low/high beams*

– Tinted windows

– 17×8" BBS RX wheels with Continental DWS tires

Minor Issues

– Outside temp guage doesn't light up

– Side mirror adjustment panel lights are dim

– Front Bumper sticks out on both sides

– Rear Ashtray covers lazy and don't fully close

– Driver Seatbelt tensioner lazy (only when you exit car)

– Rear Hatch weather stripping has one worn spot (in photos)

– Where luggage cover sits/clips into is cracked on one side

– Rear sunshade present and functions but trim is cracked on passenger side (in photos)

– Driver's headlight washer nozzle leaks

– Rear defroster has one element which doesn't heat

– Rear windshield wiper works but can be intermittent

– Right rear window doesn't always go up immediately (been unable to replicate at shop)

Conveys with purchase:

– 2 keys,

– 2 central locking remotes

– All original manuals

– Complete new OEM grill assembly (NLA) w/ badge

– Book of records (orange Binder in pictures)

Bid confidently with the following in mind:

The car is in very good to excellent condition for its age. Buyer should keep in mind it is 21 years old. It is not perfect, and I am not trying to represent it as such. Sold as-is with no warranties or promises either expressed or implied. Car is for sale locally and seller reserves the right to cancel auction early if car sales prior to auction close.

The winning bidder is welcome to pick up the car locally (Yorktown Va) or using a contract a shipper at your expense. $1000 USD non-refundable deposit is due via electronic funds transfer or paypal within 24 hours after action close. The remaining balance is due via wire transfer or in person with a cashiers check (or cash) within 7 business days of auction end or risk forfeiture of deposit. Payment will need to clear before seller releases the vehicle.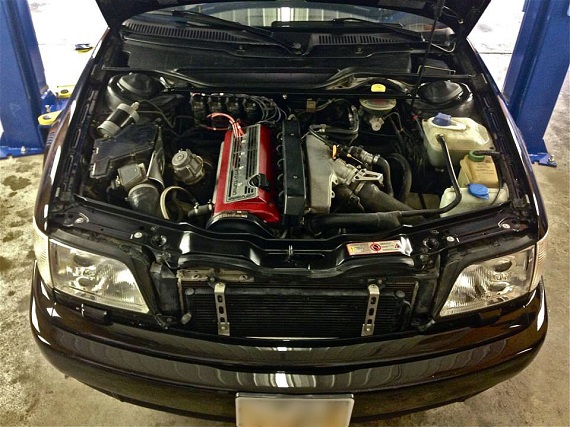 Exterior presentation is great and it's not immediately evident that the car wasn't originally black. My guess is the 2009 color change was brought about due to clearcoat failure – probably similar wear was inside on the Ecru original interior, and so the custom two-tone leather is present. Personally, were I going through the color change I would have opted for Europa Blue Mica and a dark tan interior, but I wasn't paying the bills. The BBS RX wheels are a nice upgrade and fitting. The mods are top-dollar in general and with utmost certainty the cost of the modifications alone far exceed the current bidding which has not yet hit $6,000 with four and a half days remaining. Frankly, the 6-speed conversion alone would eat up most of that bid. We've seen similar Avants trade hands well north of $10,000, so I'd expect the reserve is likely set around $11,000 – $12,000. For the same money as many E30 Tourings, this is so, so much more car. It's not an original museum piece, but get into it and do what many other owners have done and drive the wheels off the damn thing.
-Carter