Our love for all things Alpina is no secret here at GCFSB. Power, style and rarity augment the standard BMW desirability. Today's E34 B10 comes stacked with the 3.5L M30 boosted by two turbos, with the manual boost control allowing for 300 to 360hp. Not sure why you'd turn it down on this car, but whatever. Beyond the performance, it's fitted with the classic Alpina kit, including protrusive spoilers and near-perfect 20-spoke wheels. The audacious body kit is tempered by a beautiful green and omission of the usual Alpina techno-crazy lines. All the better to blow your doors off with, my dear. This car looks good from every angle and boasts serious performance gains over any E34, M5 or otherwise.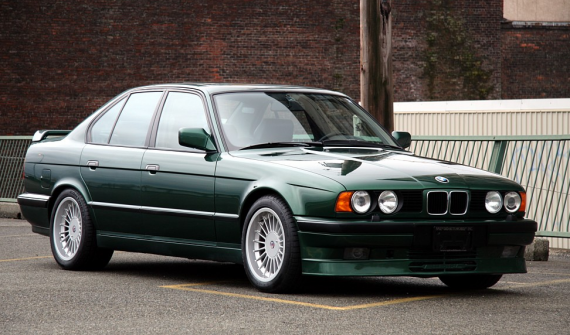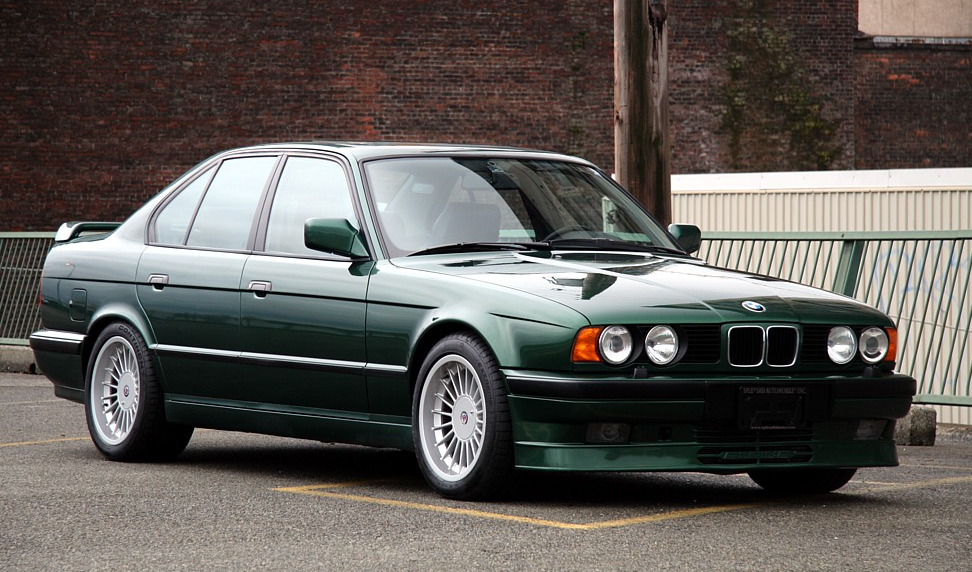 This is an excellent 1990 BMW ALPINA B10 Bi-Turbo, which has covered 231,900 Kilometers (144k Miles). since new. It was originally sold in Germany. We imported it to Vancouver, Canada in 2005 and is now registered in British Columbia, Canada. The VIN number is: WAPBATL000B750135 It is a #135 of 507 produced worldwide. This exquisite automobile is powered by smooth and ferociously powerful 3.5L Twin Turbo, Intercooled M30 6-cylinder motor mated to Getrag 290/5-speed manual transmission. It is equipped with Catalytic converters. The motor is rated at 360HP and 400lb/f of torque. The performance is astounding, 0–60 in 5.1 seconds, top speed is 181MPH. The turbo lag is minimal. It has factory manual boost control varying boost from 0.4 bar to 0.8 bar (300 – 360HP). As it can be seen from the photographs, this piece of automotive history is in excellent condition. The body and paint are excellent, no dents, visible rust or rock chips. The wheels are 100% true; there are no curb marks. Very rare M5 body trim (rear bumper and lower body moldings). New factory Alpina Clutch. New Continental Extreme Contact tires. Ignition wires, cap, rotor and plugs just replaced as well. Excellent cosmetic condition. Fully sorted mechanically. The interior is very clean, no cracks on the dash. All electrical accessories work – power windows, mirrors, sunroof, climate control with ice cold AC. It drives great. We have complete service history since the day the car landed in Canada. We can provide copies to seriously interested parties.

Complete safety and mechanical inspections were performed on this vehicle as part of our reconditioning process. There are no oil leaks; all fluids and filters have been replaced. The brakes are good. All suspension bushings are fine, the self-leveling suspension shocks do not leak. Independent party pre-purchase inspection at your expense prior to bidding is welcomed and strongly encouraged.

A NOTE TO OUR USA CUSTOMERS: As this vehicle is 22 years old, it is exempt from US EPA compliance requirements. DOT compliance work (headlights, side marker lights, etc.) must be performed by US Registered Importer. We can put you in touch with a reputable and knowledgeable Registered Importer who has imported Alpina's in the past and is ready to process this one.
144k miles and $22,000 are not small numbers, but they're a bit more reasonable taken in the context of getting behind the wheel of a true Alpina. A few dollars will need to be spent to get it US legal today, or you could wait a few more years for when it's 25 years old. Regardless, I could look at this car all day, and many of these pictures will be going in my "desktops" folder. It's too bad they're all of the B10 stationary, as this angry green monster looks like it wants to be ripping apart asphalt and rubber every minute of the day.
-NR