At the beginning of the 1980s, it was almost unthinkable that Mercedes-Benz would move downmarket and venture into the small car market. The 190E transformed the idea of just what a Mercedes-Benz could be. A small, compact executive saloon, the 190E was a huge success for the company, selling over 1.8 million units over ten years. The 1990s would bring even more radical change to the product lineup, with the introduction of the A class in 1997. With a transverse engine, front-wheel drive and a layered floor that would allow the engine to slide under the passenger compartment in a frontal impact, this was quite a departure in terms of design for Mercedes-Benz. The A class would never see the light of day in the US market, but a few have made their way over the years. This particular A160 for sale has managed to be registered in California but will not pass all of the smog testing in the state. Whether it can be registered elsewhere in the country remains to be seen.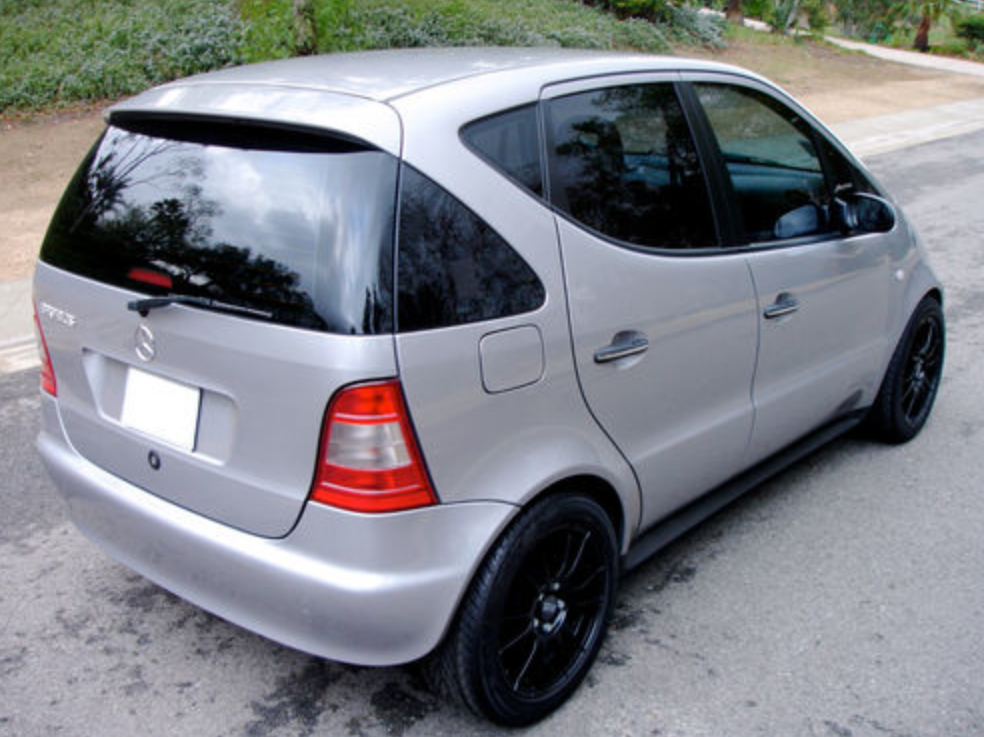 2001 Mercedes A160 Elegance Edition. Moonstone Silver with amethyst jacquard interior. 1.6 liter 4 cyl gas motor. 73,000 orig miles. Has the desired 5-speed clutchless manual transmission…only two pedals, clutch is actuated via electric motor but you shift it as per a manual. All the typical features: AC, power windows, power locks, traction control, CD, dual airbags, etc. Car is slightly lowered with Brabus springs and has fuel management chip. OZ (16") wheels made for me custom to accommodate the proper offsets for this car front and rear, hub-centric of course. Car is pictured with the stock grille but I also have a second color-matched perforated AMG grille as well. They swap out in a few minutes.

Gets incredible mileage (a minimum of 32mpg) and will seat five 5 adults. It's light years ahead of a Smart Car and has much more capability, acceleration, better highway ride, and a proper transmission. I am the second owner; I purchased the car in '01 with under 1k miles on it. In this A-class you can fold, tilt or completely remove the rear seats to transform the entire rear into a flat cargo area. I have always dealer maintained the car at either Fletcher Jones or WI Simonson with all records. On occasions I have done the oil myself (it's very simple). Always run Mobil One 0/30 every 3-4k miles. All maintenance is up to date and in most cases done early; this includes all belts, brake and radiator flushes etc. These are relatively maintenance free anyway. All parts I typically order online and the process is beyond simple. Engine has a timing CHAIN so no need for timing belt replacements. Have several nice factory maintenance / spares that come with the car too.

Car has a clean and clear CA title. It was no small feat to get this. For all you CA residence that want to swap this out for your Prius, this car will NOT pass the visual portion of the CA smog inspection as it does not have the CA 50-state emissions diagram sticker under the hood. I want to stress this: this car has all factory emissions equipment (including factory CEL) and WILL pass the rolling dyno smog test with flying colors. Unfortunately here in the Republik of CA you need to pass both sniffer and visual. If you live here in CA and want this car you will need to register it out of state unless you know some trick I do not and I've spent thousands navigating the process properly. Being a CA resident it is infuriating but it's a fact.

This is a great and unique car in fantastic shape. You would be lucky to find another one anywhere in the US let alone with a legit CA title and the Brabus items. I would rather sell, but would be open to an automotive trade too. No reserve.

NOTE: Mileage in my ad is correct (73,000). The Autocheck mileage listed is accurate but it is in KM…NOT MILES. Current KM is 118k which equals 73k miles. For those that have asked: The car is totally original…no paintwork, accidents, parking lot shunts, minor body damage etc. Mechanically it is excellent and overly serviced; no leaks or mysteries. Has original spare (unused), jack, tools, first aid kit, hazard triangle etc. Floor mats are original factory MB items. Carpets are perfect and so is headliner and seats. No dash cracks, fading, sun damage. No windshield cracks or damage. Tires are excellent and wheels have no curbing or rash or gouges. Body is steel with plastic front fenders and rear hatch door. A/C is r134 and is ice cold and heat is hot…it's a modern car so it works great like an MB from this era. Has the original MB radio with a 6-disc changer in the trunk's side compartment. I have all factory manuals. If you are local, you can come see it. No, I will not trade it for boats or land.
In Europe, an A class of this caliber might bring between $4,000 and $6,000. Even though it's rare in this country, I'd doubt it will bring that much of a premium over that range. Interestingly, the seller does not have a reserve, so the car will sell. It's not everyone's cup of tea, but it's more of an attractive proposition to me than one of the newer Smart cars. Provided you live in a state with less stringent emissions testing than California (read: any of the other 49 states), you might just be in luck and be able to have one of the few legal A classes stateside.
-Paul