Warning!
This post is in our archives. Links in this post may have been updated to point to similar cars available to bid on eBay.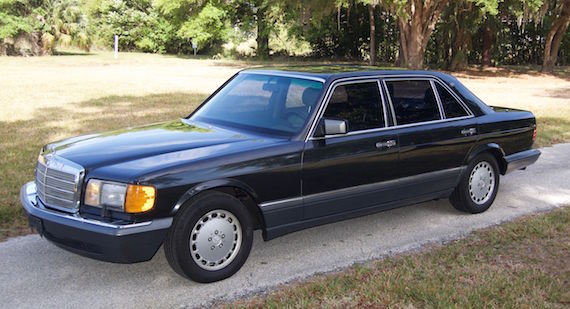 Buying a high mileage car can be a bit scary, even if it's a Mercedes with a reputation for longevity. Odometer readings can have a profound psychological effect on our perception of a car's health (and worth), making people leery of high mileage cars. But in truth, at a certain stage in a car's life, maintenance history and upkeep become far more important than any number on the dash. This is particularly true of the W126. A low mileage car that has been sitting is liable to cause you more problems than a high mileage one that has been driven and cared for by a meticulous owner. The upshot is that if you shop around and choose wisely, you can score a bargain on a high mileage car. This 300SEL, for example, has 286k miles on the odometer and a cheap price tag attached. Offered for sale by a knowledgeable and friendly Benzworld contributor, it offers a budget friendly entry point into W126 ownership backed up by plenty of maintenance history.
Year: 1990
Model: 300SEL
Engine: 3.0 liter inline-6
Transmission: 4-speed automatic
Mileage: 286,865 mi
Price: $3,295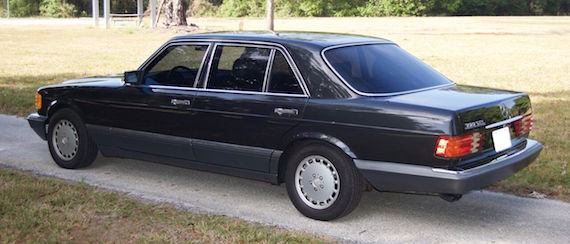 A really nice car that I got and brought up to snuff, but I still need to find a diesel. There is a nice Benzworld member discount if you're interested, just drop me a PM.

This is one of the nicest 300SEL examples I believe you can find in the area without paying stupid money. I bought this car with the intention of getting it in perfect shape for one of my children. They are now adamant that they want a diesel for the economy and don't want to drive this car, so I'm selling it. If it wasn't for the lack of space and cost of insurance in Florida I would keep it.

When I got the car it was in good condition but had a lot of little detail items that needed addressing. I did those as well as brought things up to a level that I felt made the car as best as it could be. For example:

Maintenance items:

Oil change and filter (Mobil 1 10W-40, Mercedes filter)
Air filter (Mann)
Power steering fluid flush and filter (Mobil 1 ATF, Mann)
Differential drained and filled with Mobil 1 gear oil
All fuses replaced with copper fuses
Brake system flushed and filled with new (Mercedes DOT 4) fluid
Spark plugs (correct Bosch non-resistor)
Spark plug wires (Beru)
Fuel filter (Mann)
Drained, flushed and refilled cooling system (Mercedes coolant)
Headlight wiper inserts replaced
Replaced serpentine belt

Repairs:

Replaced rear brake pads, rotors and hose
Replaced sticky left rear brake caliper
Replaced oxygen (O2) sensor
Replaced right front wheel bearings (noisy)
Replaced distributor cap and rotor (Bosch)
Replaced distributor cap cover
Replaced spark plug wire gutter
Repainted valve cover
Replaced valve cover seal
Replaced valve cover filler cap
Replaced air cleaner inlet hose
Replaced top timing cover seal and camshaft seal (common area for leaks)
Replaced serpentine belt tensioner
Replaced motor mounts
Replaced transmission mount
Replaced upper radiator hose
Replaced vacuum lines in engine compartment
Replaced front flex disc (Mercedes)
Replaced drive shaft center bearing and carrier
Replaced mono valve plunger/magnet (Mercedes)
Replaced failed left audio amplifier

Along with the repairs I also performed other maintenance work as required, such as replacing bulbs, cleaning switches, etc. The exterior was detailed and waxed and the interior was cleaned. The pictures show the condition of the car, so you can judge for yourself.

The body is straight and has no damage other than normal rock chips and a few small scratches. There is no rust that I found other than in the engine compartment below the battery tray, which is typical. The trunk is clean and dry. The transmission shifts crisply, as all Mercedes of this vintage do. All accessories work as expected, including the sunroof, power seats/memory, lights, signals, indicators, and so on. And of course it has ICE COLD AIR (I just had to put that in the ad!) The interior is in very good condition, with the carpet being clean and without stains, the leather still nice and supple, and the wood in very good condition for its age with very few cracks in the center console piece, unlike most cars of its' vintage. It rides on a set of Michelin tires that have plenty of tread left. Note that the factory tool kit and all of the books and manuals that came with the car are still there. The radio has been changed out to an aftermarket Sony model with satellite radio capability. The satellite portion is functional as far as I know, but I've disconnected it and removed the antenna from the roof. I installed an auxiliary input that has a cable running to the glove compartment that allows the use of any external device with an 1/8′ jack to be plugged into the radio.

So now you're asking yourself, what could be wrong with this car? There are a few items I haven't addressed yet for just that reason – if I'm going to sell the car I'm not interested in investing any more time and resources. The vacuum actuator that locks the fuel door is bad and needs replacement, maybe $45 from Mercedes, less in the aftermarket. The right rear window is not terribly reliable, but I haven't opened up the door to see what it might need. The same door has a noisy door check, which is probably nothing more than greasing it up when the door panel is off. Worst case, if it needs a door check they're easy to install and inexpensive. The driver's seat has the requisite wear on the bolster, although it's not bad. I know someone you can get a new leather seat cover from for a reasonable amount of money if you want to replace it. The antenna mast has been replaced, but the wheel in the antenna mechanism that grips the mast is worn, making it extend but not always retract – you can just push it down like I have been doing. A couple of the wheels could stand to be repainted, but they're not bad. Some of the boots on the front suspension need to be replaced. If money were no object or I was keeping this for the youngster, I would rebuild the front suspension and replace the injectors and call it perfect.

So take a look at the pictures and judge for yourself. If you're looking for a nice example of a Mercedes W126 chassis long wheelbase car, this is one of the better ones I think you'll find for the money.

The nitty-gritty: I continue to drive it, so the mileage will increase during my ownership. This is a used car with 286,000+ miles on it and is not perfect, nor do I claim it to be. As a result, it is sold as-is where-is with no warranty or guarantee. Trades? Only thing I would consider would be a nice W123, W124, or W126 chassis diesel (240D/300D/300SD) in similar condition.

A couple of pictures below for representative purposes. More pictures here: https://www.dropbox.com/sh/658ebvpa6…QqcXYzL3a?dl=0

Dan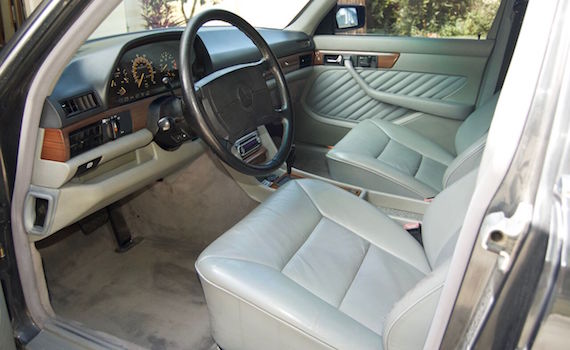 The car has traveled further than the distance between the earth and the moon. But you wouldn't know it by looking at the pictures. The 199 Blue-Black exterior paint still retains its glossy shine, marred only by some rock chips and scratches that the seller describes as minor. The gray leather interior looks equally tidy: the only telltale sign of the distance this car has covered is a bit of wear to the driver's seat bolster. The car has an aftermarket radio with aux input, otherwise the car appears original.
The seller lists a good deal of maintenance history and says that he continues to tinker with and improve the car as it awaits a new owner. The listed flaws are minor: a dodgy rear window, a faulty gas flap lock and antenna mast. He suggests that the front suspension might need going over in future to make the car perfect, but it sounds as though the car drives ok as-is. The asking price is just over $3k and this seems eminently fair to me, given the amount of car you get for your money.
– Craig