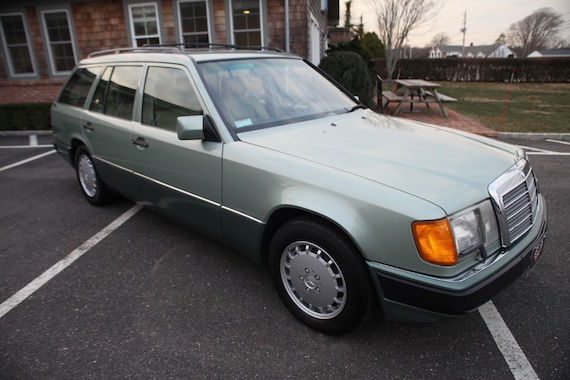 If you want a reliable, low-key and classy way to ferry around a bunch of people and their stuff, there are few options out there better than the W124 estate. You get all the virtues of the W124 sedan – impeccable 80's era Mercedes build quality, classic styling and an over-engineered chassis offering good levels of safety and comfort – with the extra cargo space and versatility of a longroof. And since these cars were often bought new by wealthy, practically minded people, who saw fit to invest in them rather than sell them on, it's still possible to find mint condition examples that have been meticulously maintained by their former owners. This low-mileage 300TE appears to be such a car.
Year: 1990
Model: 300TE
Engine: 3.0 liter inline-6
Transmission: 4-speed automatic
Mileage: 74,514 mi
Price: Reserve auction with $13,000 Buy It Now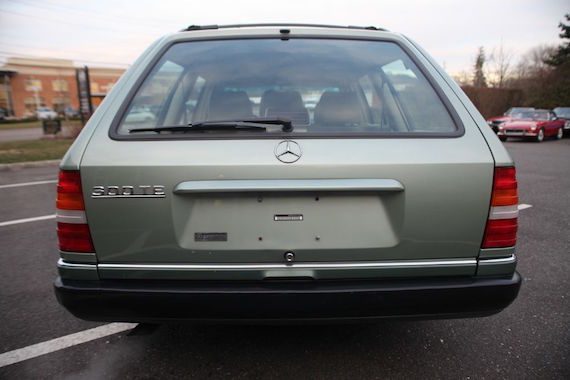 This is a perfect condition W124 Mercedes Benz 300TE. This car was owned by a family who drove it occasionally and garage kept. The paint is in really great condition as well as the interior. Comes with the rare order of original sheep's fur seat covers that have been in place since new and recently cleaned. Underneath the sheep fur is perfect condition leather seats. Owned by head of marketing for Mercedes Benz. No signs of wear and tear. The engine starts right up and runs very smooth. Low mileage 300TE with only 74,514. This is basically like buying a new Mercedes from 1990 for a fraction of the cost.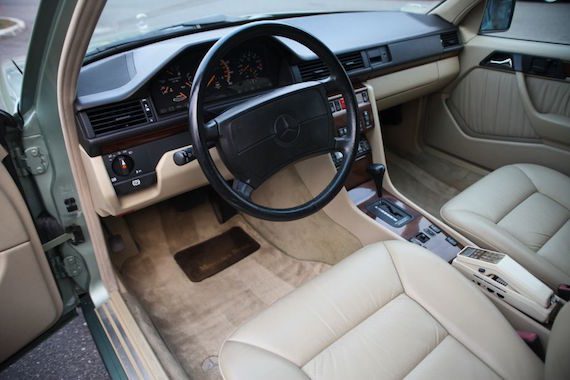 Paul and Andrew have both written up W124 wagons quite recently (here and here), but this car stands out for a few reasons. First, with a mere 75k miles on the odometer this is a very low mileage example; the robust 3.0 liter M103 inline-6 engine has barely been run in, and both the exterior and interior present accordingly. It's not quite as "perfect" as the seller describes: there is a slight scuff on the bumper that looks like it probably came from a parking lot ding. But it's very minor and otherwise the car looks excellent. Second, the car is optioned with mushroom cream/beige leather seats instead of MB-Tex, a welcome addition especially since the leather looks to be in wonderful shape, having been protected for most of its life by seat covers. Third, the car also has the foldaway jump seats in the rear cargo area, perfect for when you find yourself in a pinch and need to carry two extra passengers. The willow green exterior paint, seen also on the 500SE Paul wrote up back in June, may not be to everyone's taste, but I think it's quite charming. The subdued lighting in the photos doesn't really do it any favors, but a google image search reveals that this color looks a lot nicer when shown in better light.
I think the $13k buy it now price is a bit optimistic, and I imagine the reserve is probably set somewhere around there too. But if the seller is prepared to let the car go for a little less, perhaps somewhere in the $8-$9k range, I think it'd be a reasonably good deal for someone who wants a W124 estate and is prepared to pay a little extra to buy a nice one.
– Craig