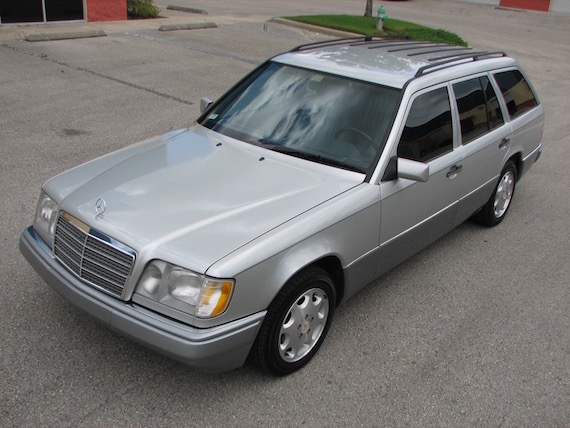 It's rather amazing to think it's been over 20 years since the W124 Mercedes-Benz ceased production. The lines of this car are timeless, in my opinion. The W124 also set the template for the E-class model lineup for years to come. Sedan and estate variants were mainstays, while the E-class coupe and cabriolet transitioned to the CLK moniker for about a decade span only to return back to the E-class coupe and convertible recently. Fast versions have been ever present, as well, beginning with the legendary 500E/E500 in 1992. But we'll focus on the estate variant today, and this final year E320 Estate for sale in Florida is a looker. With only 85,000 miles on the clock, this Brilliant Silver beauty is bound to make some discerning family happy.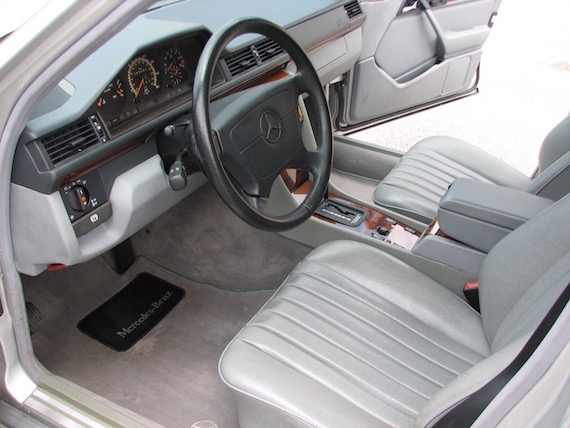 Year: 1995
Model: E320 Estate
Engine: 3.2 liter inline-6
Transmission: 4-speed automatic
Mileage: 85,385 mi
Price: $11,990 Buy It Now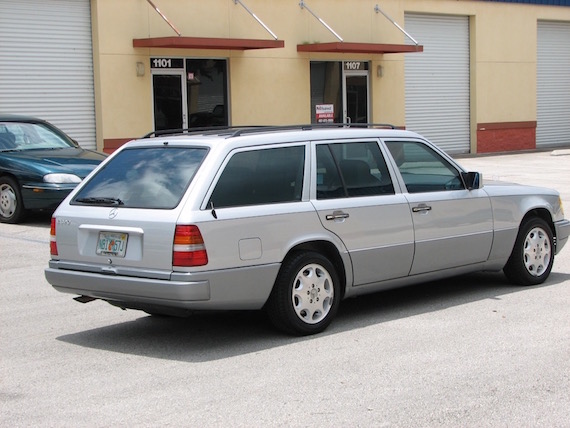 So, you clicked on my listing and are thinking that this must be a really nice Mercedes wagon considering the somewhat higher than average asking price. And you would be right, since this is not your average classic W124 wagon. Unlike other sellers of the same model claiming that "everything works, AC blows cold, etc.", I actually know exactly what I am selling!

Over the last 90 days, I have taken care of all deferred maintenance and anything that needed repair. All the work was performed by professional, locally recognized Mercedes specialists and is documented by receipts/photos totaling $8,500:

• New in-tank fuel sending unit
• New left & right motor mounts + transmission mount
• Multiple new vacuum hoses
• New A/C compressor & clutch + receiver (AC is freezing cold)
• New hydraulic suspension supply hose
• New headlight switch
• New turn signal switch
• New sunroof switch
• New driver & passenger window motors / regulators
• Repaired instrument cluster (oil light was always on). Sent out to specialist
• New pump & grommet windshield washer
• Disabled the troublesome factory alarm / immobilizer
• New OVP relay
• New front cover seals (crank shaft + valve cover)
• Reseal timing cover
• New and resealed transmission pump
• New reverse clutches
• New tie rods + alignment
• Replaced several coil wires
• New front & rear windshield wipers

In addition, I just changed the infamous upper wire harness with an updated non-faulty harness. The 2 other harnesses were inspected by 2 separate professionals who found no issues at all.

Furthermore, the following work was done on March 13th, 2015 at 84,556 miles (receipt):

• New back-up switch on transmission
• New radiator
• New thermostat
• Power antenna repair
• Light window tinting

The car drives beautifully and feels super smooth. With the engine at idle it is even hard to tell the motor is actually running! Those new motor mounts were definitely worth changing. The blowing sound you hear in the video below is the AC cooling the car with temperature of 92 degrees outside!

The chrome trim is in excellent condition and is not pitted. All the glass is in perfect condition. The factory 15" wheels are really nice with minimum curb rash on recently mounted 4 new Toyo tires. The interior is almost flawless showing original carpets protected by factory floor mats; all wood veneer is neither cracked nor faded (a tiny chip by the virgin ashtray); headliner is perfect, etc.. The 3rd row seating has probably never been used and the upholstery shows no sign of wear. The rear cargo area is protected by a custom WeatherTech rubber mat. Being a Florida car, the underneath of the car is extremely clean; the drivetrain is absolutely dry of any leaks (oil, transmission & PS fluid, etc.). Every electrical function works as it should including all power accessories with the exception of the original radio cassette. The latter actually does work but the sound stays at the same volume and cannot be modulated by the knob. Repair is about $85.

This is truly a super nice low miles, Central Florida only, no issue Mercedes W124 Wagon. It is however 21 years old, which means it has a few light scratches consistent with age and mileage, such as on the rear bumper as well as on the rear right quarter panel by the gas filler door. It also has 2 small dents on the rear right D pillar and a few tiny rock chips here and there. Finally, the clear coat is slightly faded along the right edge of the hood. I am just being really picky here.

Those imperfections do not distract in any way from the overall excellent condition of the car. Please watch the walk around video below or email me and I will send you close up pictures. I always describe my cars with the upmost accuracy so the buyer can feel comfortable knowing exactly what he/she is buying.

Please note that the Carfax / Autocheck will show a small discrepancy with the mileage when title was transferred to the 3rd owner in July 2012. This is definitely a clerical error as I have the receipt from the shop who changed the radiator on March 13th 2015 showing 84,556 miles with confirmation from the previous owner. Furthermore, I have had the car inspected by 2 separate Mercedes specialists who both confirmed the current mileage to be true and correct.

This car is ready to go in exceptional comfort, silence and smoothness. It is an ideal daily driver or made for long hauls. I took care of everything that needed attention to make sure the next owner could drive thousands of miles with peace of mind. As a small dealer, this wagon is one of those cars I wish I could keep for myself…

This desirable E320 wagon is available for viewing and inspection in Orlando, FL by appointment only. More detailed photos & videos are available upon serious request. I have set what I believe to be a reasonable and realistic asking price considering the quality of this classic Mercedes wagon. I am, however, open to smart, true and serious offers. Do not waste my time with ridiculous offers.

Please have funds ready prior to committing yourself with the purchase. I take my listings very seriously and expect the same from you. Furthermore, because of the rise of non-paying bidders now prowling on Ebay, I reserve the right to cancel any bid / offer I find suspicious. You are welcome to contact me via Ebay to discuss any other details not mentioned in this listing.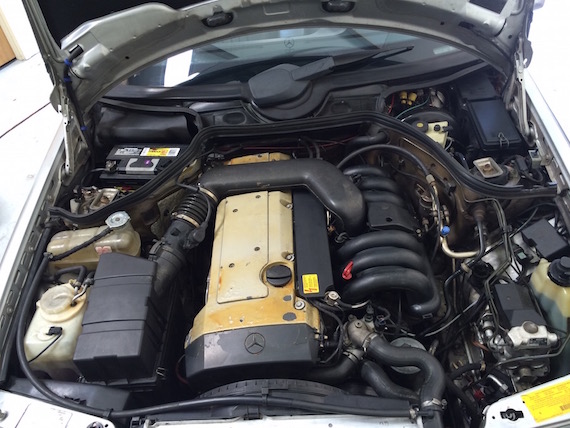 While W124 convertibles and sedans are not too terribly hard to find in good condition, mint examples of the estate variant are a bit more tough to source. Perhaps the durable persona of the W124 melded all too well with the utility of an estate vehicle so folks used them as intended. We featured a 1995 E320 Estate with 135,000 miles last year which fetched $5,400. Is a reduction of 50,000 miles worth almost double? Probably not, considering the durability of the W124. I'd suspect this one is just a tad overpriced. But I wouldn't doubt that these are an appreciating asset in today's market. They just don't make Mercedes-Benzes like this anymore.
-Paul