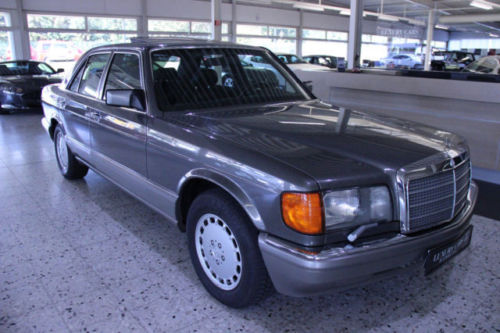 One of the rarest W126 Mercedes-Benz S-Classes ever produced was one we never saw here on US shores: the 560SE. A mere 1,251 were ever manufactured between 1988 and 1991. This was a short-wheelbase version of the flagship 560SEL sedan, which at first would seem to be a bit of an odd combination. Most who were in the market for this well optioned car would want the extra rear legroom, hence the low production numbers. Before the days of the W124 based 500E/E500, however, there were perhaps some that were hungry for the largest engine in the range in something just a bit smaller.
With much of the W126 production eligible for import to the US, this 1990 560SE will soon be legal to bring over to these shores in 2015. With so few produced, a car like this for sale in Hamburg, Germany is a way to stand out from the rest of the W126 crowd.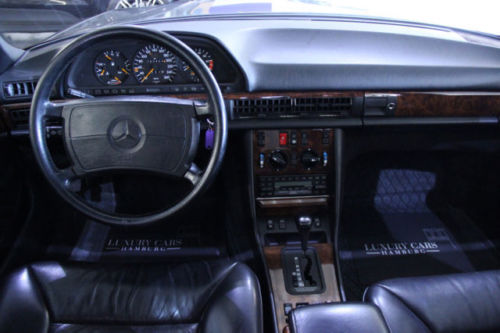 Year: 1990
Model: 560SE
Engine: 5.6 liter V8
Transmission: 4-speed automatic
Mileage: 293,452 km (~ 182,343 mi)
Price: €9,350 (~ $11,588 USD)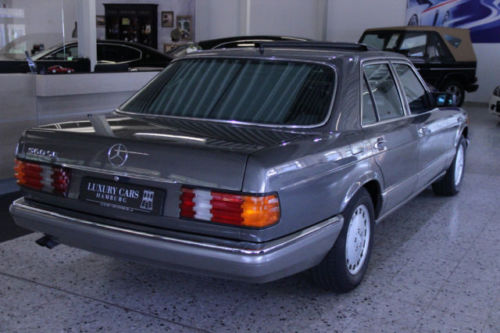 Offered is a classic Mercedes Benz, which can be used as a daily driver but retains the elegance here. This 560 SE is in reasonable condition and is also cosmetically in good condition. The exact equipment includes:

Exterior: Grey Metallic
Interior: Black leather

Automatic transmission
Power sunroof
Electric front and rear windows
Electric front seats with memory
Adjustable mirrors (passenger side electric)
heated exterior mirrors
Heated front seats
Cruise control
Air Conditioning
Rear window heating
Radio Cassette Becker Mexico
Headlamp washers
Headlamp level
Burglary and theft alarm system
15 "steel wheels Mercedes Benz
Extinguisher
Fuel heater
Traction control system (TCS)

The car was always full service history at Daimler:

25.07.1990 predelivery inspection
30.07.1990 at 1,211 KM
20.11.1990 at 10.733 KM
27.03.1991 at 24,432 KM
30.07.1991 at 35,680 KM
27.12.1991 at 50,515 KM
21.07.1992 at 70,336 KM
23.02.1993 at 87.331KM
27.07.1993 at 96,500 kM
21.01.1994 at 116,050 KM
26.07.1994 at 133,165 KM
21.11.1994 at 143,476 KM
02.03.1995 at 151,493 KM
05.07.1995 at 165,804 KM
21.02.1996 at 187,487 KM
12.06.1996 at 199,976 KM
17.09.1996 at 208,944 KM
17.02.1997 at 220,960 KM
28.07.1997 at 231,777 KM
08.12.1997 at 244,996 KM
17.06.1998 at 265,319 KM
29.01.1999 at 285,494 KM

Sold in the sales order.

Please arrange a viewing appointment with us, we look forward to meeting you.

We will be happy to make you an individual offer financing or leasing.

Error and prior sale.

Visit our website: www.luxurycarshamburg.de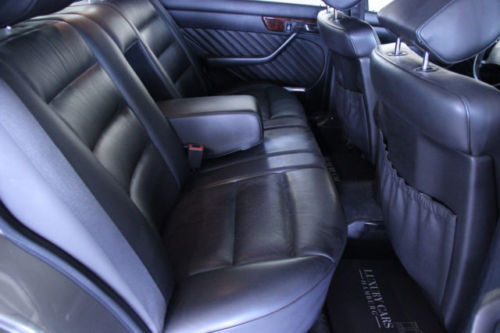 The W126 S-class is known for being able to rack up the miles, much in the same manner of other vintage Benzes. Values for the best examples of 560SELs are hovering around the $15,000 mark, give or take a bit. This 560SE has a good bit of miles on it, so anything over $10,000 seems a bit optimistic, no matter how rare this particular model may be. Considering shipping and importation costs that would face US buyers, it would seem this car will probably change hands to another European owner.
-Paul