Please join me in welcoming Pablo Deferrari as a Guest Contributor here at German Cars For Sale Blog. Pablo is the founder of flüssig, a journal celebrating the Porsche 924, 928, 944 and 968. Pablo will check in with us from time to time and offer up his vast knowledge of all things Porsche, in particular the water-cooled variety. Welcome Pablo!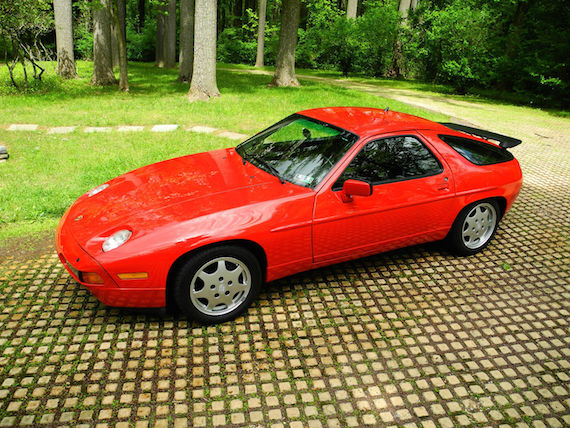 If you stormed into any Porsche dealer, walked up to a salesman, and plunked down $75,845 on his desk demanding a 928, besides being looked at as if you were out of your gourd, you had two choices in 1990; the GT or this car, the S4. The only decision you needed to make was whether you wanted to shift the thing yourself, or have it shift for you, with a little omph, because as of model year 1990, Porsche no longer offered a manual gearbox in the S4. You got the automatic transmission standard. If you had to have a manual with your V8, you were shown the GT.
This was just one of few changes in this year's S4, and you weren't going to be disappointed with the rest.
The base price of $74,545 plus a $1,300 gas-guzzler tax was exactly the same for both the GT and the S4. Porsche was holding down their prices for 1990 with the hopes that the dollar would rebound. Well, it didn't, and executives in Stuttgart began chewing off their fingernails. But that wasn't your problem; in fact, it was to your advantage as a buyer of this Grand Tourer.
The S4 had been around since 1987 when it replaced the outgoing 1986 928S known by connoisseurs as the S3. What I find curious about the S4 is that it had the same 5.0 liter, 32-valve lump putting out 320hp (DIN) at 6000rpm and 316.9 lb-ft of torque at 3000rpm throughout its life from the first one in 1987 until the last S4 made in 1991. It even kept the compression ratio the same at 10,0:1. Australia was the exception, their engine put out 300hp (DIN) through 1989. And since it was the same mill, Porsche used the same engine codes; M28/41 for the manual gearbox and M28/42 for the automatic.
Never one to leave things alone, Porsche, in their typical ethos of evolution and refinement, made lots of subtle changes throughout the model's life in other areas. Since we're talking about this particular 1990 model, let's get a little more focused. For example; dual airbags made an appearance in the 928 for the first time, it had the RDK (Reifendruckkontrolle), or TPMS (Tire Pressure Monitoring System), that made its debut in the legendary 959, twin outlet muffler like the GT's, and all VIN tags were deleted from the body panels. The "Design 90" wheel (that's on this car) was also available as an option for the first time on the S4 and standard on the GT. Known internally as option M400 Cast Wheel Club-Sport 7,5/9J x 16, the same wheels used on the factory prototype 1987 928 Club-Sport model. The slotted design "Manhole Covers" or "Gullideckel" wheels in 7/8J x 16 came standard on the S4.
Another technological marvel that was borrowed from the 959 made its debut in the '90 S4: PSD (or Porsche Sperrdifferential). This system was nothing short of genius. I could go to great drool-inducing lengths to explain it in its entirety, but I'll spare you and myself from committing Hari-kari. The short of it? It's a one way variable ratio limited-slip differential relying on the ABS sensors to advise the computer when there's traction loss, cornering, or braking variations. The computer then fires off synapses in nanoseconds using a hydraulic clutch to compress a set of multi-discs and transfer torque to the slowest turning wheel. It can variate the lock-up from 0 to 100% to compensate and save yourself from looking like a fool. I'll sum it up in five words; electronically controlled limited slip differential. There.
Right, performance.
Naught to 60 in 6.3 seconds bringing you back to naught with massive four-piston Brembos in a distance of 135 feet. And then you decide that what you really wanted to do instead was to put the hammer down, run the Mercedes guts in the transaxle through the 4-speeds and take her all the way up to a claimed 165mph. Not bad for a car nearly weighing in at 3,700 lbs. Imagine if you decided to fiddle with the 2.54 final drive ratio, trick the computer to give you 200 more revs and swap in the hotter cams from the GT. On second thought, don't. Leave this one alone. She's perfect just the way she is. They only brought in 455 GTs and S4s to the US and Canada in 1990, and she's one of them, making her very special indeed.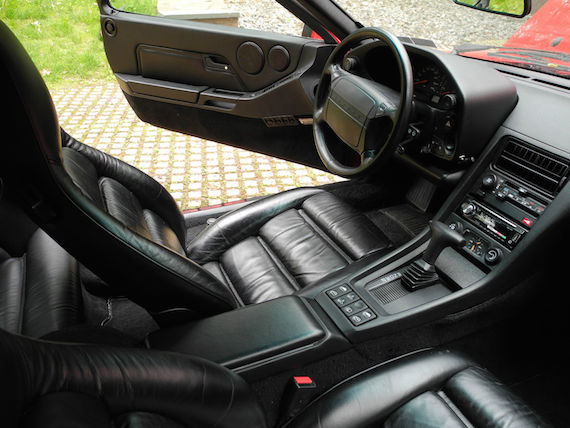 Year: 1990
Model: 928S4
Engine: 5.0 liter V8
Transmission: 4-speed automatic
Mileage: 47,295 mi
Price: No reserve auction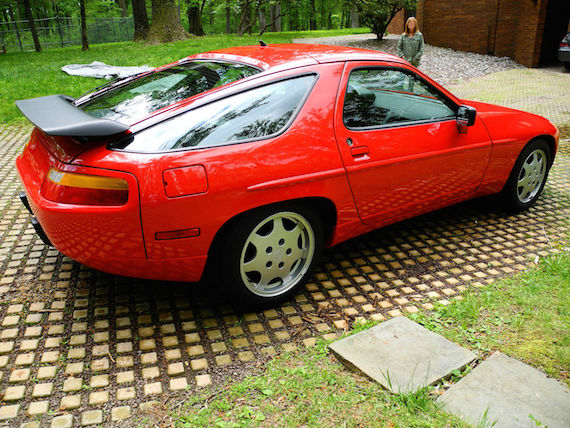 I have finally decided to sell my garage queen. I originally purchased the Porsche new from Al Holbert (Porsche Race Car Driver http://youtu.be/bDllUaxNZoY) Dealership in Doylestown, PA. The car has been rarely driven, and has always been properly garage stored. It's primarily been used as a special occasion drive, or nice Sunday cruise. Even though the car has less than 27,000.00 miles I performed maintenance services such as the timing belt replacement due to the vehicle's lineage. Maintenance services were performed at Holbert's excellent dealer service center. It is a beautiful car in Guards Red with Black Leather interior. It makes quite a head turner even to this day due to the unique timeless modern body style. On the road it yields an extremely solid feel with great ride comfort for a Porsche sports car. Power is fantastic from the 5.0 liter fast revving hemi design 4 valve per cylinder Porsche V8. Summary of the cars highlights are below. Please feel free to forward me any specific questions about the Porsche.

· Original one owner vehicle

· Properly stored garage kept

· Accident free, and never damaged

· Very Low Miles – Less than 27,000 pampered miles

· Strong running 5.0 liter Bosch L-Jetronic 32 valve Hemispherical V8

· Full Leather 8 Way power seats

· Power Sunroof

· Never on Track, or abused

· Non-Smoker Vehicle

· Porsche authorized service intervals performed

· Service and tune ups and replacement parts all OEM Porsche

· Original wheels with near new condition Pirelli P-Zero tires

· Pioneer Audio system with full media input selection, including Bluetooth handsfree speakerphone. Original Porsche radio is included in sale of vehicle for authenticity.

· Exceptional heat and air conditioning system upgraded to R134

· Absolutely no corrosion from this garage kept gem

· Original factory paint never sun damaged

· Original spare tire never used

· Original Keys and Porsche factory leather key holder

· Comes with cloth guards red garage car cover

· Comes with guards red Porsche lab coat service jacket

· Original Porsche Air Compressor, service gloves, factory 928s4 tool kit, and original spare belts

· Original Books, Owner's Manual, and Black Leather Pouch key holder

· Complete Factory Service Manuals & CD (Shop Service Videos), and entire parts schematics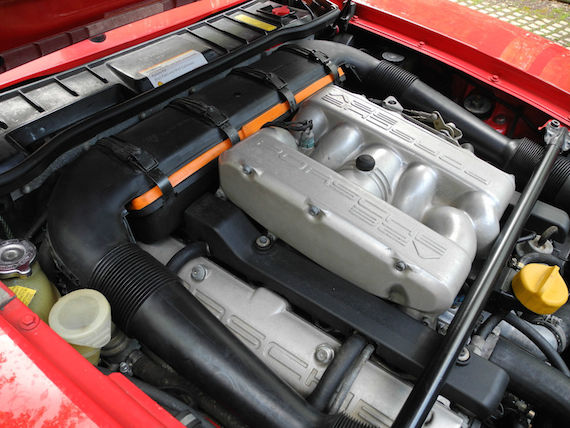 I did some research on this baby with the VIN: WP0JB292XLS860270 using my connections with Porsche and found out some very juicy information. Here's a taste:
The original invoice was printed on January 16, 1990. She left Zuffenhausen destined for America wearing a G1G1 Guards Red dress and Dunlop stilettos. Her original Typ M28/42 engine serial number is 81L51507 while the automatic transaxle Typ A2816 bears a serial number of 3L01502. The inside was draped in black leather (interior code VN) with and interior equipment code KL in leatherette, seat combination number ATH, and a 5FV carpet color code.
Her "New Vehicle Warranty" began on July 7, 1990 and ended two years to the date later in 1992, the "Varnish Warranty" began on July 7, 1992 and ended on July 7, 1993. That's when her "Corrosion Waranty" kicked in and that ended on July 7, 2000. Oh, she also had an "Emission Warranty" that started on July 7, 1992 and ended either at 112,000 km (roughly 69,594 miles) or on July 7, 1997, which ever came first.
Alright, alright…the options. Look, she traveled a bit light in this department, so don't hold it against her. Here they are:
M400 – Cast Wheel Club-Sport 7,5/9J x 16
M418 – Side Protection Moldings
M498 – Without Vehicle Type Lettering on Rear End (ie: "928 S4" delete)
M570 – Air Conditioner with Improved Effeciency
M650 – Electrical Sliding Roof
M691 – CD Player "CD-2" with Radio
M980 – Seat Cover – Draped Leather (Special Leather Seats)
Now, I don't have to tell you to perform your own due-diligence on this one. She may have low miles, but that means diddly when it comes to things like rubber, old brake fluid, old trans fluid, old gas. Get a PPI, first and foremost. The timing belt will surely need to be replaced due to age, if it hasn't already. I'm sure the PSD needs to have had its hydraulic fluid flushed, as do the brakes otherwise you compromise the system and your bank account. Fuel lines are another big one. Very important; remember, age and sitting fuel kills rubber from the inside. Those would be my main concerns right off. The rest depends on the PPI.
Jim Doerr of 928 Classics pointed me to an excellent PDF of a PPI check list written by 928er Dave Chamberlain (WORF928 on Rennlist) which I've included a link to at the bottom. Please give him a shout and thanks if you do use it. There's loads of part suppliers catering to 928s. Roger at 928sRus, 928 Motorsports, and 928 International, Jim Doerr over at 928 Classics specializes in earlier models but can offer loads of help and info. Join Rennlist if you haven't already and the 928 Owner's Club. You'll make pals for life and they'll be there to help hold your hand when you run into problems with your 928. In addition, join the 928 Registry if you do pull the trigger.
I've included two videos from YouTube, one explaining the PSD system, and the other comparing the 928GT and 928S4. Both are very cool and informative. I'll also be doing a more in-depth look at these two models over at our magazine about the 924 928 944 968 series, flüssig, so pay us a visit now and then.
Good luck!
-Pablo
PPI Document: http://members.rennlist.org/worf928/928%20Periodic%20Inspection.pdf